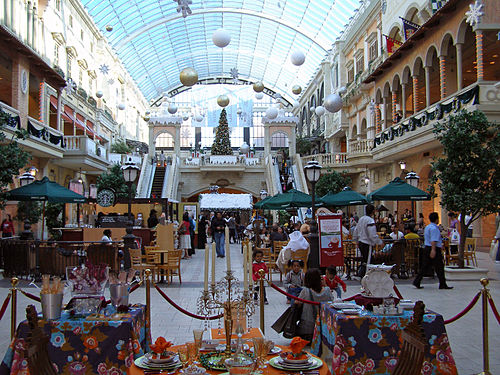 The festive season of Christmas is round the corner and what better way to celebrate it than with Dubai holidays, where the festival is celebrated with great merrymaking and enjoyment. As soon as your flight lands in the wonderful emirate, you'll be completely astonished by the transformation of Dubai. This Islamic state is now brimming over with Yule trees imported from European countries, gala decorations, fluffy snow and all the traditional colours associated with Christmas. Not only the Christians and the expats, but every Dubaite join hands to revel in the joyous mood of Christmas.
Christmas is an inspiring festival bringing together people of all religions irrespective of caste and creed. Dubai, despite being an Islamic emirate with its own local festivals like Ramadan and Eid, takes delight in celebrating Christmas through shopping discounts, special events, hotel deals, parties and mass prayers.
The first thing you notice is the trendily decorated malls and shopping centres welcoming one and all to a shopping extravaganza. Although Dubai is shopping paradise all round the year, shopping festivals and revelries give it a strong flavour of zest and zing. Each mall does its best to outshine one another with decorations, special events, celebrations and above all, irresistible festive discounts for the buyers.
Even hotels and resorts get into the mood with great parties, delicious Christmas feasts and dazzling decorations. Acclaimed carol singers perform Christmas carols that lend a religious appeal to the festival.
Christmas is not all about celebrating and partying but also commemorating the birth of Lord Jesus Christ. While there are several churches in Dubai which organize mass prayers, the St.Frances of Assisi Church at Jabel Ali is the most famous amongst them. The church also arranges free lunch for the poor.
Festivals are all about breathing life into old relationships and making new ones. Friends and families visit each other to wish one another Merry Christmas where they are served liqueurs, coffee and sugared almonds. A typical lunch during Christmas consists of  'Kubbeh' made from burgul or crushed boiled wheat.
Visit Dubai to enjoy Christmas in the party capital of Middle East, but don't miss out on booking
hotels in Dubai
in advance to benefit from hefty discounts.