Dubai Economy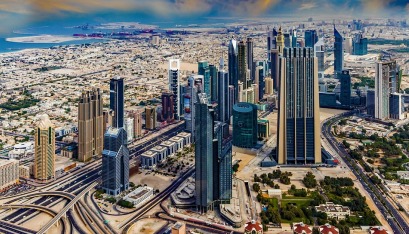 Dubai is the second wealthiest emirate in the UAE, after Abu Dhabi, and is the financial capital state of the UAE. Dubai is an important trade and tourist destination, with Jebel Ali, - the foremost port in the Middle East. With the introduction of the Dubai International Financial Centre (DIFC) in 2004, Dubai developed as a global hub for service industries such as IT and finance.
Most tourists believe Dubai's revenue comes primarily from oil. Still, only a moderate amount of oil reserves were used to generate the required infrastructure for trade, manufacturing and tourism to build Dubai's economy. Most of Dubai's GDP (over 95%) is non-oil-based. So far, oil has accounted for less than 1% of Dubai's GDP and tourism to produce 20% of the GDP. These figures explain why Dubai has become a more dynamic and diversified economy to survive the decline of fossil fuels.
In the early 1990s, only a few hotels were available for tourists, and Dubai never had high oil revenues like Abu Dhabi. The Burj Al Arab hotel project in 1994 gave hope to the economy as a long-term strategy, an ambition to become the world's top tourist destination. Being one of the favourite tourist destinations in the UAE, Dubai has seen a tremendous change in its economy in the past 60 years.
Some significant investments in Dubai have been primarily affected due to the recession that hit the global market severely. Even though Dubai's economy was built on the back of the oil industry, most of the city's banking and financial centres were headquartered in the port area and service industries got primarily affected as Dubai's property market faced a significant downturn during 2008-2009, as a result of the global economic slowdown. During this recession, most of the ongoing projects, along with the jobs of the expatriates, got affected. Also, it was made public that Emaar had approximately $70 billion in credits and the state of Dubai an additional $10 billion while holding an estimated $350 billion in real estate assets.
Dubai has also established itself as an international tech hub along with service industries such as Finance and IT. Dubai Internet City, along with Dubai Media City, forms the TECOM (Dubai Technology, Electronic Commerce and Media Free Zone Authority), which is an enclave that houses well-known IT firms such as EMC Corporation, Microsoft, Hewlett-Packard, Dell, Oracle Corporation and IBM, and media organisations such as BBC, MBC, CNN, Reuters and Sky News.
With a promising growth rate of 6.1% in 2014, Dubai became one of the fastest-growing economies in the Middle East. Dubai has excellent trade relations with multiple countries. By 2014, Dubai's largest trading partner was identified to be China, followed by India and the U.S.
Tourism has emerged as an essential driver of GDP. Dubai welcomed 15.93 million visitors in 2018, retaining its ranking as the fourth most popular destination globally. Dubai has also surfaced as the shopping capital of the Middle East, thanks to its diverse souks, over 100 malls and innumerable shopping centres. Dubai is aptly called the 'City of Gold', which houses nearly 250 gold shops.
In October 2019, Dubai loosened its liquor laws for the first time. It allowed tourists to purchase alcohol from state-controlled stores.
Expo 2020: Dubai won the bid to host the most awaited Expo 2020. But, the event was postponed due to the COVID-19 pandemic. Dubai successfully hosted the Expo from 1 Oct 2021 - 31 Mar 2022. The data shows that the UAE has benefited from Expo 2020 and secured long-term investments.

Recommended Activities