Come and explore the luxury capital of the world where you will have the time of your lives and get your most opulent dreams fulfilled. Hire a private yacht for a romantic date, take a tour of the city in a swanky Limousine, luxury family tours and what not; the city of superlatives makes it all easily available for you.
Dubai has become a world-class destination to enjoy fun-filled activities with friends and loved ones due to the modern infrastructure and state-of-the-art facilities that have been introduced in the recent times.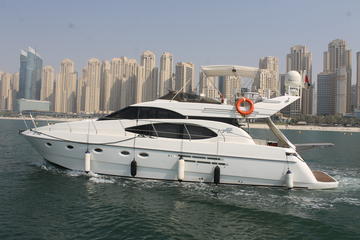 Dubai Luxury Yacht Charter From Dubai Marina
A mesmerising cruise experience awaits you with the Dubai Luxury Yacht from Dubai Marina into the Arabian Gulf. Your cruising experience presents you spectacular scenery and sites of Palm Island, Atlantis, The Palm, Burj Al Arab, Sheikh Palace, Marina Lagoon and Jumeriah Beach. The private yacht can house up to 20 people and is well-equipped on board with soft drinks, fishing equipment without bait, electric grill barbecue and more. You can pick your desired yacht, the cruising destination and either daytime or an evening cruise. A perfect family experience, indulge and later head to marina mall for the departure.
CHECK AVAILABILITY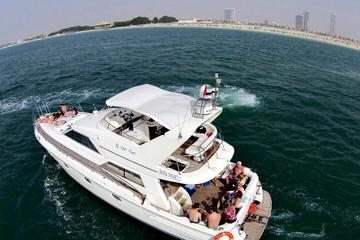 Private Tour: Dubai Coast Luxury Yacht Cruise
Experience the luxurious private yacht cruising from Dubai and sail into the magical Persian Gulf. The spectacular views of Dubai's skyscrapers, the Palm Jumeriah, Burj-Al-Arab and the Atlantis The Palm hotel will enthral you. Select a 2- or 3- hour cruising experience on a 55-foot (16.8 metre) yacht or a 2-hour voyage on a 70-foot (21 metre) yacht with a private skipper navigating. Enjoy the complimentary snacks and soda, or indulge into food and drinks at your expense on a beautiful sun deck, with saloons, cabins, kitchen and washrooms. Enjoy a relaxing family time and head back to marina for the departure.
CHECK AVAILABILITY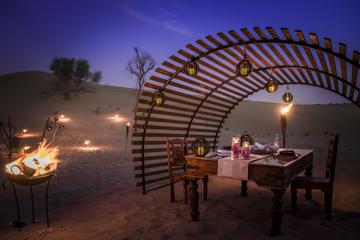 Luxury Dinner in the Desert Experience from Dubai
Indulge in an authentic desert experience in Dubai with a romantic A la carte dinner at the Royal Retreat filled with radiance of flame torches and traditional gas lamps. Traverse through the Dubai Desert Conservation Reserve in a luxurious Mercedes-Benz G-Class (SUV) with your professional guide. Get enthralled with UAE's National Bird the Falcon diving at unimaginable speeds as a part of falconry displays. Upgrade and indulge in a wildlife safari before dinner. Satiate yourself to a 6-course dinner with Middle Eastern and Asian flavours and experience cultural activities such as henna-tattooing and belly dancing.
CHECK AVAILABILITY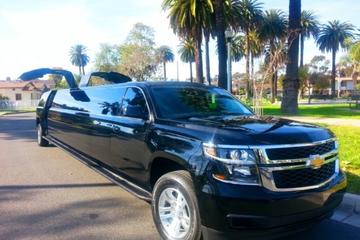 Dubai City Tour by Luxury Stretch Limousine
A chauffeured tour in a luxurious stretch limousine escorting you around the dazzling city of Dubai awaits you. Delve into the city enjoying the spectacular sights of Burj Al Arab, Dubai Marina, Jumeriah, Atlantis The Palm set in the Palm Island and the Mall of the Emirates. High-end limos with rear hydraulic jet doors, leather interiors, enhanced air conditioning and more is at your service. An impeccable tour, best for all age groups.
CHECK AVAILABILITY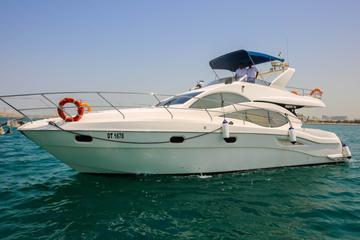 Luxury Yacht Cruise from Dubai Marina
Be ready to be mesmerised on one the most spectacular tours of Dubai the Luxury Yacht tour. You can charter the gorgeous Majesty 50 for a memorable 2-4 hours tour. Enjoy the iconic sights of Palm Jumeriah, Atlantis, Burj Al Arab as you sail through from Dubai marina. You can savour the Welcome drink (soft drinks) and as you anchor in the lagoon and catch up with some swimming, dining and partying with exceptional music. Create nostalgic moments and head back to Dubai marina.
CHECK AVAILABILITY
Dubai: 2-Hour Evening Dhow Cruise and Dinner
Enjoy an evening tour of Dubai Creek on board a traditional Arabian dhow. Sample a sumptuous feast of Arabic and international cuisine while gliding past illuminated souks and palaces.
CHECK AVAILABILITY
Recommended Activities