Dubai Geography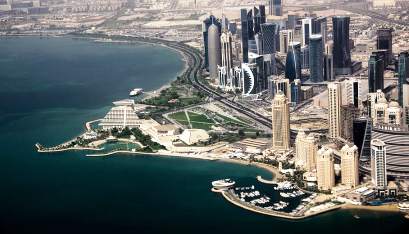 Dubai is located in the Persian Gulf, to the northeast of the United Arab Emirates. Dubai is the second largest emirate, with an urban area of 3885 sq.km. (1500 sq.miles) and the city is roughly 35 sq.km. (13.5 sq.miles). However, it is poised to expand to twice this size with the addition of the artificial islands, the waterfront, the three Palms, the World, the Universe, and Dubailand, as well as many other construction projects underway in the desert.
One of Dubai's most fascinating geographical aspects is Dubai Creek, which divides the city into two regions- Deira and Bur Dubai. Dubai Creek is a natural 15.2km (9.5 miles) inlet from the Persian Gulf, where the city's trade developed. The region north of the Creek is called Deira, and Bur Dubai refers to the south, where many residential and commercial developments lie.
Dubai shares its borders with Abu Dhabi in the south, Sharjah in the northeast and the Sultanate of Oman in the southeast. Due to the city's unique geographical location, it enjoys a strategic position which allows it to connect to all Gulf States, as well as to East Africa and South Asia.
Climate
The line of the Tropic of Cancer crosses through the UAE, making the weather in Dubai hot and sunny. In winter, the Emirate has an average daytime temperature of 25°C (77°F), 12-15°C (53-59°F) near the coast and 5°C (41°F) in the desert and mountains. Nights are relatively cooler, and areas near the coasts experience an average of 50%-60% humidity
In the summer, the weather in Dubai is sweltering and humid, with temperatures touching 42°C (107°F). Even the temperature of the sea can reach 37°C (99°F), with humidity averaging over 90%. Rainfall in Dubai is infrequent and does not last for more than a few days. It mostly rains during the winter, with short gushes and the occasional thunderstorm. On average, Dubai experiences only five days of rainfall a year.

Population
Dubai's population is over 3.56 million as of 2023, with three-quarters male. Dubai is a multicultural society; with only 5% of local Emiratis, the rest are expatriates from all over the world. The expatriate population comprises mainly Asians, particularly Indians, Pakistanis and other nationalities from neighbouring Arabic countries. Many Iranians also came in droves after the Islamic revolution in 1979, when the more wealthy and educated Iranians settled in Dubai. Furthermore, because of the high demand for workers, primarily in the construction and tourism sector, you'll find many people from the Philippines, China, Indonesia and Malaysia who have become residents in the city.
Recommended Activities