Dubai Travel Tips
Travelling with Children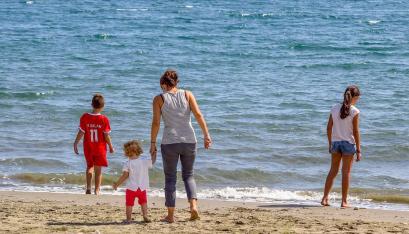 The UAE prides itself as a family-friendly environment and small children are welcome and adored everywhere. The larger hotels have a selection of kids' meals, especially for room service. Toddlers do not normally eat out at night, but they are welcome at eateries, with many places providing booster seats. Phone ahead to check if the hotel you're staying at has babysitting services available.
There are lots of activities for children to do, both in and around the hotels, including special amusement parks and many green spaces with playgrounds. Children under 12 usually qualify for discounts on admission fees to most museums, amusement parks, swimming pools and entertainment centres.
Women Travellers
The UAE is extremely safe for women travellers, nevertheless women travelling alone are a rare sight and you may find yourself the focus of unwanted attention at beaches or nightclubs. You will probably have a smoother trip if you stay in one of the four or five-star hotels, especially if you can use the hotel's private beach facilities.
Women in the UAE have a much more liberal lifestyle than many of their Middle Eastern counterparts (i.e. women are permitted to drive, work etc) however, women travellers should be aware that they are visiting a society which has strong traditional roots based in Islamic law.
If you wish to avoid hassle or risk causing offence, try to wear loose-fitting, longer clothes away from the beach clubs and resorts. You will also find that clothing suitable for the more cosmopolitan cities may not be comfortable or convenient for independent travel to rural areas. Loose trousers and a long-sleeved cotton shirt will suit a wide range of situations.
When socializing in local company it may be considered impolite to offer your hand for a handshake, as some devout Muslims prefer not to shake hands with a woman. It is advisable to wait for the other person to initiate a handshake.
Remember that one advantage of being a woman in the UAE is that women usually get preferential treatment, they are served first at banks and post offices, police stations and other government offices frequently have separate queues for women.
Disabled Travellers
Several five-star hotels have specially-adapted rooms and other facilities for handicapped people that fulfil the international standards. Many of the branded hotels in Dubai have used the Americans with Disabilities Act as a guide during construction so hotels are pretty accessible with roll-in showers, grab bars and other accessibility features.
The airport and major shopping malls have good access and facilities, as well as Dubai's Transport Taxis are fitted to accommodate wheelchairs. There are also designated disabled parking spaces in nearly all of the city's car parks, though you will need a disabled window badge in order to use them.
Airport Facilities
In June 2001 Emirates airline designated a special handling area at departures and arrivals for passengers with special needs. As a result, wheelchair passengers will receive a more personalized service.
Health
Dubai contains well equipped public and private hospitals.
Remarkably, the UAE was one of only two countries with no reported cases of holiday illnesses recorded in a survey by the leading British consumer magazine, Holiday Which? This is a tribute to the success of government immunization programs, the provision of adequate clean water and high standards of cleanliness in hotels and restaurants.
VACCINATIONS
No special immunizations are required, however it would be wise to check beforehand if you are traveling from a health-risk area. Tetanus inoculations are usually recommended if you are considering a long trip. Polio has been virtually eradicated in the UAE and hepatitis is very rare and can be avoided by taking precautions. Hepatitis A is transmitted by contaminated food and water, Hepatitis B, C, D through sexual contact, the use of unsterilized needles and blood transfusions.
MALARIA
There are very few mosquitoes in the towns and cities and, since it is not considered to be a risk, malaria tablets are rarely prescribed for travel in the UAE. However, mosquitoes will find you if you are camping near the mountains or exploring wadis or date groves in the evening, so cover up and use a suitable insect repellent as it is always safer to avoid being bitten. If you are in any doubt consult your doctor or your nearest tropical medical centre before your trip.
SUNBURN
The sun can be fierce throughout the year so heatstroke and heat exhaustion are always a risk. Adequate sunglasses, hats and high factor sun creams are essential, especially for children.
HEALTH INSURANCE
Only emergency cases at the A&E Public hospitals can be seen free of charge. Public hospitals, where the medical facilities are very good, will deal with emergencies free of charge, however, it would be wise to take out medical insurance to cover all eventualities, especially if you need to attend a private hospital or clinic where treatment can be quite expensive. In all instances, medical procedures, including the use of sterilized needles and the provision of blood transfusions are very reliable.
DOCTORS
If you need a doctor, ask at your hotel, or at the General Medical Centre, as well as ringing your embassy for recommendations. If you need emergency treatment and are unable to contact a doctor, try one of the major hospitals listed below.
PHARMACIES
Most medicines are readily available at pharmacies. Each emirate has at least one pharmacy open 24 hours a day. Check in local newspapers for information. In some emirates a 24-hour municipality emergency number (Abu Dhabi 02 777 929; Dubai 04 2232323) lists the locations of open chemists.
DENTISTS
Good dentists are readily available, including orthodontists.
ALTERNATIVE MEDICINE
Chinese medicine is readily available. There is also a homoeopathic hospital.
Ambulance service 998 or 999
Main Public hospitals in Dubai
Al Wasl Hospital – Qud Metha Road
New Dubai Hospital - Near the Hyatt Regency Hotel, Deira
Rashid Hospital – Oud Metha Road, Bur Dubai
Main Private hospitals in Dubai
American Hospital Dubai
– Bur Dubai
Emirates Hospital
– Jumeirah Beach Road
Welcare Hospital
– Garhoud, Deira
Cocmmunication and Media
TELEPHONE AND FAX
The telephone network operated by the national telecommunication organization ETISALAT is superb: local calls are free and direct dialing is available to 150 countries. In 2006, a rival telecommunications company, Du, was launched offering competitive rates.
The international dial code for UAE is +971. Cheap rates for international direct calls apply from 9pm to 7am and all day on Fridays and public holidays. There is a complete list of rates at the back of each telephone directory. You do not need to use the emirate access code when dialling a local number in that emirate. In other words, to ring a number in Dubai from Abu Dhabi, you must use the 04 prefix. If you are dialling a number in Abu Dhabi from another location in that emirate you will not need to use a prefix.
Yellow page directories are available for each emirate (see also 'http://www.emirates.net.ae'). These can be purchased at ETISALAT offices.
Pay phones, both card and coin operated, are located throughout the UAE. Phone cards for local use (Dh30 or Dh45) are usually available from ETISALAT offices, supermarkets, pharmacies etc. Coin operated phones take Dh1 and 50 fils.
LOCAL AND INTERNATIONAL AREA CODES:
Abu Dhabi 02 + 9712
Ajman 06 + 9716
Al Ain 03 + 9713
Dubai 04 + 9714
Fujairah 09 + 9719
Jebel Ali 04 + 9714
Khor Fakkan 09 + 9719
Raï al-Khaimah 07 + 9717
Sharjah 06 + 9716
Umm al-Qaiwain 06 + 9716
Sharjah, Ajman and Umm al-Qaiwain share the access code 06 and Fujairah and Khor Fakkan the access code 09
All hotels offer fax facilities. Faxes can also be sent from ETISALAT offices throughout the Emirates. The offices are recognizable by the distinctive 'golf balli' structures on top of each building.
The main ETISALAT office in Abu Dhabi is on the corner of Zayed the Second and Sheikh Rashid bin Saeed Al Maktoum St. It is open 24 hours a day. ETISALAT's main office in Dubai is on the corner of Beniyas and Omar ibn Al Khatab roads. It is also open around the clock. In Sharjah the main office is located in Al Manakh, close to the dhow roundabout. Opening hours are Saturday to Wednesday 7am to 3pm, however you can send and receive fax and telex messages 24 hours a day.
Shops advertising typing and photocopying services often have fax facilities.
MOBILE PHONES
GSM services are available and the mobile phone code within the UAE is 050. "Speak Easy" is a GSM mobile service for those visitors and tourists who cannot use their own mobile phones in the UAE. You can either buy a new mobile phone and purchase a temporary SIM card or use your own handset with a temporary card. Contact ETISALAT for details.
INTERNET
Most five-star hotels offer guests internet access. Email cheap rates are from 7pm to 7am. At the time of writing public internet access kiosks were being established in the UAE, initially at the major airports. The minimum charge for public access is Dh2 and 60 fils per minute. Payment can be made by credit card.
If you have brought your laptop with you, along with a modem and browsing software, you can dial 500 5333 to get connected to the internet. A charge of 15 fils per minute is billed to the telephone to which you are connected. For more details call 800 5244.
POST
The General Postal Authority runs an efficient postal system with red post collection boxes dotted throughout the cities and towns. Mail is usually collected morning and evening. Stamps can be purchased and post mailed from your hotel. Express postal facilities are also available at post offices.
In general, post office opening hours are from 8am to 1pm and 4pm to 7pm. Saturday to Wednesday. Closed Thursdays and Fridays. 8am to 12noon on Public Holidays, but closed on the first day of Eid holidays. Note that there are no telephone or fax facilities at post offices in the UAE and poste restante facilities are not available.
The main post office in Dubai is on Zaïsabeel Road, Bur Dubai (8am to 11.30pm Saturday to Wednesday, 8am to 1pm and 4pm to 8pm Thursday and closed Fridays). There is also a smaller post office in Deira on Al Sabkha Road. Other post offices are located in Satwa, Karama and Jumeirah.
Opening hours and holidays
Normally shops are open from 9am to 1pm and 4pm to 9pm however many shops, particularly in Dubai and Abu Dhabi stay open all day. Most shopping centres open from 10am to 10pm - frequently later. Some supermarkets are open 24 hours. Although shops and shopping centres are fully air conditioned, the cool of the evening is a favourite time for shopping. Shopping centres and most shops are open on Friday, the Islamic day of rest, but they all close for Juma (Friday) prayers from 11.30am to 1.30pm.
All shops are required to close at prayer times in Raï's al-Khaimah.
OFFICES
Government offices open at 7.30am and close at 3pm but you would be wise to visit in the morning. Private offices tend to keep longer hours, coming back to work in the evening after an extended mid-day break. Some private businesses open from 8am to 5pm. All government offices close for the weekend at mid-day on Thursday and do not open again until Saturday morning. Some offices outside the public sector are open on Thursday and close on Friday and Saturday.
PUBLIC HOLIDAYS
Since Muslim festivals are timed according to local sightings of phases of the moon, the dates outlined below for Islamic religious holidays are approximate. The precise dates are not announced until a day or so before they occur. If a public holiday falls on a weekend, the holiday is usually taken at the beginning of the next working week.
A three-day mourning period is usually announced when a member of the ruling families or a government minister or the head of a neighbouring state dies. Government offices and some private companies will close for the period.
1 Jan New Year's Day.
2 Dec National Day.
Al-Hijra (Islamic New Year).
Mouloud (Birth of the Prophet).
Leilat al-Meiraj (Ascension of the Prophet).
Eid al-Fitr (End of Ramadan).
Eid al-Adha (Feast of the Sacrifice).
Recommended Activities