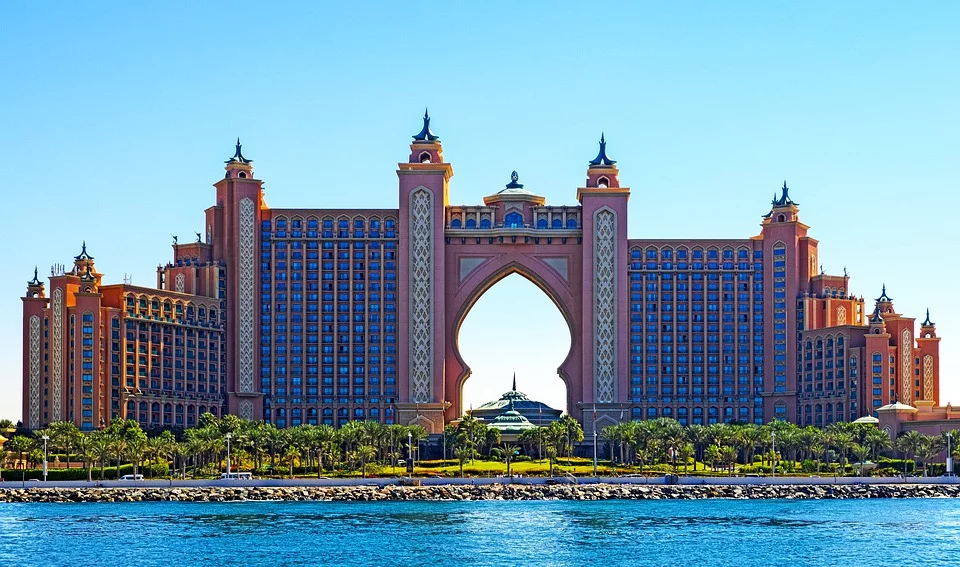 Atlantis is a state of art hotel located on Palm Jumeirah, a man-made island in the shape of a palm. Guaranteed to win the hearts of aqua adventurers is the Dolphin Bay, Aquaventure and the Lost Chambers.
The Dolphin Bay is a lush lagoon carefully modelled on the natural habitats of the dolphins. Here, guests can interact with the dolphins by touching, holding hands, playing ball, hugging and even kissing them!  For the ones, not so adventurous, are the chaise lounges where they can relax and watch the show of the dolphins sipping complimentary drinks.

Aquaventure is a world-class water park set over 42 acres with water slides, river rides, Splasher's play area for the younger kids. It even offers 700 meters of private beach for the guests to relax and unwind.
The Lost Chambers is a truly unique feature of the hotel. During the construction of the hotel, a complex series of passages were discovered, believed to have been lost in the Arabian Gulf years ago. These are believed to be the ruins of the lost city of 'Atlantis' which has been a hot topic for historians and writers since ancient times. Here the guests can feel history pulsing through 'The Lost Chambers' while they stare in awe at the marine life that boasts of sharks, giant catfish, arapaima and more.

The Atlantis has a variety of experiences to offer which includes feeding Cownose Rays, diving alongside sharks, rays, wrasse, guitarfish and many other marine species of the Arabian Gulf. Guests can also enjoy a 'Back of the House Tour' where they can witness firsthand work that goes behind the scenes in caring for the marine life of 'The Lost Chambers'.

It boasts of a nightclub, beaches and pools, a spa to relax and unwind after a hectic day. It has a kids club for kids from 3 to 12 years and club Rush exclusively for teenagers. Atlantis even offers spectacular helicopter tours.

So what are you waiting for? Book your room at hotels Atlantis The Palm along with a flight to Dubai now and enjoy your stay at Atlantis.