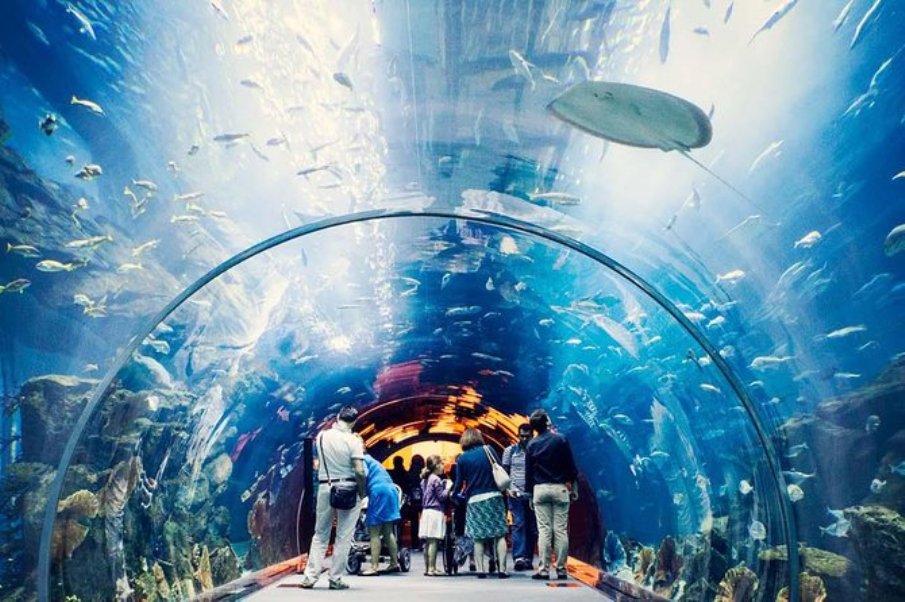 The architectural marvels of Dubai always surprise one and all and its no wonder that
Dubai's aquariums
are famous all around the world for their gigantic tanks packed with exotic fish. A tourist on a visit to Dubai should not miss the chance to look into the eyes of the ferocious tiger sharks and cuddle the dolphins. This summer, check the list of
flights to Dubai
to pick the best one for your vacation.
Dolphin Bay:  The Dolphin Bay at the Atlantis, The Palm Dubai is an ideal place to revel in the company of dolphins as they splash and dash in the vast four & half-hectare dolphin entertainment centre. The approachable sea mammals display their inquisitiveness by welcoming the new guests arriving at their home with a flipper shake. You either play, touch & hug them in the pool or take a belly ride if you wish. Capture some momentous photos of these beautiful dolphins by observing them from a distance. If you are planning to visit Dubai on a corporate trip plan a private encounter at the Dolphin Bay.
Dubai Dolphinarium: The Dubai Dolphinarium managed by Dubai Municipality is also one such Dolphin entertainment centre where the leaping mammals entertain tourists with their playfulness. To occupy the interests of its guests, the Dolphinarium has even integrated a laser and lights show for the dolphin & seal presentation. Get a chance to play with the dolphins in the habitat pool. 
Dubai Aquarium & Underwater Zoo:  The Dubai Mall features the largest suspended aquarium in the world stocked with 10-million litres of water. The tank which is home to thousands of aquatic animals is especially known for its collection of sharks and rays. As shoppers walk through the Dubai Mall, they are able to gaze at the aquarium from any level and angle. Tourists can also have a closer look at the aquarium by booking a glass-bottom boat ride, Cage Snorkeling Experience and Shark Dive that sets a challenge to the ferocious sharks. A walk through the tunnel will give you a chance to inspect the largest collection of Sand Tiger Sharks in the world.
The Lost Chambers:  The Atlantis, Palm Jumeirah also features the 'The Lost Chambers' aquarium planned when passageways dating thousands of years back were found during the construction period.  The ancient street system became the core idea for The Lost Chambers which incorporates plentiful of marine life from around the world such as sharks, giant catfish, giant arapaima and more. Tourists can choose from various packages offered similar to the dual pack featuring Aquaventure & The Lost Chambers, diving into the Ambassador Lagoon, arranging private meetings within the settings of the aquarium and the "Back of the House Tours" to personally experience the working of the aquarium.