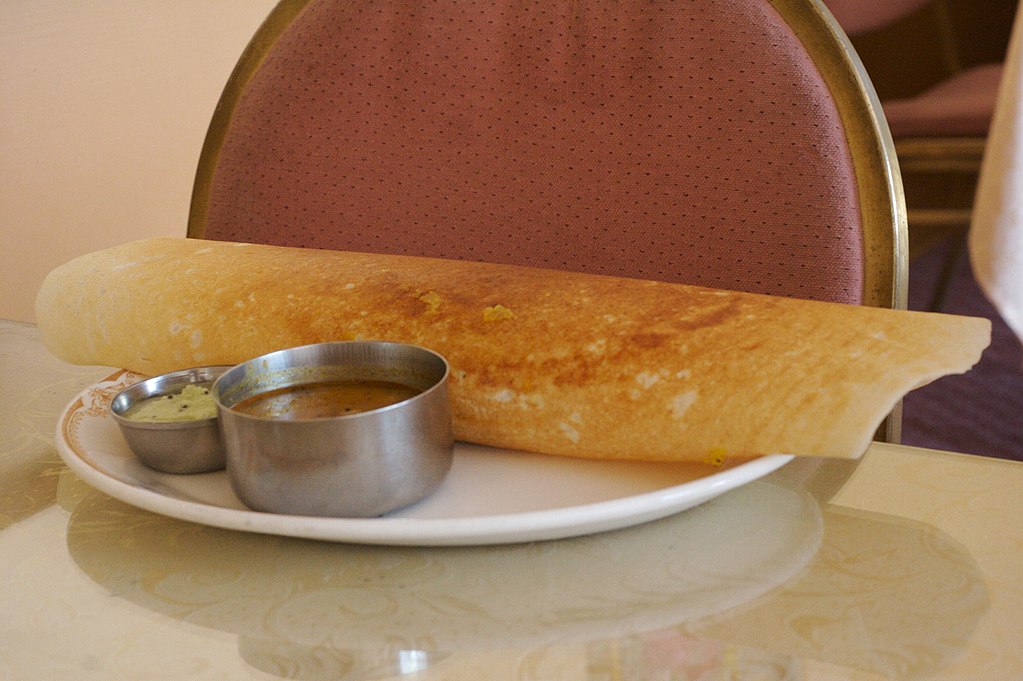 Going to places of interest is a fun-filled adventure that does involve amusement, but sometimes it can become a burden also when it comes to food; especially if the traveller is a hardcore vegetarian or vegan.
Many times business trips or holidays lead an individual to take up a tour to a distant country. Just imagine what will happen to such a person if he/she lands up in a highly sophisticated tourist city like Dubai, popularly known for its hospitality, where the Arabian food available is mostly non-vegetarian.
Given this backdrop, here is an attempt and just a guideline to help all the green-stuff lovers like me who can plan well in advance and accordingly do their bookings in a hotel for accommodation to avoid the end moment hunt for food of their choice.
There are some really good vegetarian outlets in Dubai, but most of them have been opened by Indians and that's why chances are that you might end up over eateries where they serve Indian cuisines only. Also, the number of such special restaurants isn't much but around 50-60 good vegetarians restaurants are there in Dubai that definitely cater to the needs of veggies. Especially the Bur Dubai area i.e. the old Dubai is a nice hub for vegetarian food where one can find pleasant and a variety of cuisine mostly due to the large number of the subcontinent population who keeps visiting the land of beaches.

Moreover, Dubai has a large number of cafes that do serve great vegetarian food, say e.g. The Lime Tree Café, THE One and Celebrities where one can relish fine dining over a completely separate vegetarian menu. High-class organic vegetarian food is also available in Magnolia, a restaurant in Madinat Jumeirah.

With the below mentioned vegetarian restaurants in Dubai where you get cheap (inexpensive) food you can actually go green:
1) Akshaya Karama:
Location: Near Families Supermarket, Opp. Day to Day
Food: South-Indian, Vegetarian
Tel: +971(4) 3371596, +971(4) 3365339
Open: Sat - Thu: 7:00am - 3:00pm, 7:30pm - 11:30pm
Fri: 7:00am - 11:30am, 1:00pm - 3:00pm, 7:30pm - 11:30pm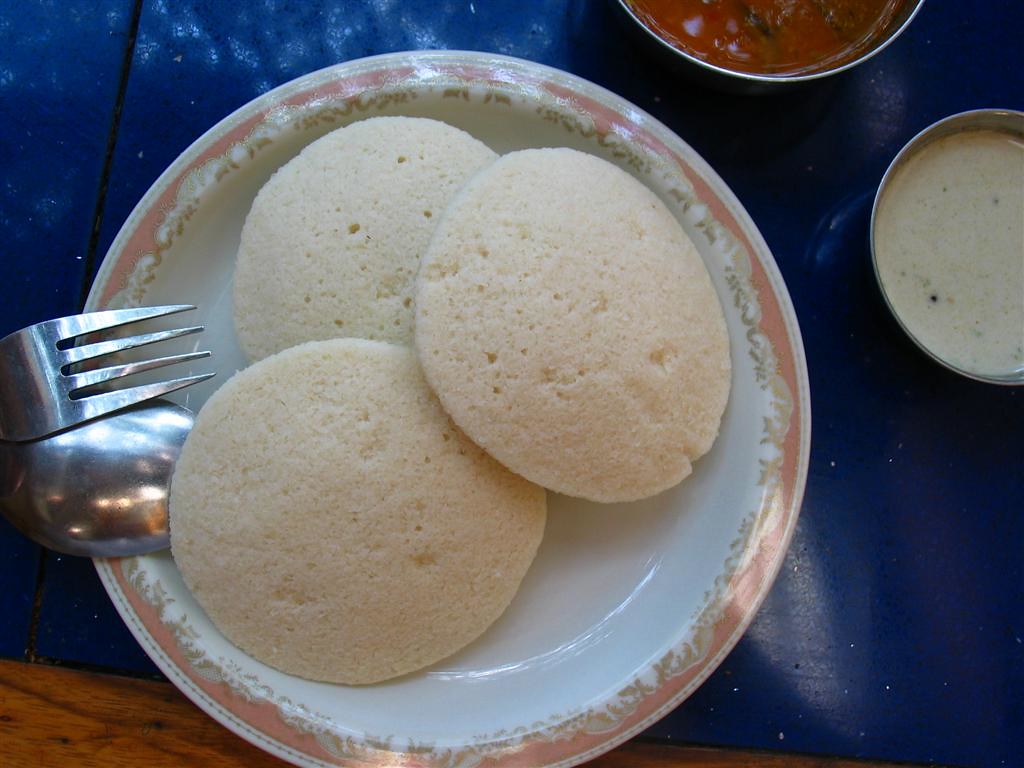 Credit: Flickr / Nick Grey / CC BY-SA 2.0
2) Balaji Bhavan (Karama):
Location: Al Maskan Building, Near M.M.I.
Food: Indian, South-Indian, Vegetarian, Vegan-friendly, Fast food, Take-out, Catering, Delivery
Tel: +971(4) 3368455, +971(4) 3368540
Open: Sat - Thu: 7:00am - 3:30pm, 5:30pm - 11:30pm
Fri: 7:00am - 11:30am, 1:30pm - 3:30pm, 5:30pm - 11:30pm

3) Bhima's Karama:
Location: Opp. Day to Day
Food: Indian, South-Indian, Vegetarian
Tel: +971(4) 3356353, +971(4) 3359757
Open: Sat-Thu: 6:00am - 3:30pm, 5:30pm - 11:30pm
Fri: 7am - 12:30pm, 1:00pm - 3:30pm, 5:30pm - 11:30pm
4) Bikanervala Karama:
Location: Behind Trade Centre Road
Food: Indian, Vegetarian, Fast food, Buffet, Juice-bar, Take-out, Delivery
Tel: +971(4) 3968813
Open: All Days: 9:00am - 12:00am

5) Bombay Woodlands (Karama):
Location: Near Lulu / Families Supermarket, Opposite Day to Day Centre
Food: Indian, South-Indian, Vegetarian
Tel: +971(4) 3371041, +971(4) 3371046
Open: Sat - Thu: 7:00am - 3:30pm, 5:00pm - 11:30pm
Fri: 7:00am - 11:30am, 1:30pm - 3:30pm, 5:00pm - 12:00am

6) Emirates House:
Location: Bur Dubai
Food: South-Indian, Vegetarian
Tel: +971(4) 3522597, +971(4) 3517886
Open: Sat - Thu: 7:00am - 3:00pm, 5:00pm - 11:00pm
Fri: 7:00am - 11:30am, 1:30pm - 3:00pm, 5:00pm - 11:30pm

7) Govinda's (Karama):
Location: Behind Regent Palace Hotel, Bur Dubai, UAE
Food: Indian, Vegetarian, Buffet
Tel: +971(4) 3960088
Open: Sat - Thu: 12:00pm - 3:30pm, 7:00pm - 1:00am
Fri: 1:30 pm - 3:30pm, 7:00pm - 1:00am
8) Haji Ali Juice Centre, (Karama):
Location: Opposite Burjuman Centre
Behind Ministry of Health
Food: Indian, Vegetarian
Tel: +971(4) 3978844
Open: Sat - Wed: 9:00am - 1:30am, Thu: 9:00am - 2:30am, Fri: 4:00pm - 1:30am

9) Kamat, Bur Dubai:
Location: Opposite Meena Plaza
Food:Indian, South-Indian, Vegetarian
Tel: +971(4) 3598444, +971(4) 3595441
Open: Sat - Thu: 10:30am - 3:15pm, 7:00pm - 11:45pm,
Fri: 10:30am - 11:30am, 1:15pm - 3:15pm, 7:00pm - 11:45pm

10) Kamat (Qusais):
Location: Next to Grand Hotel
Food: Indian, South-Indian, Vegetarian
Tel: +971(4) 2634066
Open: Sat - Thu: 10:30am - 3:15pm, 7:00pm - 11:45pm
Fri: 10:30am - 11:30am, 1:15pm - 3:15pm, 7:00pm - 11:45pm

11) Mognolia Jumeirah:
Address: Dar Al Madinat Jumeirah, The Arabian Resort, Al Sufouh Road, Jumeirah
Food: Vegetarian
Tel:+971(4) 3668888
Open: Sun - Thu: 12:00pm - 3:00pm, 7:00pm - 11:30pm, Fri - Sat: 7:00pm - 11:30pm
12) Paratha King Karama:
Location: Next to Baskin Robbins, Opp. Karama Post Office
Food: Indian, Vegetarian
Tel: +971(4) 3979110, +971(4) 3976899
Open: Sat - Thu: 8:00am - 3:00pm, 6:30pm - 11:00pm.  Fri: 11:30am - 3:00pm, 7:00pm - 11:00pm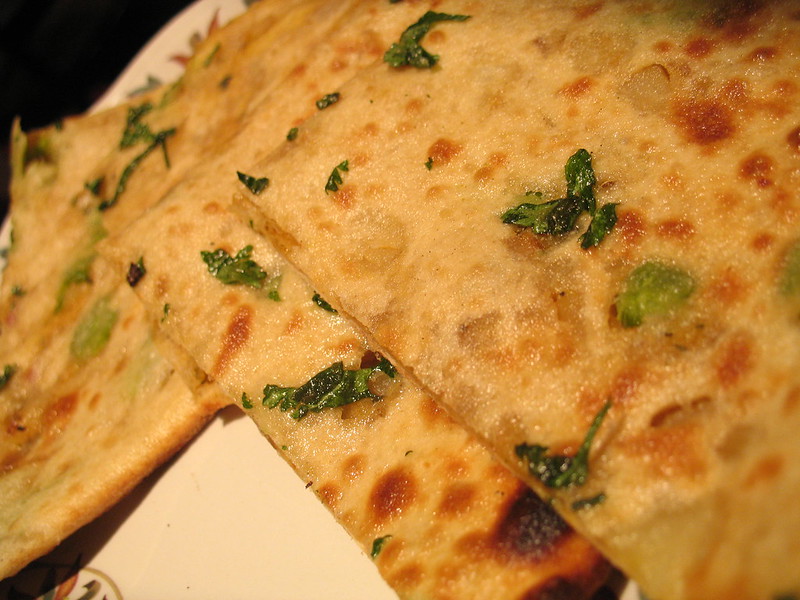 Credit: Flickr / Simon Law / CC BY-SA 2.0
13) Royal Garden (Karama):
Location: Opposite Dubai Pyramid, Near Burjuman
Food: Indian, South-Indian, Vegetarian
Tel: +971(4) 3969191
Open: Sat - Thu: 7:30am - 3:30pm, 7:00pm - 11:00pm, Fri: 7:30am - 11:30am, 1:30pm - 3:30pm, 7:00pm - 12:00am

14) Sangeetha (Karama):
Location: Beside Lulu Centre
Food: Indian, South-Indian, Vegetarian
Tel: +971(4) 3367111
Open: Sat - Thu: 7:30am - 3:30pm, 5:00pm - 11:00pm, Fri: 7:30am - 11:30am, 1:30pm - 3:30pm, 5:00pm - 11:00pm

15) Sangeetha Vegetarian, Bur Dubai:
Location: Near Astoria Hotel, Bur Dubai
Food: Indian, South-Indian, Vegetarian
Tel: +971(4) 3511145
Open: Sat - Thu: 7:30am - 3:30pm, 5:00pm - 11:00pm, Fri: 7:30am - 11:30am, 1:30pm - 3:30pm, 5:00pm - 11:30pm
16) Shiv Sagar Bur Dubai:
Location: Meena Bazaar, Bur Dubai
Food: Indian, South-Indian, Vegetarian
Tel: +971(4) 3522020, +971(4) 3595453
Open: Sat - Thu: 8:00am - 3:00pm, 5:00pm - 12:00am, Fri: 8:00am - 11:30am, 1:00pm - 3:00pm, 5:00pm - 12:00am

17) Sivestar Bhavan (Karama):
Location: Star of Karama Building, Next to Choithram supermarket
Food: Indian, South-Indian, Vegetarian
Tel: +971(4) 3362566, +971(4) 3357844
Open: Sat - Thu: 7:40am - 3:30pm, 5:30pm - 11:30pm, Fri: 7:40am - 11:30am, 1:30pm - 3:30pm, 5:30pm - 11:30pm

18) Simran's Aappa Kadai:
Location: Mattar Al Tayer Building, Opposite Lulu Centre
Food: Indian, South-Indian (Especially known for its 'Appams')
Tel: +971(4) 3348030, +971(50) 6240685
Open: Sat - Thu: 11:30am - 3:30pm, 6:30pm-12:30am, Fri: 1:15pm - 3:30pm, 6:30pm - 12:30am

19) Sukh Sagar (Karama):
Location: Trade Centre Road
Food: Indian, South-Indian, Vegetarian, Fast food, Take out, Delivery
Tel: +971(4) 3967222
Open: Sat-Wed: 8:00am - 12:00am, Thu - Fri: 8:00am - 1:30am
20) Udupi Karama:
Address: Sh. Mohd. Building No.2, Shop No.4, Opposite Sind Punjab Karama
Food: Vegetarian, Chinese, Indian, International, Buffet, Take-out
Tel: +971(4) 3345208, +971(4) 3365563
Open: All Days: 7:00am - 11:00pm

21) Veg World Bur Dubai:
Location: Meena Bazaar, Bur Dubai
Food: Indian, South-Indian, Vegetarian, Western, Fast food, Juice bar
Tel: +971(4) 3517070
Open: Sat - Thu: 9:00am - 11:45pm, Fri: 9:00am - 11:30am, 1:00pm - 11:45pm
22) Venus (Karama):Location: Opposite Lulu Center
Food: Indian, South-Indian,Vegetarian
Tel: +971(4) 3352113
Open: All Days: 7:00am - 11:30pm

24) Wagamama:
Location: Crowne Plaza Hotel, Sheikh Zayed Rd
Food: Asian, Vegetarian
Tel: +971(4) 3311111
Open: All Days: 12:00pm - 12:00am
25) Rangoli Vegetarian Restaurant:
Address: P.O.Box 51375, Cosmos Lane, Opp. ITL Bldg, Meena Bazaar, Bur Dubai, UAE
Tel: 04 - 3515873 / 3554462
Food: Vegetarian, Traditional Gujarati