Here is a list of some best parks in Dubai. Do not miss out on a chance to visit these aces of wonderful entertainment!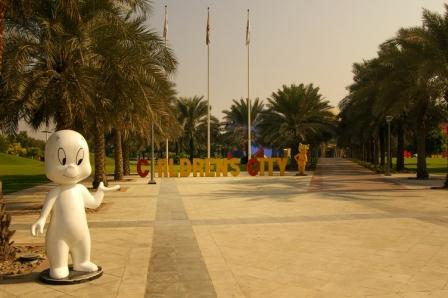 Children's City
(educational park)
Features: Children's City is a hi-tech educational park situated at Dubai Creek Park on Bur Dubai. It offers ample range of activities and attractions such as a trip through the human body, nature, international cultures, science and space. Souvenir shops, cafes, first aid room, prayer room are also available at this park.
Entry fees:
Yes
Location:
Bur Dubai, entrance from Creekside Park Gate No.1, Dubai.
Tel:
+971 4 334 0808
Timings:
Saturday to Thursday: 9.00am to 8.30pm
Friday: after 3.00pm
Jumeirah Beach Park
Features: Situated on Jumeirah Beach Road and next to the Hilton Beach Club, Jumeirah Beach Park is spread over 12 hectares of parkland. It has play areas, barbecue and food sites, and jetty area facing the beach. This park swanks pleasing harmony of landscaping and environment.
Entry fees: Yes
Location: Opposite to Chilli's Restaurant on the Jumeirah Beach Road, Jumeirah, Dubai.
Tel: +971 4 3492555
Timings: Open all days from 8:00am-10:30pm
Thur/ Fri: till 11.00pm.
Sat: for children and ladies only

Al Rashidiya Park
Features: Al Rashidiya is a small family park located close to the Dubai International Airport. Being a quiet place and well-equipped with childrens' play areas and seating areas, this has become a favourite place for a family outing.
Entry fees: Yes
Location: Al Rashidiya Complex, Rashidiya, Dubai
Tel: +971 4 2851208
Timings: Open all days from 8:00am - 11:00pm
Saturday to Wednesday: for ladies and children only

Satwa Park
Features: One of the newest parks in the city, Satwa Park offers facilities for basketball, tennis, volleyball, football and an advanced variety of games facilities suitable for all age groups. Located behind Al Moosa Towers on Sheikh Zayed Road, the park is famous for rubberized jogging track, Sun Clock, facilities for children and an open shaded area.
Entry fees: No
Location: Behind Al Moosa towers on Sheikh Zayed Road, Dubai
Tel: +971 4 329 0989
Timings: Open all days from 8.00am to 11.00pm

Wonderland Park
Features: Wonderland park has 3 definite areas: Main Street, Theme Park & Fujifilm Splashland. Large swimming pool, speed slides, twisters, wave runners are some of the main attractions. It also provides a range of juvenile rides for the younger enthusiasts including camel rides and a 3D theatre.
Restaurants and ice cream parlor at the wonderland park are take care of your appetite.
Entry fees: Yes
Location: Bur Dubai, between Al Gharhoud and Al Boom Tourist Village, Dubai
Tel: +971 4 324 1222

Timings:
a) SplashLand: 10.00am to 6.00pm
b) Theme Park: Saturday & Wednesday: 2.00pm to 10.00pm
Thursday & Friday: 10.00am to 10.00pm
Wednesday: for ladies only