The much anticipated Dubai shopping festival 2010 scheduled to start from January 28, 2010 has commenced, that will end on February 28, 2010.
In the meantime, you can spend some beautiful moments in Dubai;
explore the offerings of the festival, great discounts, promotional offers, deals
and some of the
best bargains
.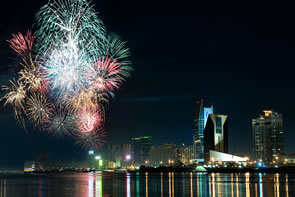 Apart from shopping, entertainment activities are also available in plenty where visitors from the nearby countries are expected to be a part of the
live performances, regional events
,
Dubai International Jazz festival
, etc. that are listed during this period.
By means of various main events at the festival, many cash prizes and Luxury cars can be won. Not only this, the Dubai Festival is believed to have a
weight loss conference
for the fitness freaks and
a Fashion festival
for all fashion enthusiasts.
During the festive period, you can relish the
mouth watering food festival
amid the best of regional and international cuisines, shop and witness Chinese Flying Poles, The Waterway of Lights, the Art of Fire and Human Canonball.
Here is the schedule of the major events of DSF in brief:
1) DSF Family Desert Camp by 'Watani':
It is an outdoor event where families and visitors can rent tents for some days to enjoy the number of amusing activities planned during that phase, for e.g.:
camel rides, quad bikes, horse riding, barbecue facilities, souks, handicrafts,
and other traditional products. For children, the
rides zone
,
entertainment shows
and outing has been made accessible.
Date:
28th January to 28th February 2010
Time:
24 hours
Venue:
Al Warqa 4 Area
2) Carpet Oasis:
As the name suggests, here you can get the best of the carpets in the middle of the trade fair, which is indeed a must see for those with an inclination for culture and history. Spanned across thousands of square meters area, it exhibit
products from places like Iran, Turkey, India, Pakistan, Afghanistan, and Turkmenistan
.
Date:
28th January to 28th February 2010
Time:
Saturday to Thursday: 10:00am to 10:00pm, Friday: 4pm to 11:30pm
Venue:
Dubai Airport Expo - West Hall
3) Watani Kids Camp:
It is particularly meant for children, kind of
a special camp just for kids
, where Watani supports
fun and entertainment
. It is a boon particularly for those who are on a travel to Dubai during this period along with their children. By means of this watani camp, their kids too can have some great experience, while they themselves can take pleasure in shopping and other activities.
Date:
30th January to 13th February 2010
Time:
8:30am to 1:30pm
Venue:
Al Warqa 4 Area
4) Skywards Dubai International Jazz Festival:
It is a festival that
brings the local, regional, and international jazz artists together
into two sub-events this year, where people with love for art and music can enjoy in the midst of some of the best known names in the jazz.
World of Jazz Date:
3rd to 9th February 2010
Time:
8:30pm & 10:30pm
Venue:
The Walk at JBR
Jazz FestivalDate:
10th to 19th February 2010
Time:
10th February to 16th February: 8:30pm - 11:00pm, 17th February to 19th February: 6:00pm to 12:00 midnight
Venue:
Dubai Media City
5) Gulf Bike Festival 2010:
You can enjoy 
free style bike demonstrations
and
stunt shows
at the Gulf Bike Week during the jovial period of the festival on two wheels. The event provides an ideal lifestyle environment for music fans, sports enthusiasts, and thrill seekers of all ethnicity and age group.
Date:
4th to 6th February 2010
Time:
4th February: 2:00pm to 11:30pm, 5th to 6th February: 12:00pm to 8:00pm
Venue:
Dubai Festival City
6) The 9th Traditional Poetry Forum:
The forum is infact a great platform under the Patronage of H.H. Sheikh Hamdan bin Mohamed bin Rashid Al Maktoum, where the
poets can get pleasure from the Forum
chiefly designed for them, that will certainly bring cultures together.
Date:
13th to 18th February 2010
Time:
7:30pm onwards
Venue:
Dubai International Convention and Exhibition - Parking C
7) Kuwaiti Play 'Bu Sara Fe Al Omara'Date:
25th - 28th February
Time:
8:30pm - 11:30pm
Venue:
H.H. Sheikh Rashid Auditorium - Indian High School