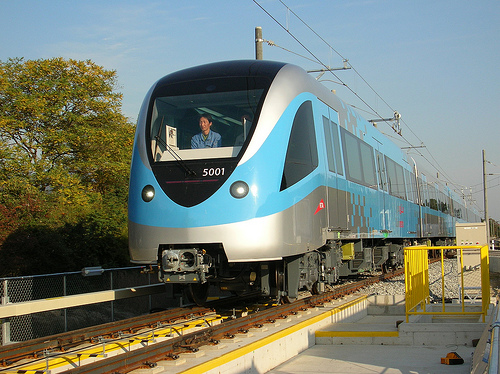 Due to overall developments in international business relocations, growth in tourism industry, Dubai now highly requires rapid transport system that travels from one end of the city to another.
As the city flaunts its luxury in every possible way, it has carried out the most luxurious transport system, the Dubai Metro.
Roads and Transport Authority (RTA) of Dubai, responsible for gazing and providing transport to the city has been successful in providing the citizens a modern, comfortable and reliable  inter-city as well as intra-city transport system.  To fulfill city's requirement of rapid transport capable of achieving Dubai's vision & serving the vital interests of the Emirate, the RTA has successfully carried out metro system in Dubai that connects one end of Dubai to another, and other emirates of UAE and neighbouring.
The Dubai Metro aims to provide another mode of transport to ease traffic congestion, reduce traveling time and pollution and offer the metro users modern, comfortable and reliable travel facility. The Dubai Metro comprises various metro lines some of which are fully functional while some are under construction.
Green Line Metro
A fully functional, full turn key project includes 8 underground stations, 12 elevated stations and 1 Depot. The Green Line metro covers 8 kilometers under the ground, 15 kilometers on the ground and runs between Etisalat station to Dubai Health Care City.
The green line metro takes approximately 36 minutes to reach the last station on its track.
Red Line Metro
This is also a fully functional, full turn key project having 29 stations inclusive of 4 underground stations, 24 elevated stations and 1 at-grade Station. It also has 2 depots and 2 park & ride facilities.
Red Line Metro takes approximately 67 minutes to cover the distance between one end and the other.
Blue Line Metro
This project is approved for the construction and will be completed in 2014. The Blue line will cover 47 kilometers running along the Emirates Road between Dubai International Airport and currently under construction new airport Al Maktoum International Airport.
The Blue line trains are expected to travel at an average speed of 110 kilometres per hour.
Purple Line
The Purple Line is a proposed line of the Dubai Metro network. The purple line will run between Dubai International Airport to Al Maktoum International Airport along Al Khail Road.
The Purple line will be covering 49 kilometres. Trains of this line will travel at an average speed of 110 kilometres per hour.
This metro line in Dubai was announced in 2007 but the construction of the line has not yet started. The reports in July 2011 claimed that the Purple Line Project may face cancellation.
So, when you
visit Dubai
, do not miss a chance to travel by Dubai Metro!