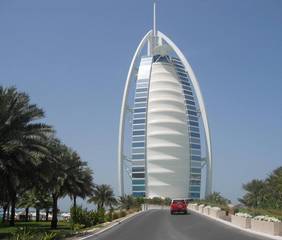 If wishes were horses, everyone would want to check into the Burj Al Arab, the most grandiose and exemplified hotel in the world. However, the dream of a stay at the Burj Al Arab remains one for many, except for clicking photographs during their sightseeing tours.
A little, peek into the extremism by Jumeirah Hotels & Resorts in developing the world's first seven-star hotel shall give an inkling of what exactly holds for them if they were to stay in the hotel.
Burj Al Arab stands like a glittering gem on the coastline of Persian Gulf. It is one of the most luxurious hotels of the world. It has elegant facilities, panoramic beauty and exquisite sea views. It is a splendid example of stunning architecture with a soaring height of 312 meters dominating the magnificent Dubai coastline. Beautifully crafted in a billowing ship design, Burj Al Arab is a dreamy hotel for the visitors. Built on a man-made island, this hotel is 280 meters away from offshore. This hotel is popular among the tourists because of its manifestation and astonishing appearance.
Burj Al Arab is an ultimate example of Arabian hospitality, and rated as one of the prestigious hotels of the world. This hotel has by far all latest facilities with upgraded technologies. It consists of around 202 spacious duplex suites, which range from 170 to 780 meters. A private reception on every floor provides higher standard of personal services to the guests. Burj Al Arab has six award winning signature restaurants and excellent conference & banqueting venues. Visitors can enjoy a great dinning with butler service around the clock. This hotel offers an oriental massage at the prolific Assawan Spa and Health Club.  Guests can also hire a private shopper who helps them to explore different treasuries of this hotel.
Burj Al Arab has an exclusive private beach named as Majlis Al Bahar, Wild Wadi Water-park, Sindbad's kids Club, Infinity pools and Yacht charter. It offers a Roll-Royce fleet, In-suite check-in & checkout, marvelous circular ballroom, scenic tours and helicopter transfers.
Visitors can log on to
Dubai Flights
to know about flights timing and booking services.  Enjoy the flexibility of online reservation and do not miss the opportunity of a unique stay at one of the
Top Recommended Hotels
in Dubai.