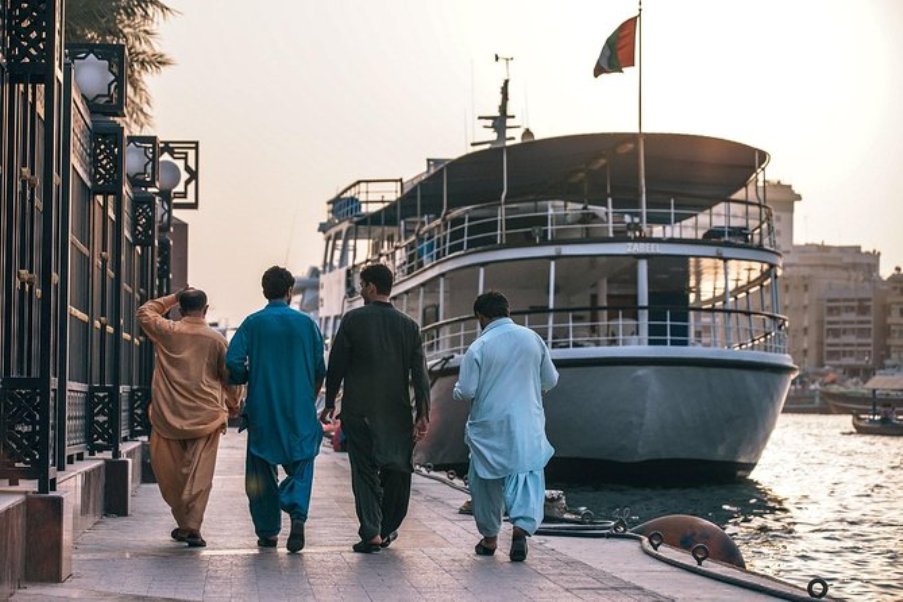 Exploring Dubai on without a vehicle may not seem the best thing to do with very little pedestrian-friendly amenities on offer. Yet, visiting the historic area of Deira is not such a far-fetched idea, especially when you approach it in the early mornings or early evenings.  The traditional architecture of Emirati houses and mosques, cultural centres, spice souks, vegetable markets, abra rides across the Dubai Creek are best discovered only by a walking tour.
The neighbourhood of Deira can be visited in 30 minutes, which is enough keeping in mind you want to be back in your hotel room before the scorching midday sun takes over. To reach Deira, take a taxi to Bur Dubai abra station or head to the Al Fahidi Fort (Dubai Museum).  As you leave the flurry of souks behind at the Bur Dubai abra station, get awestruck by the alluring magnificence of the Deira creek as you hop onto one of the cross-creek dhows or water taxis. If you arrive here in the evening, the abra crossing tour at night is a lovely blend of bright lights and moonlight showers. Cross the road via the subway to reach the Old Baladiya Street. As the street winds up, notice the familiar smell of old souks selling vegetables and fruits during the daytime. The old Grand Mosque overpowering all these shopping streets instantly catches your attention with its traditional Islamic architectural style.

The streets of Deira are the birthplace of today's Dubai. Here, the Grand Souk, Spice Souk and Gold Souk have been selling wares, spices and gold for centuries. Soak in the invigorating fragrances after which you can join the overwhelmed women playing in the golden caskets.  While returning back, catch a glimpse of the fish market. Many of you may squinch your nose at the smell but a pescatarian would certainly be found bargaining a catch.

A walking tour of historic Deira is one of many activities in Dubai. But there are many more 'must-see' among Dubai attractions including the Burj Khalifa, Burj Al Arab, shopping malls, beaches, etc.