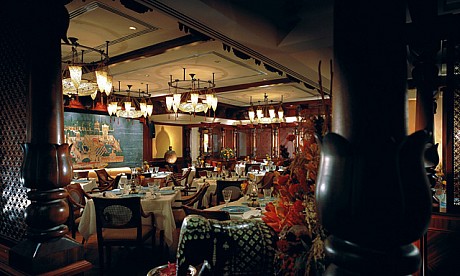 Ashiana
Ashiana is the in-house restaurant of Sheraton Dubai Creek Hotel and towers and is well-known for its take on Indian cuisine. If you are not knowledgeable about Indian dishes, then you could try out taimuri shorba (lamb soup), gosht boti kebab (a grilled starter made up of mutton), murg Ashiana (bands of chicked rolled in a sauce of pepper and spices), murgh tikka (grilled chicken cooked in a curry paste), & butter naan and saffron rice to go with the main course. The restaurant may not be the most inexpensive one of all, but its menu & service is impeccable.
Opening Hours
: Daily 7:30 PM to 11:30 PM; Friday Lunch 1:00 PM to 3:00 PM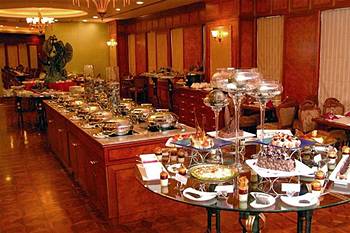 Aangan
Aangan at Dhow Palace Hotel is an award winning restaurant with its specialty being Indian platter. The food is perfect to the T, and you really don't need much help in choosing from the menu as everything is as delicious. Number of Indian families as well as outside tourists flock the restaurants for its ambience with a live band and taste that has everybody licking their plate. Something that you should lay your hands on is tomato curry lamb shank and tandoori.
Opening Hours
: Lunch 12.00 PM  to 3.30 PM, Dinner 7.00 PM to 01.00 AM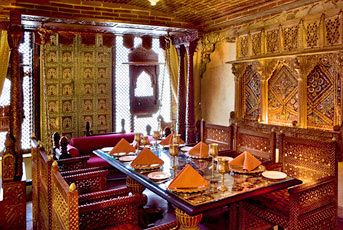 Antique Bazaar
Brown tone hues welcome you to Antique Bazaar; a restaurant attached to Four Points by Sheraton Bur Dubai. The walls are adorned with images of famous Indian personalities recommending the restaurant which caters to Indian specialties with a live music background. Hydrebadi dishes are its forte at reasonable pricing and taste
.
Opening Hours
: Saturday to Thursday 12:30 PM to 3:00 PM; Daily 7:30 PM to 2:00 AM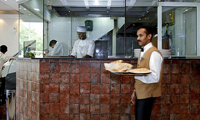 Calicut Paragon
Part of the Paragon chain of restaurants from India, Calicut Paragon is an independent and inexpensive restaurant located on street side food bazaar of Karama Dubai. Serving Malabar specialties, non vegetarian servings obviously form a major part of its menu. Fish curry (fish pieces cooked in South Indian spiced sauce) and chicken biryani (spicy chicken and rice dish cooked in layers which includes lots of raw spices) are its lunch specialties. Accompaniments with the courses include chutneys, sauces, and curries. There's also a tall glass of buttermilk to be gulped after the meal.
Opening Hours
: Saturday to Thursday 11.30 AM to 4.30 PM, Friday 1.00 PM to 4.30 PM
Address
: Opposite Lulu Centre, Karama, Dubai, United Arab Emirates
Tel No
: +971 4 3358700
Fax No
: +971 4 3368629
Website
: paragonrestaurant.net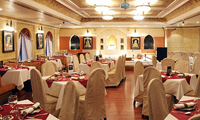 Dakshin
Dakshin at Lotus Hotel helps you discover South Indian flavor with live classical music streaming in the background. Among favorites are Masala Dosa (pancake stuffed with sautéed potatoes and onion), koondal porichathu (calamari rings dipped in batter and deep fried), onion pakora (onion rings dipped in batter and deep fried) and egg masala appam (pancake made from egg batter and vegetables). Hard core non vegetarians could try out murg tikka masala and mutton biryani with kulcha.
Opening Hours
:  Saturday to Thursday 12 AM to 3 PM, 7 PM to1 AM; Friday 11 AM to 4 PM, 7 PM to 1AM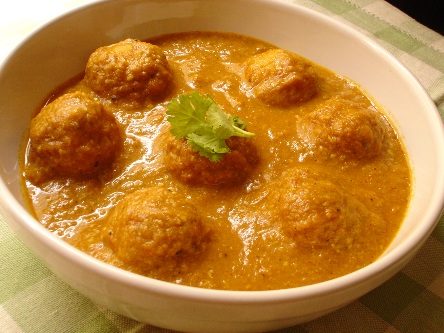 Delhi Darbar
Something so inexpensive yet to tantalizing is the best way to describe Delhi Darbar. Located on the Karama food streets in the Deira district of Dubai, this place is not the one to attract you for its interiors for they are very simple. But its food is simply delicious, very Indian and very aromatic. You could go with dishes like Palak Paneer, Chicken Tikka Masala and Malai Kofta.
Opening Hours
: Saturday to Thursday 9 AM to 1.30 AM; Friday 9 AM to 11.00 AM, 1.30 PM to 12 midnight
Address
: Al Naif Rd, Ayal Nasir, Deira, P.O.Box: 6962, Dubai, United Arab Emirates
Tel No
: +971 4 2733444
Website
: delhi-darbar.com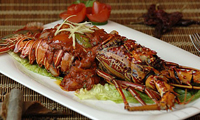 Gazebo
Gazebo is an independent restaurant where you can savor some aromatic Indian culinary food. Situated in the Bur Dubai region, its Lucknowi and Hydrebadi curries attract you like a magnet with the achari gosht (lamb curry in sun dried tomato sauce) being the all time favorite. Other equally delectable servings are of Pudina Paneer tikka, Chana masala, and poppadums.
Opening Hours
: Lunch 12.00 PM to 3.15 PM, Dinner 7.00 pm to 11.45 pm
Address:
Next to Sharaf DG, Al Mankhool Road, Bur Dubai, Dubai, United Arab Emirates
Tel No:
+971 4 3598555 / 3599712
Fax No:
+971 4 3599713
Website
: gazebo.ae
Indego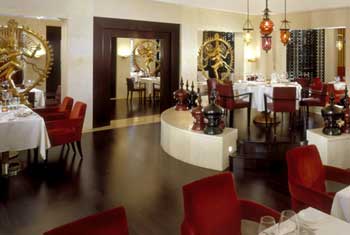 Grosvenor House Hotel is abode to the Indego restaurant with Chief Chef Vineet Bhatia doling up trademark Indian dishes for its guests. Vineet Bhatia is also the first Indian Chef to receive the Michelin star. The menu is not exactly traditionally Indian but a fusion twisted up with continental and European flare. So dishes like chocolate samosa dessert may sound a little odd but are worth trying. There is also the smoky salmon with dressings of honey, yogurt and chilly.
Opening Hours
: Sunday to Friday 7.30 PM to midnight; Thursday 7.30 PM to 1.00 AM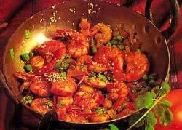 India Palace
Splendidly done up intricate wooden carved interiors with traditional copper tableware as in the old times, India Palace takes you the forgone era of kings and queens. The menu is as elaborate with starters like Hara Bhara Kebabs (spinach cutlets), lasoon machli (garlic and yoghurt mix-coated fish). Main course includes dishes like banjara kofta (balls of cottage cheese rolled in spinach, deep fried and sauted with tomato gravy) while desserts spin up names like Saffron Kulfi; a milk product.
Opening Hours
: 12.00 PM to 11.30 PM Daily
Address:
PO Box 34861, Garhoud, Dubai, United Arab Emirates
Tel No:
+971 4 2869600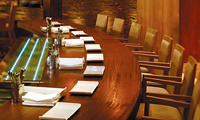 iZ
iZ is an high-end restaurant located in Grand Hyatt, Dubai. But the delicacies served here will definitely help you forget the prices. With both vegan and non-vegetarian options available, the menu becomes endless, but the dish worth trying is prawn masala. It's heavenly tasting this dish in these cream lit interiors. Highlights are the tandoori dishes cooked at the live cooking stations and the elite crowd that frequents the restaurants.
Opening Hours
: Lunch: 12:30 PM to 3:00 PM Daily
Dinner: 7:00 PM to 12:30 AM Daily (until 1:00 AM on Thursdays and Fridays)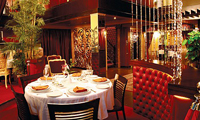 Options
Indian Chef Sanjeev Kapoor of 'Khana Khazana' fame has opened his own chain or restaurant of which Dubai has one its branch in Options. Traditional Indian cooking but tastes that linger and attract you back to the restaurant. If you are missing Indian food and wouldn't want to experiment then Options is the best 'option'.
Opening Hours
: 7 PM to 12 AM Daily
Address:
Convention Centre Office Tower, Dubai World Trade Centre, P.O. Box 9668, Dubai, United Arab Emirates
Tel No:
+97 4 3293293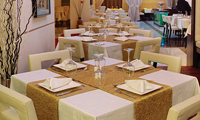 Spice Lounge
An independent restaurant, the pleasant and warm Spice Lounge comes up with a gastronomic fare that matches its tastefully done up ambience. You will enjoy the whole experience of coming here due to the great food served here which includes lip smacking dishes like biryani, mutton rogan josh and sinful desserts.
Opening Hours
: Sunday to Wednesday 12 PM to 12 AM, Thursday to Saturday 12 PM to 1 AM
Address:
Al Ghazal Luxury Tower, Ground floor, Al Wasl Road (near Al Ghazal Mall and Iranian Hospital), Jumeirah, Dubai, United Arab Emirates
Tel No:
+971 4 3453365
Zaika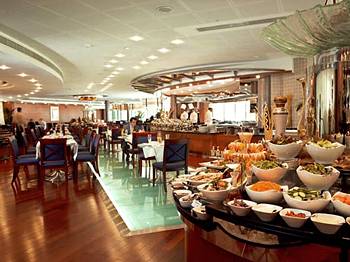 Zaika is attached to Al Murooj Rotana Hotel and its friendly interiors and hospitable staff welcome to the world of North Indian cuisine. There are 3 private dining rooms having capacity for 8 guests each and the restaurant is separated out on two floors. Every dish on its menu is worth try but a special mention for dhania (coriander) murg and naan (Various types of rice also go well with curries).
Opening Hours
:  Sunday to Thursday 12.00 PM to 3.00 PM and 7.00 PM to 11.30 PM,  Friday & Saturday: From 12:00 PM to 4:00 PM and 7.00 PM to 11.30 PM