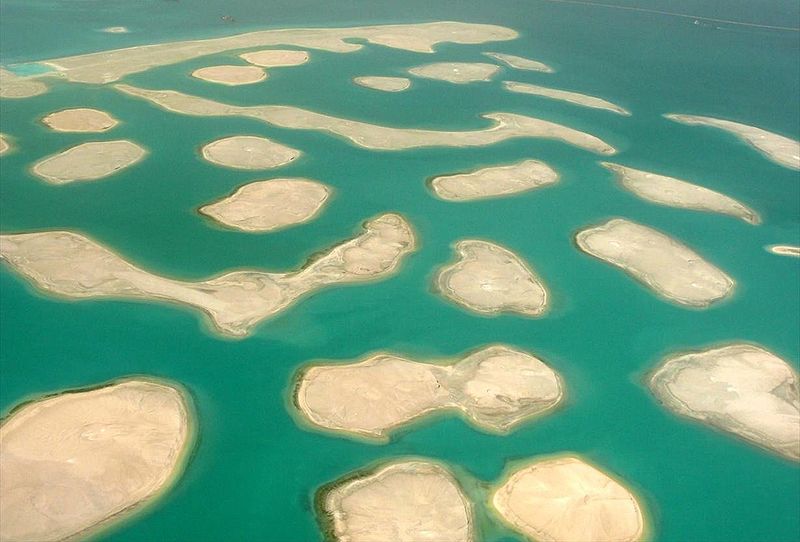 The World Islands – A set of artificial islands created by man in the waters of the Persian Gulf, 4.0 kilometres (2.5 mi) off the coast of Dubai. A city that is distinctively different from any other in the world, due to its shape.
The World Islands are unique because this type of man-made islands can nowhere be found in the world leading to a new expansion/boom in real estate developments in Dubai.  Also has become one of the major attractions in Dubai. Construction of the 300 islands began in 2003 but was halted in 2008 due to financial crisis.

The World islands structure is hard to imagine yet has to be believed, with 4 major transportation hubs that optimize travel time to Dubai. These hubs are so well located and connected by a way of waterways/channels that reaching the Jumeriah beach from here is possible in just a few minutes. 

They are divided into four major parts: Low density, Mid-High Density, Resort and Commerical according to their use. The network and travel hubs provide the main source of travel through and towards the islands. Both small and large vessels can passage in smoothly connecting various islands.

The World Islands can become your permanent home or a family vacation getaway depending on your idea of luxury and capacity to spend. These land parcels can be sculpted together to form continents or resort sanctuaries where hoteliers have the full freedom to design their own property and get it constructed accordingly.  All around year sunshine, blue waters and gentle winds flowing through your hair is ideal thought of your luxury home away from home.
It is a destination that has showcased that nothing is impossible if you have time and money!. – The World Islands.