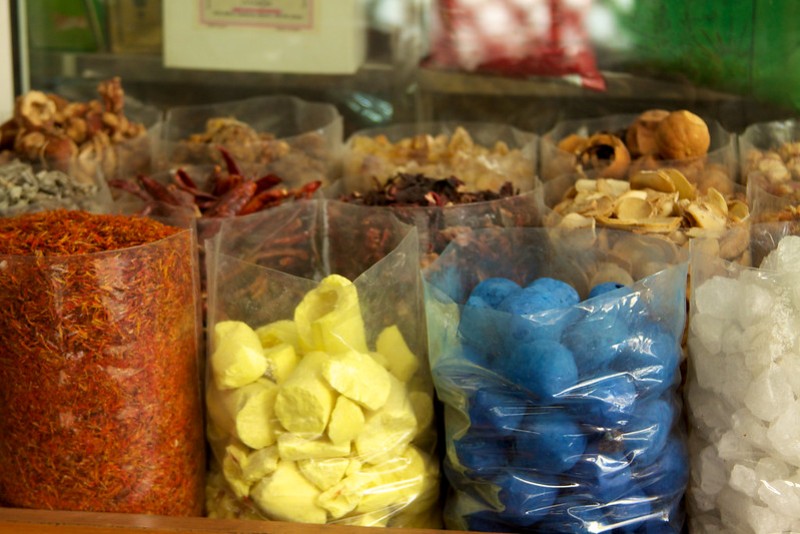 Credit: Flickr / McKay Savage / CC BY 2.0
Lively, colourful and a place of frenetic activity, Dubai's souqs are something of a contrast to the sleek, sparkling, scrupulously clean shopping malls. The souqs are nothing reminiscent of the spaciousness and originality of the 18th-century traditional bazaars, but they are still full of character and one of the best for good-natured bargaining. If you want to impress at the artful skill of bargaining, make sure to start at half of what the shop owner has quoted and paid around 75 % of the originally quoted price. However, modern souqs such as Souq Al-Bahar are less likely to fall for your bargaining tactics due to the huge overheads.
Bur Dubai Souq: The Old Souq, also known as textile Souq or Bur Dubai Souq is small yet interesting bazaar selling a wide range of products including fabrics & clothes (satin, velvet, cotton) and souvenirs at very reasonable prices. The Souq is located on the southern side of the Dubai Creek and can be reached by getting off at either Al Fahidi Metro Station or Al Ghubaiba Metro Station. You could also reach the Souq taking an abra.
Gold Souq: For many women, one of the best things to do in Dubai is to buy gold. And there is no better place than the Gold Souq, where hundreds of retailers offering beautiful, unique designs of the best jewellery made from gold, silver, diamonds and other precious metals. Even if you don't intend to buy anything, stroll through the arcades of the Souq just to experience the overwhelming amount of bling-bling.

Spice Souq: This is one of the most popular Souqs in Dubai. Fragrant aromas line the narrow passages filled with stores selling every spice, herb and exotic seasoning under the sun. Poly woven Jute sacks overflowing with pepper, turmeric, cinnamon, nutmeg and cloves arrive every day in the market from neighbouring countries such as Iran, India and Pakistan. Since this is the commodity market, shopkeepers also sell groceries, knickknacks and household goods to sailors from the Deira Old Souq abra station.
Perfume Souq
: Shopping in Dubai Souq's can never be complete without a visit to the Perfume Souq. The perfume shops lined up on Sikkat Al Khail Street, east of Gold Souq is collectively known as Perfume Souq. Here you can buy a variety of perfumes, incense sticks, local Arabic variants sold in beautifully decorated bottles as well as international brands.