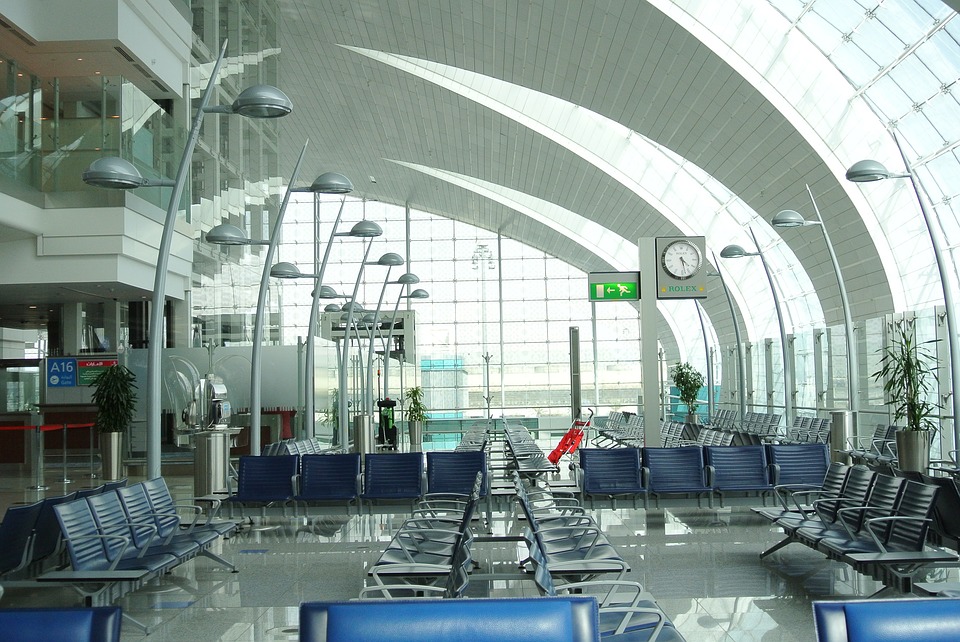 Dubai International Airport
 is one of the busiest airports in the world.
Dubai Airport
covers all your gastronomical needs - from cafes and snack shops to fine dining and casual restaurants. Ice cream parlours, burger bars, desserts, fast food, pizzas, and bakeries from diverse culinary choices litter the various concourses. Full restaurants cater to the Mediterranean, Italian, Indian, Japanese, Thai, Arab menus and from all across the world.
Shopping here can be a cure for boredom (if you have a long layover and not permitted to outside) and one of the ultimate ways to discover local-made products. The airport has a long list of imported and regional items like perfumes, liquor, souvenirs, books, electronics, and jewellery.
Convenience facilities include a pharmacy, prayer room, money exchange, ATMs, post office, free WIFI (30-minutes), clinic and (complimentary) shower rooms.
For extended WIFI, you can purchase AED 19.95/hour/mobile or AED 29.95/day/laptop. ATMs and Forex are available 24/7.
Smokers are glad, as there are luxe areas designated for smoking. Terminals 1-3 all have their smoking lounges. Puffing outside these areas is prohibited.
Business Center is open for photocopying, internet access, fax, lamination, and secretarial duties.
And for your little ones, head on to the Baby Care rooms for some baby time privacy.
If you have a very long layover or require overnight accommodation, then that's your perfect cue to try the Dubai International Airport Hotel. It offers a world of lavish pampering, with 349 rooms, 14 dining options, 2 health clubs, pool, gym, and complimentary fruit basket, tea/coffee service. Rooms start from AED 600.
But if you only have 2-3 hours of waiting time 'til your flight and you want to indulge yourself with some shuteye, then try the Snooze Cube. A Single Cube goes for AED 75/hour and Shared Cube for AED 100/hour, minimum of 2 hours per stay. Each cube is equipped with a fully-made comfortable bed, a touchscreen TV with WIFI connectivity, extensive music and movie playlists, a space for your baggage and coats. There are currently only 10 cubes on service at Terminal 1. Women, children, and elderly get priority upon cube availability.
Dubai International Airport understands that each minute you have here should be well spent. Everything you need is here within your reach, be it personal, business, dining, or leisure or duty-free shops.