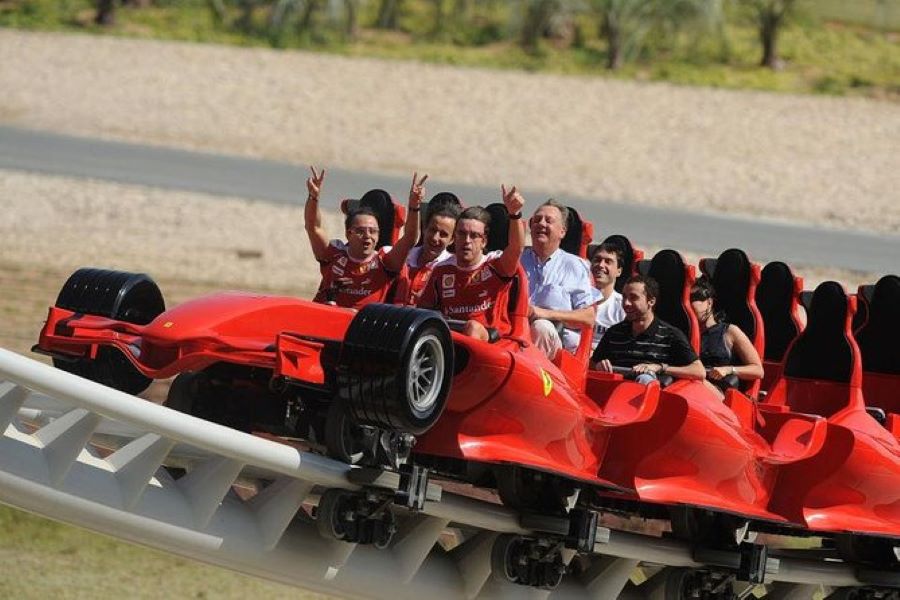 Car fanatics, start your roaring engines! Grab that wheel and get to experience wild adrenalin rush, gut-churning rides, and fun-filled day at the
Ferrari World theme park
in Yas Island, Abu Dhabi.
Ferrari World is one of the world's largest indoor theme parks. It showcases Ferrari's story, design, and features 20 roller coaster rides.  The iconic design of the theme park has the lustrous red roof and Ferrari's emblem, the largest Ferrari logo ever made.
A comfortable 1.5-hour (approx) coach ride will transport you from your Dubai hotel to Ferrari World. Enter Ferrari World and commence with your allocated 4-hour inside the park. It's highly recommended to try the Formula Rossa where you'll feel the heart-thumping rush of a race car driver. It is the fastest, gnarliest rollercoaster on Earth! You'd need goggles for the ride as you accelerate from 0 to 240km/h in 5 seconds flat! You'll be launched sky high and zigzagged through the sturdy rails. Finish with screams of pride and joy. Fiorano GT Challenge is a fun, exhilarating GT coaster ride where you are strapped in a Ferrari F430 Spider replica and will compete with the other coasters. The spinning rails and sharp turns will surely amp your excitement level.
Try the factory tour in Made in Maranello and learn about Ferrari's colourful past. Galleria Ferrari is where you gawk at the sleek, sexy Ferrari model cars on display. Fast Lane is a game show where you will be tested about your Ferrari knowledge, and win prizes afterwards. Tyre Twist a teacup ride Ferrari style, perfect for family bonding. Bell'Italia is trip down mini Italy. This lovely, slow-paced ride will take you around Italy's charming landmarks, scaled to kiddie proportions.
Simulator rides include the Speed of Magic, which is a 4D simulator ride that will surely tug your heart with its ups and downs and Driving with the Champion, which lets you experience what it's like riding in front of a race car, a definite must-try!
For race car driving experiences, head on to the following: Karting Academy, Driving Experience, or Scuderia Challenge. Karting Academy is UAE's first indoor electronic go-kart track. Scuderia Challenge is a race simulator where your speed and driving accuracy is tested. The state-of-the-art ride takes you to the Yas Marina Circuit. You can choose to race alone or with companions. Driving Experience gives you a chance to drive the Ferrari California. A separate fee is entailed for this, and rules require you to be 21 years and older and have a valid license from their posted list of countries.
Restaurants and cafes are available at all hours so you can snack or take your lunch at your own time. Don't get left behind and grab your tickets to the most fun-filled Ferrari World Day Trip from Dubai!