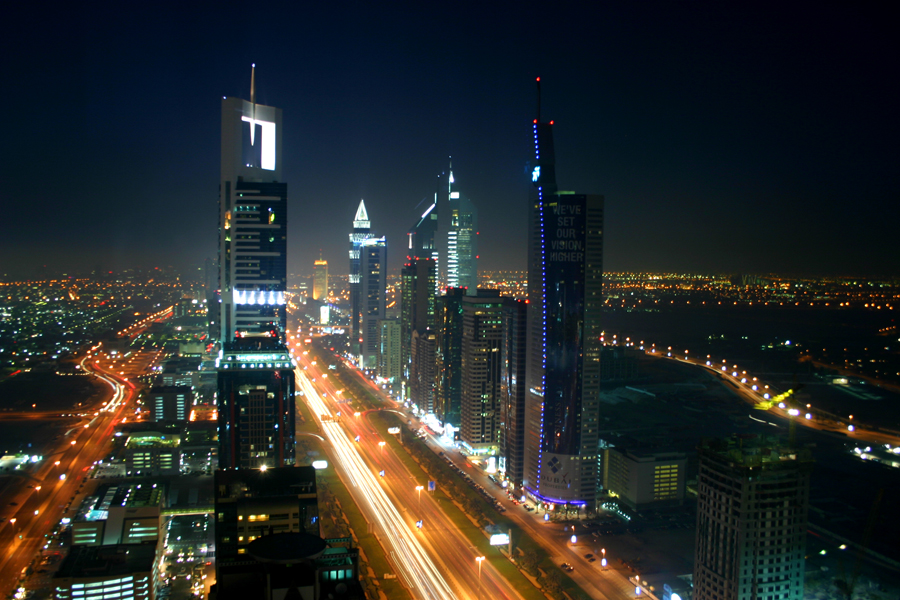 Credit: Flickr / Hamdan Mesfer Al Amimi / CC BY 2.0
Dubai does offer very interesting packages for nightlife entertainment. Dubai's ambience is quite calm during the day with lots of tourists hovering around and business streets very busy with commercial activities and not much happening. But the city has innumerable options for the night owls - nightclubs, cafes, bars, restaurants, clubs, discos, escort service providers etc.  catering to the different tastes of the locals and tourists alike!
The nightlife here can be fully enjoyed but with proper knowledge of the limitations and the strict laws of the city, which are laid to safeguard peace and harmony of Dubai and also to protect the tourism culture of the city. Basic awareness regarding the timing of pubs and bars closing latest by 3:00 am, one must be above 21 years to drink alcohol and 25 to enter a nightclub should be kept in mind to enjoy and avoid any legal complications.

Dubai has several nightclubs where the entry pattern/fees vary a lot, some offering free entry while some charge nominal to heavy entrance fees. If you know any locals, then they will be the best advisers or else extensive research has to be done on the internet. 

 
Following are some of the most popular places for late-night visits - 

1) Loca:  A restaurant-cum-bar, located at the Dubai Marine Beach Resort, especially popular amongst the locals and very crowded on the weekends, the fun begins from 10:30 p.m. onward. It is also popular with the expatriates too. Live music is played with a facility of dance platform.

2)  Atlantis: A Located at the iconic Palm, this resort offers you several live music venues to luxe cocktail lounges including Wavehouse Bar, X Bar and Terrace and Plato's Lounge. Becomes almost crowded during midnight with young and hip, expatriates and locals.  It's a modern and lively atmosphere place.  The nightclub has live performances of girls and drum masters.  Special days are allotted for a ladies night. 

3) Cavalli Club: Located on the Sheikh Zayed Road, is one of the luxurious nightclubs in Dubai that offers energizing cocktails. A club is well-known for its lavish and luxurious seating arrangement that gives a royal touch to its entire ambience.

4) Club Africana: Located on Khalid Bin Al Waleed Rd. The place is famous for Ethiopian dishes like roro-wat and injera along with a very good collection of beverages. Also, eye-catching live performances keep amusement alive where the songs by the Sudanese band and Somali village beats fill the atmosphere with energy. 

5) Blue Bar: On the ground floor of hotel Novotel, World Trade Centre Dubai,  is a well-liked place for its elegance and comfort having a perfect combination of light and sound where you are treated with the best of hospitality thorough professional touch. The blue bar plays live jazz music. 

6) Boudoir: Along Jumeirah Beach Road, is a stylish place and a favourite celebrity spot too. The place is well-suited to its high profile guests who often land up here for dining. One can find its interiors fascinating with a gentle arrangement of lights, where music like classic jazz create a mood. Special performances by classic artists and beats of Latino, filtered and tribal music played at times.

7) Carter's: A stylish restaurant and bar, inside the pyramid complex at Wafi City. Named after an Egyptologist Howard carter. To avoid disappointment, one has to land up fairly early at this place during evenings as screening at the entrance takes quite a long time. A famous destination among the ex-pats and locals.  Wednesday night is a ladies night. 

8) Champions Sports Bar: At JW Marriott, Champions Sports Bar is the perfect place for souls with an inclination for sports. The bar is open daily with a slight alteration in timing on Fridays where the number of television sets is placed to enjoy live sporting events.

9) Hard Rock Cafe: Hard rock cafe is located in the heart of Marina beach, the hard rock chain is well known for its live music and traditional food. The place is not too spacious but a proper and sufficient seating arrangement is there.

10) Irish Village: Irish village is situated just next to the aviation club of Dubai which is, in fact, a bona fide Irish style pub. Both indoor and outdoor seating arrangements are there depending upon your choice. where good quality of Irish food is on hand along with alcohol.

11) Scarlett entertainment bar located at the Emirates towers hotel, is a well-known place among the ex-pats and business travellers.  Happy hours to its guests that begin in the early evenings attracts loot of early birds. DJ plays a nice fusion of classic and popular songs for the guests at the bar.

12) Tropicana: Tropicana night club at the Dubai marine beach resort and spa is a well-known destination for its Arabic style. A perfect blend of the latest international hits along with the traditional dance music is the speciality of its nightclub.