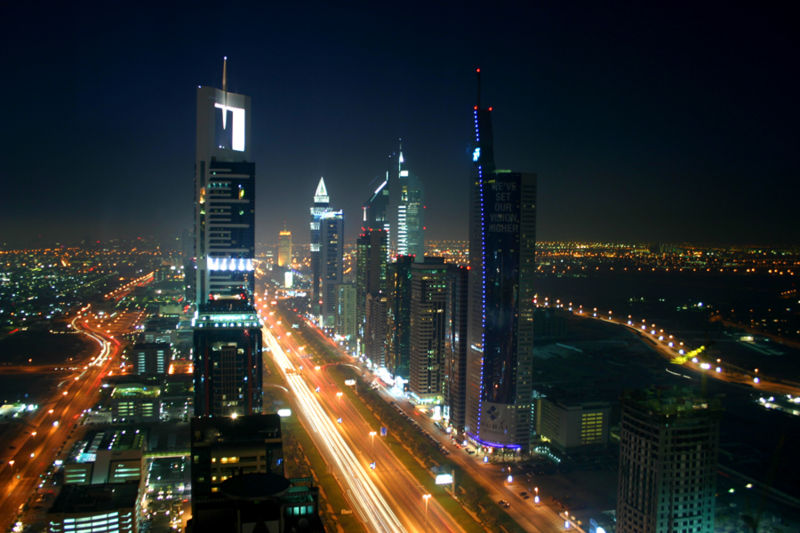 The beautiful and one of the most sought-after tourist destinations Dubai does offer some of the interesting packages for nightlife entertainment as well. One can find Dubai's ambiance quite tranquil during the day or filled with a variety of beach activities, as the city has been bestowed upon by Mother Nature with natural water reservoirs. Besides this, the city has immense to offer to the night hawks by means of its nightclubs, cafes, bars, restaurants, clubs, discos and escort service providers which cater to different tastes and as per the requirement of the locals and tourists at the same time.
An admirable nightlife could be enjoyed to its fullest with prior knowledge of the limitations and the strict laws of the city, which are nothing but the measures to safeguard peace and harmony and also to protect the tourism culture of the city. Basic care and awareness regarding the pubs and bars, say for e.g. they all must close at 3:00AM, one must be 21 to drink alcohol and 25 to enter a nightclub could be kept in mind that may help.
Dubai has a number of nightclubs where the entry pattern varies from one another with slight alterations. Some of them offer free entry while others charge a lot from the club members with very high entrance fees. For this, a good search and a survey has to be carried out amongst the locals or by taking assistance of colleagues from the regionally located branch offices in case of business trip and visits.
Things to remember:
Liquor is not freely available in Dubai and is also expensive. The visitors are supposed to go to a nightclub or to a bar in a hotel to get it. Apart from this, one can buy liquor from the duty free shop at the Dubai Airport while coming into Dubai.
Residence visa holders are issued a liquor permit.
Because of certain religious beliefs and sentiments, bars are not available in all the hotels of Dubai. Hence, one must select his/her accommodation with a thorough enquiry and after a thoughtful consideration; especially the expatriates and visitors.
The following are some of the most popular and frequently visited spots in Dubai to spend the late nights.
1) Alamo:
It is a restaurant-cum-bar, located at the Dubai Marine Beach resort. Alamo is a famous destination for nightlife, especially amongst the locals and is mostly busy around the weekends, where fun begins from 10:30 onwards. It is popular with the expats and the locals too where live music is played with a facility for dance platform.
2)  Atlantis:
It is a disco located right next door to the Hard Rock Cafe. Atlantis becomes almost crowded during midnight with young and hip, expatriates and locals, where it's modern and lively atmosphere get in tune with music rhythm, dance and thrill. The nightclub has performances from dancing girls and drum masters, which adds to the sparkling mood. Special days have been allotted for ladies night, which include Sunday, Tuesday and Thursday.
3) 400 Club:
400 Club is situated on the sheikh zayed road, which is one of the luxurious nightclubs in Dubai that offers energizing cocktails. The club is a well-known place for its lavish and luxurious seating arrangement that gives a royal touch to its entire ambiance. It is a must place in Dubai for a visit where the music played is stirring.
4) African Star:
African Star is one of the admired nightlife destination located at the al Muteena Street, deira. The place is famous for its extensive meal which offers Ethiopian dishes like doro-wat and injeria along with a very good collection of beverages. Also eye-catching live performances keep amusement alive where the songs by the Sudanese band and Somali village beats fill the atmosphere with energy. Being one of the best nightlife spot in deira, African star is a good place to visit.
5) Al Abaya:
Al Abaya is located at the palm hotel of sheikh zayed road, Dubai which is famous for the luscious menu and drinks that it serves to its guests. A traditional Lebanese mezzah with a variety of mixed and grilled dishes is the specialty of Al Abaya, which can be enjoyed thoroughly with the full-blown entertainment presented by the local Arabian dancers and singers.
6) Blue Bar:
Blue Bar is a good bar located at the ground floor of hotel novotel world trade centre Dubai. It is a well-liked place for its elegance and comfort with a perfect combination of light and sound where you are treated with the best of their hospitality with a thorough professional touch. Blue bar plays live jazz music for its visitors on every Thursday where a provision for watching television is also made.
7) Boudoir:
Boudoir is situated at the city end of Jumeirah Beach Road, Dubai which is a stylish place and a favorite celebrity spot too. The place is well-suited to its high profile guests who often land up here for dining. One can find its interiors fascinating with a gentle arrangement of lights, where music like classic jazz is offered to create mood. Special performances by classic artists and beats of Latino, filtered and tribal music played at times fills the place with a splendid atmosphere.
8 ) Carter's:
A stylish restaurant-cum-bar, carters is located inside the pyramid complex at the wafi city. Named after an Egyptologist Howard carter, the place is a famous restaurant-cum-bar. To avoid disappointment, one can land up fairly early to this place during evenings as screening at the entrance takes quite a long time. A famous destination among the expats and locals on top, carter's Wednesday night is ladies night where the women too take pleasure in drinks. With no specific dress code as such, this place offers drinks at sensible price which is a must-see to the visitors, especially the pyramid centre.
9) Champions:
Located at the JW Marriot, champions is perfect place for souls with an inclination for sports. The bar is open daily with slight alteration in timing on Fridays where number of television sets is placed to enjoy live sporting events. Besides this, food is also served along with beer at reasonable price.
10) Dubai Creek Park:
It is a nice place to hang around for the whole family where lots of play areas are made for children. The surroundings of this area during night are incredible where you can just relax in the park and enjoy the view of colorful buildings on the other side of the creek.
12) Hard Rock Cafe:
Hard rock cafe is located in the heart of marina which is a hard rock chain known for its live music and traditional food. The place is not too spacious but a proper and sufficient seating arrangement has been properly made for the visitors for dining.
13) Irish Village:
Irish village is situated just next to the aviation club of Dubai which is in fact a bona fide Irish style pub. Both indoor and outdoor seating arrangements are offered to the visitors as per their choice where good quality food is on hand along with alcohol.
14) Kasbaa:
Located at the royal mirage hotel, Kasbaa is a high profile club known for its Arabic theme. It is a good place to experience its uniqueness where separate floors are allotted to cater the different needs. These include a dance floor which offers modern Arabic music, an upper level place with comfortable Arabian style sofas for intimate moments and a terrace in addition. With no specific dress code, the club welcomes smart casual wear and non hotel guest as well.
15) Planetarium:
Planetarium is a club located just next to the pyramid centre which has memberships and entrance regulations that allow entry only to its members, ladies and couples. Normally closed on Saturdays, ladies nights are the Tuesdays while Sundays are the business nights.
16) Scarlett's:
Scarlett's is a bar which is located at the Emirates towers hotel, Dubai. A well-known place among the expats and business people, Scarlett's does offer some happy hours to its guests that begin at the early evenings which attract a lot of custom. DJ plays a nice fusion of classic and popular songs for the guests at the bar which is one of the good venues in Dubai to relax with a glass of drink after a whole days work.
17) The Junction:
The junction bar is located at the century hotel Dubai which posses a South African staff. Ladies nights are Sundays and Tuesdays and sometime airline crews also occupy the place, especially on Thursdays.
18) The Agency Wine Bar:
The agency wine bar is located just opposite Scarlett's bar, which is one of the best bars in Dubai known for its creative and graceful design. A good place to meet with your buddies, the bar does offer some happy hours to its guests with a variety of wines at reasonably fair prices and snacks additionally.
19) Tropicana:
Tropicana night club is situated at the Dubai marine beach resort and spa which is a well-known destination for its Arabic style. A perfect blend of latest international hits along with the traditional dance music is the specialty of the nightclub.