When we talk of future architectural structures in Dubai, it can literally be termed as 'eccentric' because creativity and imagination here know no boundaries. Designed in all shapes and sizes, you get to experience in present, what 'star trek' kind of future will be in Dubai. Eye-popping images and unthought-of intelligence behind the building structures are better seen to be believed. Here are some structures that probably will stand the test of time in near future.
0-14 Tower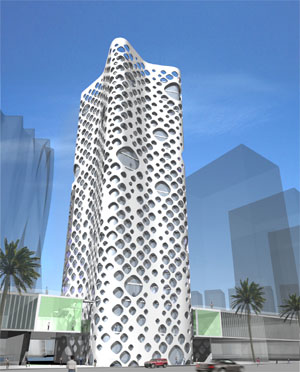 A 22 storied building pricked with 1326 'holes' strangely reminds you of a sponge or cheese cube. This unusual structure has been designed by Reiser for Dubai Business Bay that encompasses about 200 towers along with 0-14 tower. At a single look, these holes may be found random, but watch closely and you will realize that they are placed in a systematic diagonal angle. The building is expected to be complete by August 2009.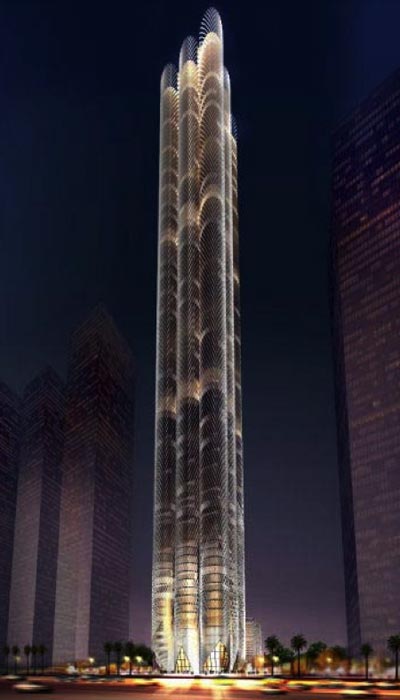 A beautiful twist in architectural definitions, Al Sharq tower is made of nine compact cylindrical towers interconnected with each other challenging sky limits making it the tallest tower on Sheikh Zayed Road at 360 meters, when built. SOM has designed the structure which is under construction.
Almas Tower (Diamond Tower)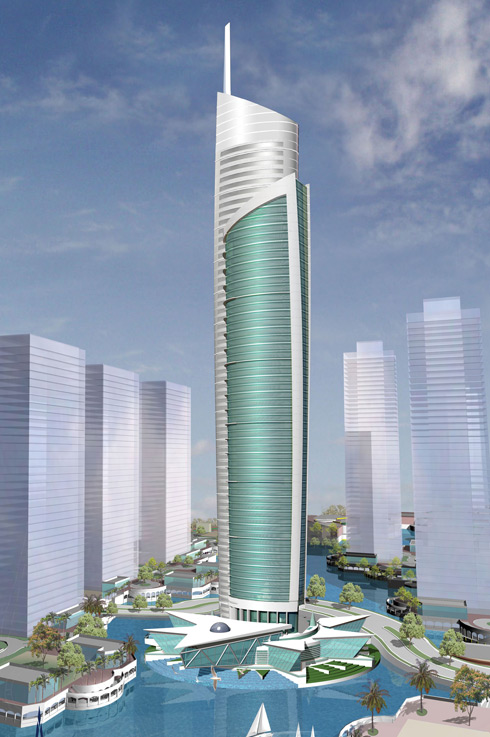 Still, under construction, the tall towering building of Almas Tower or Diamond Tower is supposed to be the second tallest building after Burj Dubai. Made up of 74 floors, 4 of them will be service floors while remaining will be commercial. Built on an artificial island, the Almas Tower will be the nucleus of the Jumeirah Lake estate development. It is being built by Nakheel Properties and has been designed by Atkins architects. Dubai Multi Commodities Centre (DMCC) has already moved its offices in the unfinished construction that is expected to be completed in 2009.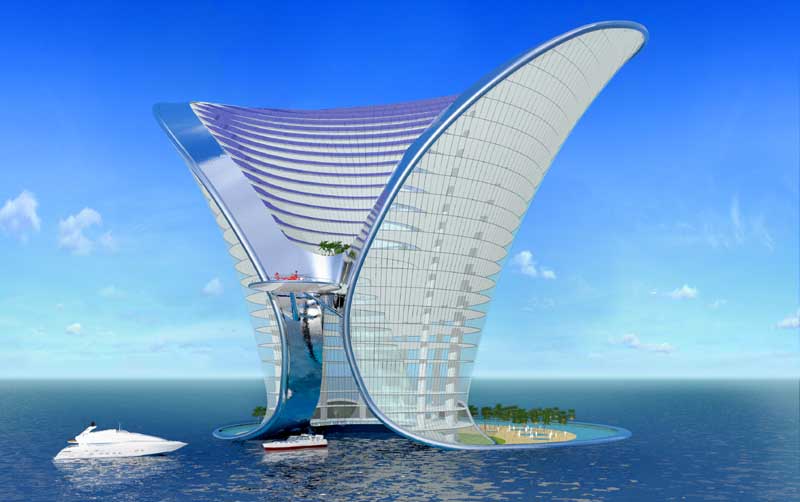 Aperiron Hotel is a futuristic 7-star hotel to be built by Sybarite Ltd on the lines of Burj Al Arab. Standing on its own lagoon about 300-350 meters from Dubai beachside, the hotel will be accessible only by yacht or helicopter. The 28 floors above ground will provide all the luxury facilities and amenities expected from a 7-star hotel including a crescent lagoon cultivated with its flora & fauna like underwater sea world to create a dramatic ambience for the guest.
Arabian Blade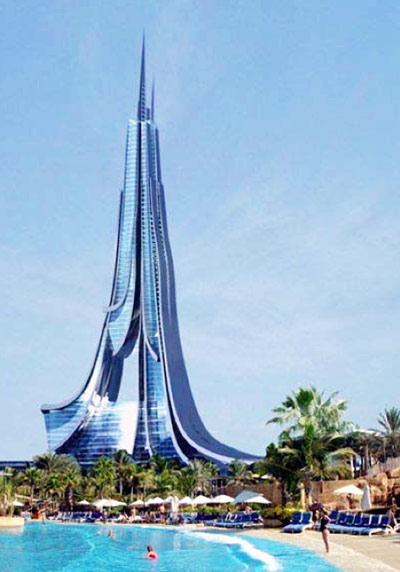 The Arabian Blade has been designed by Claudio Catalano and will be used for residential, hospitability and commercial purposes. A triangular, sky pointing structure its design has been inspired by the arrangement of plants with several layers integrated in one unit.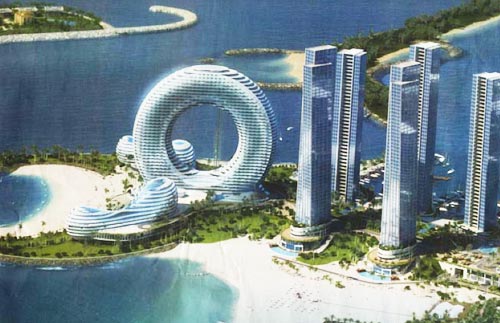 The Dubai Promenade is a hole shaped structure to be built on a man made island along with a series of Channel Towers located in between the Dubai Marina and Palm Jumeirah primarily for hospitability purposes. While the Channel Towers include residential apartments, the wheel structure will house the 5-star "Icon Hotel". Along with this, a variety of luxury facilities and retail services that come along with Nakheel properties will also be available.
Dubai City Tower/Dubai Vertical City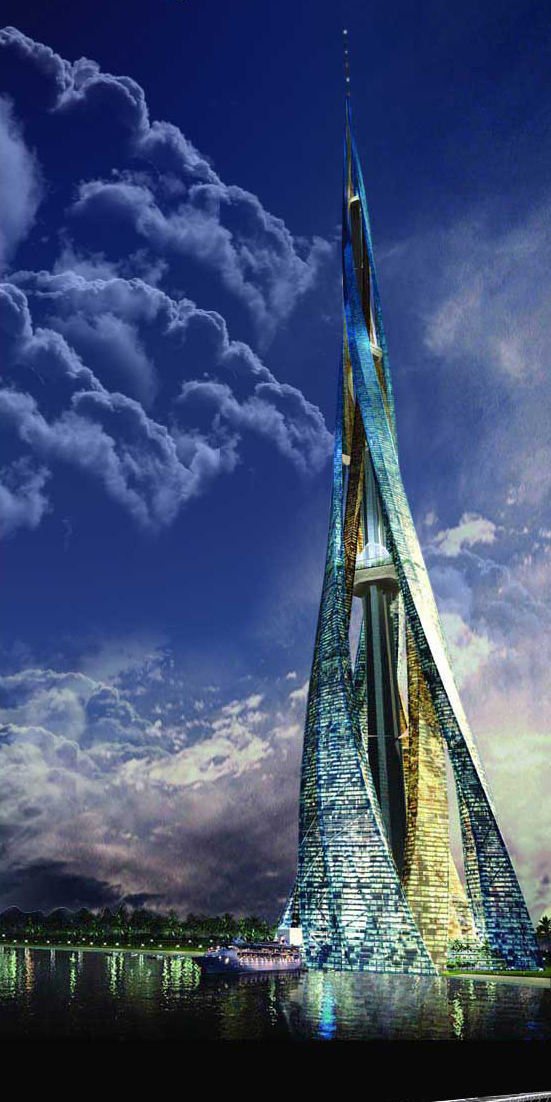 A twisted cone shaped structure spiraling towards the sky can be one of the greatest excesses of Dubai if realized. If ever built it will taller than Burj Dubai and the second tallest building envisioned after X-Seed 4000. The building will comprise of 400 floors that can be accessed by a bullet train reaching a speed of 200 km/h. Six curled structures will be wrapped around a central core every 100 floors. It will consume 37,000MWH of electricity per year supplied by solar, thermal and wind energy.
Dubai Towers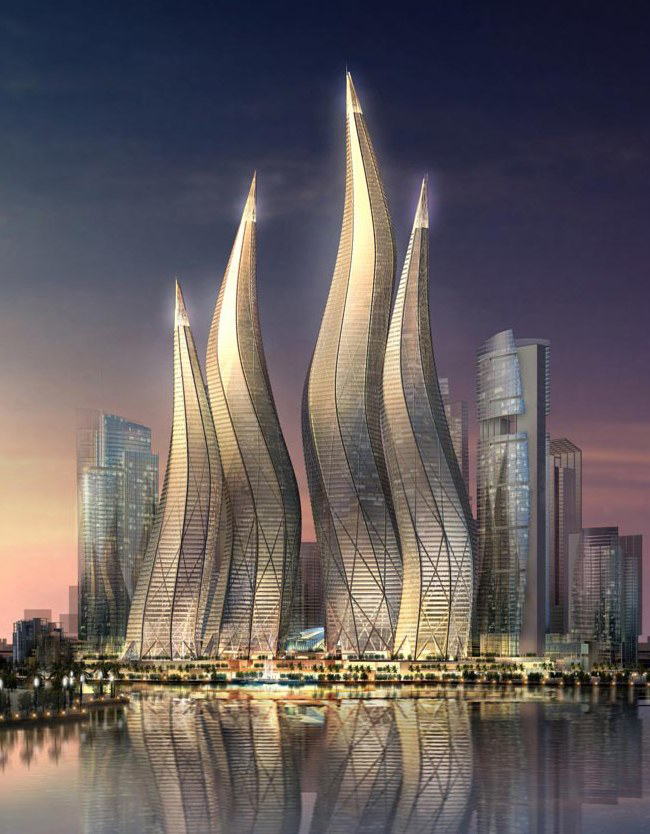 Four towers swirling the sky tip in the shape of a timid flame, Dubai Towers is an artist's imagination named as Thompson, Ventulett, Stainback & Associates. Constructed for mixed use, its completion date is estimated at end-2009 by its developer Sama Dubai. This project is a major part of the "The Lagoons" consisting of seven inter-linked artificial islands near the Dubai Creek. Ranging from 57 to 94 stories it will comprise of residential apartments, hotel, offices, retail spaces and restaurants.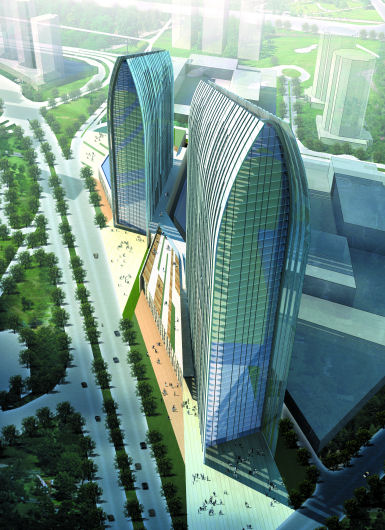 Standing at the doorway of Burj Dubai development, Emaar Towers is located right across the street from Burj Dubai; tallest tower in the world. Sheets of skins with sweeping lines merging together at 42nd and 34th floors of the two towers, the design has been textured keeping in mind the traditional Islamic traditions. As they reach the top, the sheets bend together to melt with each other. Designed by Aedas, its primarily made for commercial use.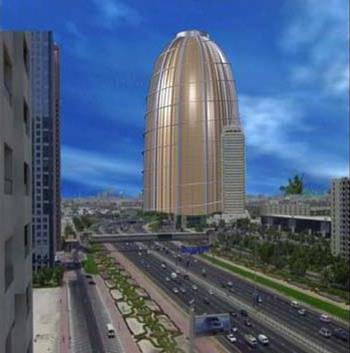 The Golden Dome, as the name suggests is a golden plated semi-circular dome standing tall at 455 meters high with 2.2 million of surface area. One of the largest buildings in terms of surface area, it will host 3,000 luxury townhomes, 1,000 room luxury star hotel, 500 offices, 50,000 sq.mtr convention and sports arena, a 23,000 space car park and a shopping mall. A 120 floor dome, modern navigation wagons will transport five elevators with people in them to the necessary floor.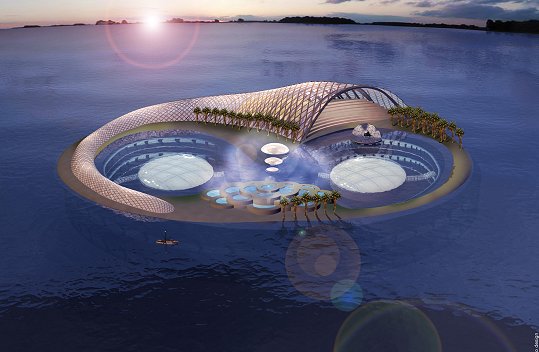 Hydropolis is an ambitious project undertaken by Prof. Roland Dieterle to be the world's first underwater luxury resort. A self proclaimed 10-star resort with the most advanced hospitability facilities which includes 220 suites, villas, shopping malls, cinema theatre, children's seaworld, and restaurant and missile defense security, Hydropolis is estimated to cost £300 million. As big as London's Hyde Park, the resort is located 20 meters beneath the surface and shaped in a petal from the outside to benefit open-sky events. Designed by Joachim Hauser it has been completely assembled in Germany and re-construction work has been proposed to be started again in 2009.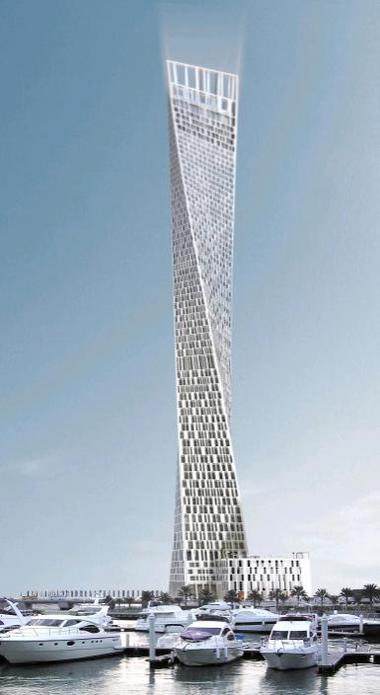 Promoted as the tallest tower with a 90 degree twist, The Infinity Tower is designed by SOM and constructed for mixed use. Standing 80 stories and 330 meters high, it will house luxury apartments, pools, state-of-art gymnasium, conference rooms, tennis courts and a luxury spa. Due to its design, each apartment faces a different direction with a breathtaking view depending on which 'angle' of the tower it is situated.
Lam Tara Towers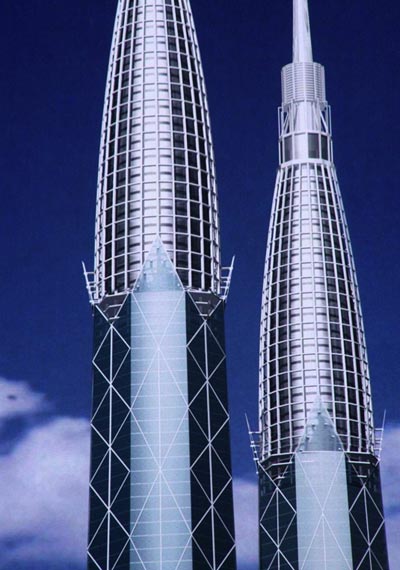 The Lam Tara Towers, currently under construction is a complex of two towers situated across Sheikh Zayed Road each escalating at 60 and 70 stories respectively. Totally they measure a height of 360 meters with construction planned to be completed by 2010.
Lighthouse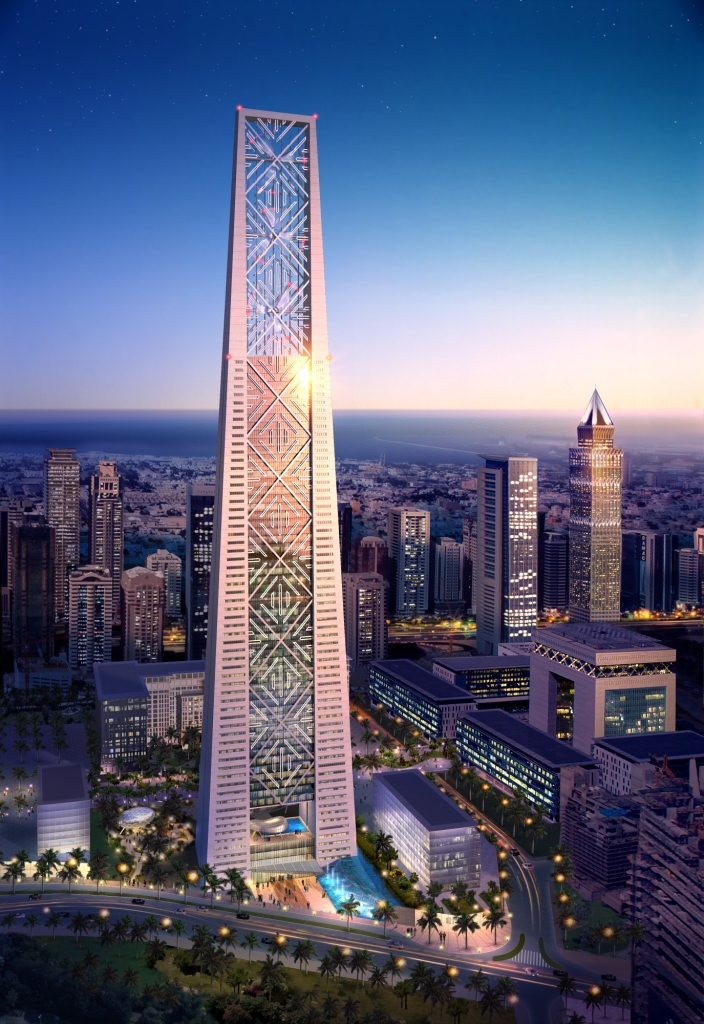 An environmentally conscious decision to make a Green Building that sustains its architecture with the help of the sun as well as lowering its dependency on energy and water by 65%. A low carbon commercial tower its uses large scale wind turbine and photo voltaic panels to generate renewable energy. A single tower as an image, its in fact a combination of two tower that bridge with each other from level 10 upto its 66th floor.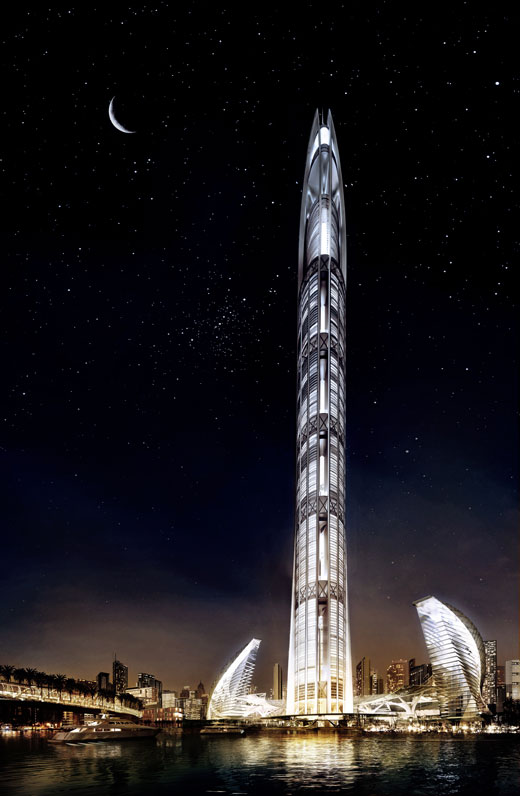 Proposed to be Dubai's tallest skyscraper,  Nakheel Tower would defy sky limits at 1,400 meters. Located on Sheikh Zayed road and built on the principles of Islamic design, the project also keeps in mind the environmental situation in Dubai; especially strong currents of wind and harsh sunlight. The multimillion Nakheel Tower and Harbour covers 150 hectares, 250,000 m2 of hotels and hospitality space, 100,000 m2 of retail space and sweeping green lush lands with beautiful landscaping.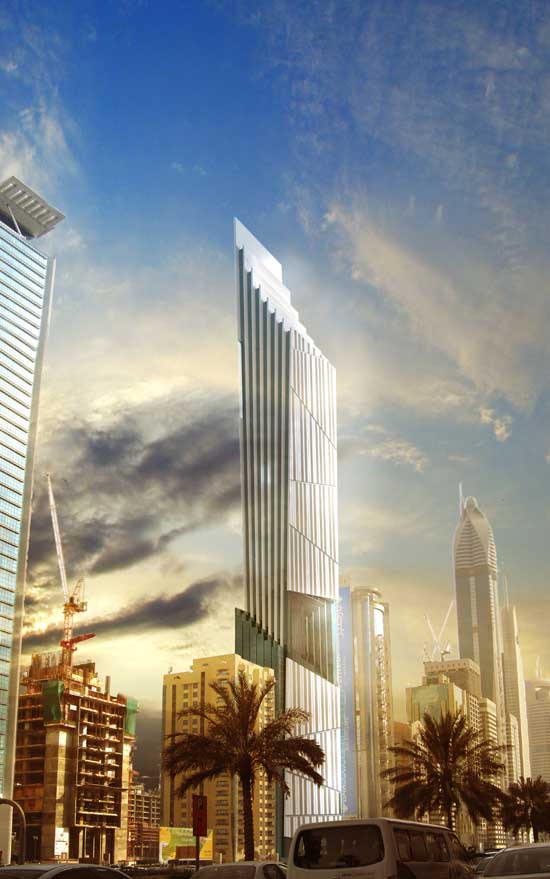 Again a project sustained by Atkins architects, this structure transmits views of a pack of cards arranged methodically in layers. A slim building at just 30 meters it will stand tall at 379 meters when completed by November 2011. Located on Sheikh Zayed Road the inner glass & steel panels of the building slightly tilt sideways protruding a gravity resisting appearance. It will hold about 17 commercial floors, a five star hotel, and 74 serviced and 176 residential apartments.
Porsche Towers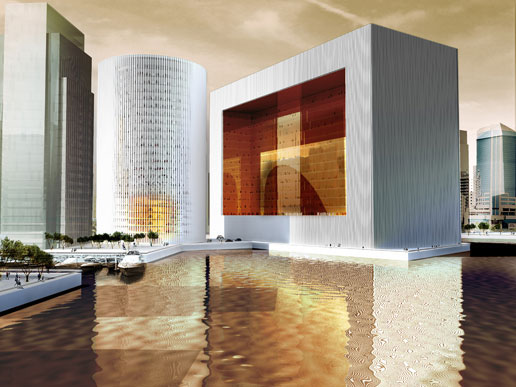 Located in the prime location of Dubai Business Bay, Porsche Towers occupies a 30,000sqm residential tower and an 85,000sqm commercial tower that concatenate to form a project that will include office spaces, cafes, residential apartments, etc. The geometrical designed blocks consist of a square shaped office tower with side wings to minimize sunlight effect and cylindrical shaped residential tower with an atrium as high as the tower itself. The interiors of the towers have been done up by Porsche Design Group while OMA is responsible for outside architecture.
RAK convention and exhibition centre / Dubai Death Star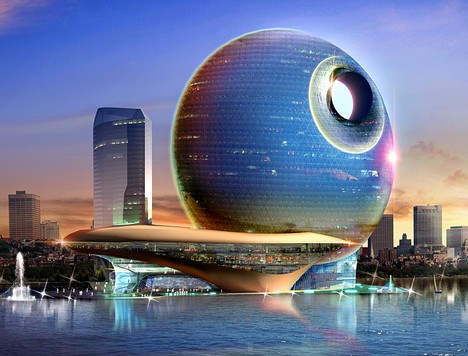 Dubai Death star is a design by Rem Koolhaas for the RAK convention and exhibition centre which takes its inspiration form 'death star' in Star Wars epic. A 44 storey circular structure will land on the new artifical island of Waterfront city. A bizarre and imaginative design, its feasibility is yet to be seen as everything is still at planning stages. Perception of its design depends on everybody's viewpoint. For some, it might be just a geometrical design and for some, it's an elegant pendant. :)
Trump International Hotel & Tower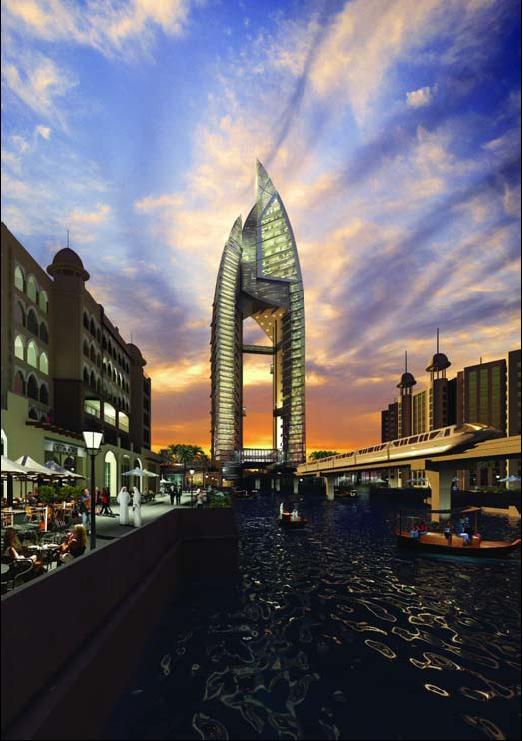 The Trump International Hotel & Tower is located on the trunk of the Palm Jumeirah Islands and has been designed by Atkins Middle East. A joint venture between Nakheel properties and Trump organization, the striking sculpture gives us the appearance of two nail shaped structures linked together at the top. It will feature top-class residential, hotel and office facilities all offering a breathtaking view of the Palm Islands and Jumeirah skyline.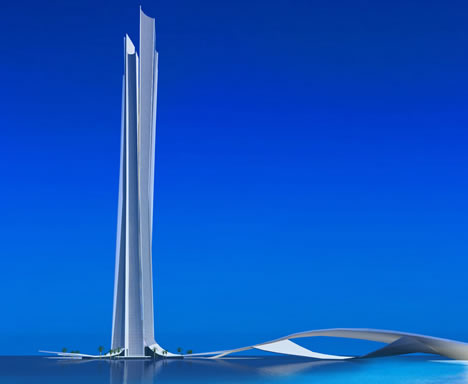 A project by A-cero architects and touted as world's first sea scraper the design is inspired by the gentle waves of the ocean. This wave shaped curved bridge connects the form to the sea that sits on its own man made island. The tower is planned as a Green Building in the Madinat Al Arab district by the Madrid based architects.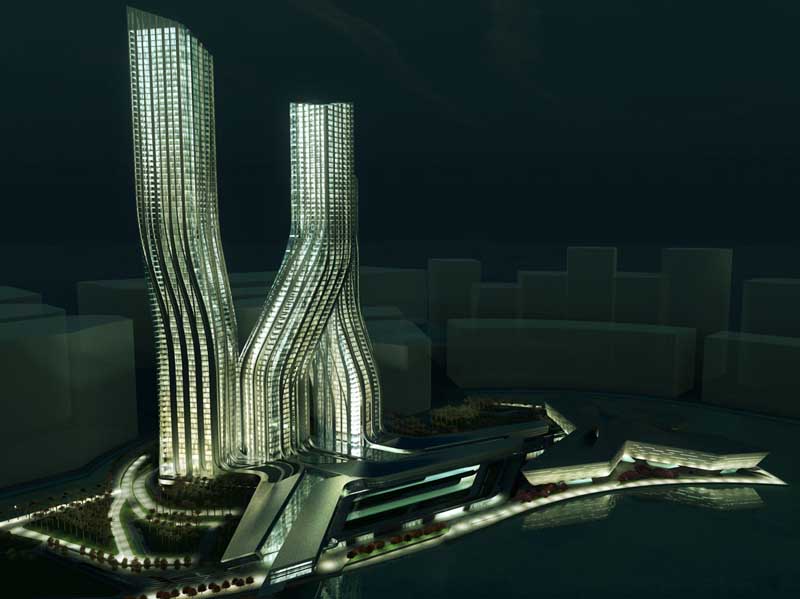 Just imagine you are creating waves with your palms intertwining both into each other and then the moment freezes. This is exactly what the design of Zaha Hadid Dancing Towers looks like. Three buildings standing tall from the base they bend in the middle to connect with each other in the sky to create a fluid form. Made for mixed use the towers will merge with each other, two at a time serving the purpose of commercial offices, a hotel and residential apartments along with other luxuries. 'Choreographed architecture' is the theme behind the design.