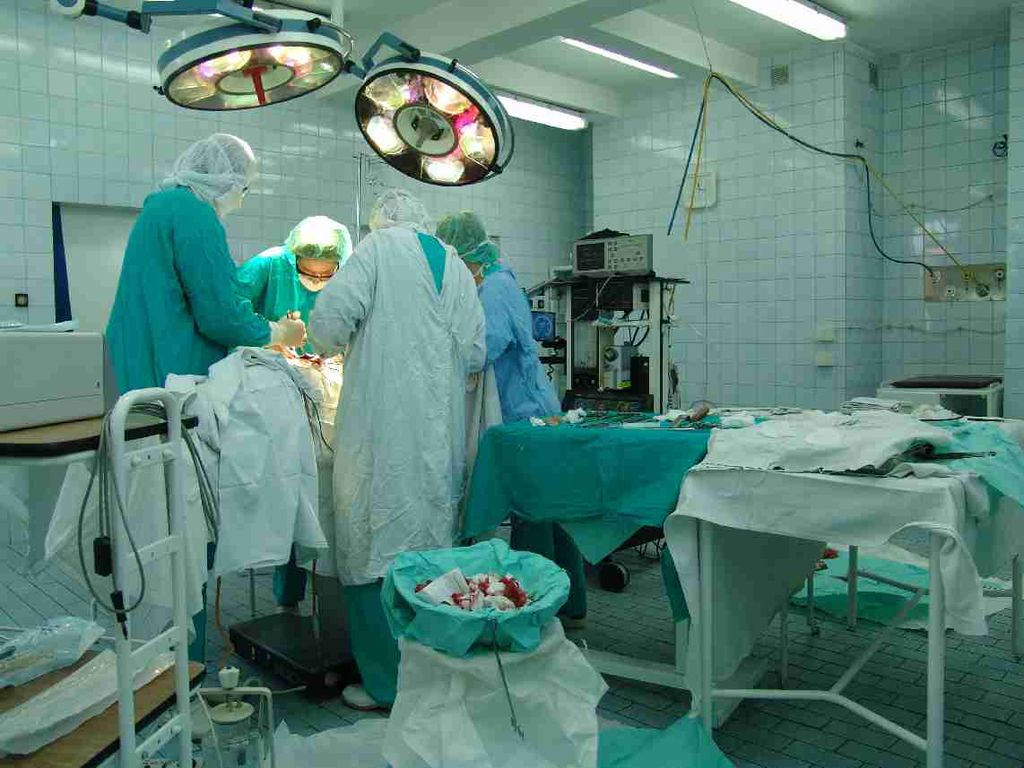 Credit: Piotr Bodzek, MD / CC BY-SA 3.0
'A healthy mind resides in a healthy body' and for a healthy body, one needs to be fit and fine. Today, where life has really become fast with the ever-expanding international business, our planet earth has almost become a global village.
We witness in every sphere that healthcare has become the first & foremost choice and prime area of concern of not only the beauty and body-conscious supermodels but frequent traveller, business executives, youth and now the homemakers too. The 21st century has shifted its focus towards fitness where preventive & therapeutic health services are playing an important role.

Internationally acclaimed organizations like WHO releases various campaigns every now and then to highlight the importance of health issues where deadly diseases keep popping up without any prior intimation. The more recent 'swine-flu' which is originated in Mexico City is spreading across the world.

Primary health care in Dubai has effectively managed to provide all the basic and prime amenities to locals, travellers, expatriates. Services like maternal and child health care with a wide variety that include  School Health, Children's health & immunization,  Medical fitness, Vaccinations, Community services,  Mental health,  Maternal health, Rehabilitation, Health & nutrition education, etc. are made available.
More than 15-20 health centres & peripheral clinics are found in Dubai that is easily accessible by the patients. These health centres are fully equipped with all the necessary medical facilities that are supported by qualified and efficient staff. Following are some of the health care centres in Dubai known for the well-equipped services and qualified doctors.

1) Abu hail
Hor Al Anz area-Deira -Dubai,  Al Rasheed Road.
Tel: 04 - 2661363, 04 - 2661364 Fax: 2699511
Abu hail offers services like General outpatients consultation, Pediatrics, Child health services, Specialist clinics, Visiting doctors, Antenatal clinic, Dermatology clinic, Dental clinic, Dental hygienist, Laboratory, Pharmacy Treatment and observation section.

2) Al Twar
Al Twar Medical Center
Tel: 04 2612114. Fax: 04 2630850
Al Twar Medical Center offers preventive supportive services like Prenatal-postnatal care,  Neonatal health unit with immunization, Therapeutic services, Educational services and clinics for Ophthalmology, Dermatology, ENT, Neonatal health, Gynecology & Obstetrics.

3) Airport Medical Centre
Dubai International Airport, Terminal one, Close to Bay Fox 6
Tel: 04 2164951, 04 2164960/2164961, 04 2164950, 04 2164958/59, 04 2164953
Airport Medical Centre offers services to passengers, airport staff, airlines crew construction workers, arrange safe transfer-after resuscitation to those who need further medical care to the hospitals.

4) Al Mamzar
Area code-134, Cairo Street, Near Al Etihad private school.
Tel: 2967770. Fax: 04 2967510
Al Mamzar centre provides services like Out-patient clinic for both sex and children as well, Gynecology clinic, Children health care with immunization, Health education section, Nutrition section, Dental clinic, Therapeutic services. It also offers Specialist clinic by paediatricians, dermatologist and ageing specialists where the services are well-supported by all the necessary services.

5) Al Badaa Health Centre
Bur Dubai, Al Wasel Area, Next to Al Hesen School.
Tel: 04 -5081000. Fax: 5081100
Al Badaa Health Centre provides healthcare services like General outpatient, Child health, Dietician, Specialist clinic, Skin clinic & ANC.

6) Hatta Center
Tel: 04 8523553 - 8523577. Fax: 04 8523192
Hatta Center offers services like General Doctors, Dental, Woman health, Child health, Dietitian, X-Ray & Laboratory facilities.

7) Al Khawaneej
Tel: 04-2892092. Fax: 042892643
Al Khawaneej provides services like General Doctors, Dental, ANC- Women Health, Child Health, Dietitian, X-Ray and Laboratory facilities.

8)  Al Lusaily Clinic
55 kilometres away from Al Maktoum Hospital, Right side to No.6 high way of al-Ain Road.
Tel: 04 8326203. Fax: 04 8326640
Al Lusaily Clinic offers preventive and curative services of health care to educate the patients, provides treatment for common diseases, refers patients to the specialist's clinic for further treatments. Besides this, the clinic supplies free medicines to locals from their store. 

9) Jabel Ali Clinic
Jabel Ali village
Tel: 8846489. Fax: 8846196
Jabel Ali clinic offers healthcare services for medical Fitness and Dental care.

10) Nad Al Sheba Clinic
Tel: 04-3361237, 04-3363599, 04-3363818. Fax: 04-3361749
Nad Al Sheba Clinic offers services like CHS, Outpatient consultation, Dental Services, Laboratory facilities, and Home visits on request.

11) Al Mankhool health centre
Tel: 04 3987333. Fax: 04 3986492
Al Mankhool health centre offers services like General outpatient clinics, Child health, Dental services, Specialist Clinics for skin, antenatal clinic, surgical clinic, Pharmacy,  Laboratory facilities, X-rays, Dietitian, Health educator and C.T.G / E.C.G technician.

12) Al Qusais Clinic
Deira side, Eastern side of Dubai, Behind Ghussais police station.
Tel: 2612042, 2612264. Fax: 2630887
Al Qusais Clinic offers principle outpatient services and specialist outpatient services like Dermatological services, Antenatal services, Child health services, Dietician services, Health education by G.PS, laboratory and pharmaceutical services.

13) Port Rashid
Port Rashid Area
Tel: 04-3457043. Fax: 04-3454265
Port Rashid offers services like General consultation, Limited laboratory facility & Health control office (under epidemiology).

14) Al Rashidia
Al Rashidiya area, Dubai city, Behind Bin Sougat shopping centre,
Tel: 04 -2857353 / 2857424. Fax: 2854059
Al Rashidia offers medical services like Dental clinic, Skin clinic, Antenatal care, Women Health clinic, Child Health Services and vaccination, Dietitian clinic and Laboratory facilities.

15) Umm Usqaim Clinic
Jumeirah Beach Road, 17 km Al Maktoum Hospital,
Tel: 04-3944456. Fax: 04-3944520
At Umm Usqaim Clinic offers services like General consultation for either sex, Pediatrics, Child health Service, Surgical Clinic, Skin clinic, ANC, Dietician, Child health-pediatric assessment and Dental Clinic are available.

16) Al Safa Medical Center
Tel: 04 3943468. Fax: 04 3947275
Al Safa consists of a ground floor composing of semi-independent units that offer services supported by auxiliary services like Out-patient clinics, Gynecology clinic, Neonatal unit with immunization,  Auditorium for lectures on health education, Dental clinic, Specialists clinic with routine special medical services by specialists from ophthalmology, ENT, dermatology, thoracic aging.