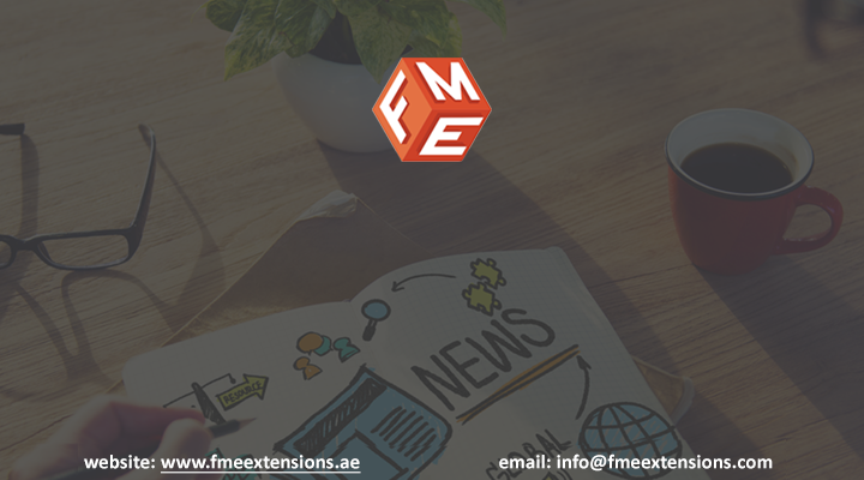 It is a leading name in the field of web design and development in Dubai that never disappoints clients with its matchless services. 
FME Extensions is a reputable web design and development company in Dubai that is helping small to medium and large size business entities to acquire an impressive online presence. The company specializes in building full-scale eCommerce websites with the due incorporation of the nature and scope of a company.
Every business is unique. It has a set of requirements, a defined market, and a concerned community to reach out. For any web development agency, it is mandatory to first understand the industry and business type before drafting a structure for their website. In this regards, FME Extensions Dubai follows a brilliant project cycle that starts with a thorough understanding of a business with competitor analysis, and how they can step ahead of them with a mesmerizing web design, structure, and user experience. 

The Core Services FME extensions offer
FME Extensions proves to be a one-stop solution for all the needs of a small to medium and large size business that aims to go live, promote a venture, and get recognized as a brand. Having a website is a stepping stone to build an online website. 
Some of the small businesses initially start on a social media platform like Facebook or YouTube, and later on builds a website. But, most of them start investing in setting up a dedicated website right from the very beginning. This helps to attract customers to a self-hosted and purpose-built shopping platform that is designed to engage users and convert them into customers.

FME extensions possess expertise in eCommerce development and web design Dubai with a focus on building online shopping portals according to the varying business needs. Unlike the conventional web development agencies, they are not habitual to charge a fixed fee with a predefined web layout that does not suffice the needs of every business. FME Extensions believe that every business has a significant charisma that has to be present in its virtual assets that are website, blog, social media profiles, and advertising or promotional campaigns. 
What Distinct Services does it offer to the Clients?
FME Extensions is not a conventional web development company. The scope and vision of this company are ahead of its competitors because of bringing interactive and unique solutions to business requirements. Web development is a massive industry.
A computer science graduate or a diploma holder starts a company without any experience and exposure. They try to assure quality web development services but fail to achieve because of their limited, irrelevant, or no industry experience. They only have the knowledge, but unsure of how to brilliantly initiate, develop, and deploy a website from the scratch. 
It demands robust experience of multiple niches and industries that make a web development company a suitable match for a business. FME DUBAI exhibits professional values and expertise because they are in the serving the Arab business community for the past 7 years. Their eagerness to bring out the best for the web presence and maximizing online exposure of the local and global enterprises has helped them unleash endless possibilities. 
- Web Development with Free Support and Maintenance 
The web development services are followed by free maintenance as well. At one side, there are companies that deliver the final project without follow up repair and maintenance agreement, on the other hand, FME Extension ensures continue support to their clients free of cost for a limited time period. 
- Theme and Plugin Development and Customization
For every problem, there lies a solution. But, it all requires brilliance and expertise to draft a solution that is affordable, quick, and bug-free. FME Extensions has mastered the art of perfecting eCommerce websites by tailoring themes and plug-ins to their needs. Connect to browse a series of tools they have developed for increasing functionality of an online store or ask for a custom plugin development. They do offer personalization to off-the-shelf extensions. 
- Online Marketing and Digital Advertising 
The expertise of the top management has enabled the company to successfully carry online marketing and digital advertising campaigns. These are not limited to search engine optimization and pay per click advertising as these extend to profile building, branding, business listing, direction submission, guest posting, forum participation, and blog commenting to seek influencers attention.  
- Social Media Exposure and Outreach 
But, the company extends its support to clients with social media exposure and branding as well. They have a skillful team of social media who bring top-of-the-line ideas to the table and bring them to create designs. These designs have a magical attraction to compel the users by sharing them with their friends, family, and other social circles.
How FME aims to benefit a greater community of eCommerce?
The eCommerce industry is expanding by leads and bound around the globe. The ease of finding valuable products and services online is amassing a huge audience to start browsing the internet for the things they use in the routine.
The demand for web design and development has also erupted at a greater scale. It has not only opened limitless opportunities for the people to try doing online jobs and businesses but has also made the existing businessmen acquire internet presence of their enterprise. Thus, every small and medium business is aiming for building a platform for online presence. 
FME Extensions is committed to building websites that truly exhibits a business online. Merchants can showcase their invaluable products and services right on their purpose-built website, attract visitors, convert them into customers, and maximize their revenues. Owning a website makes them authentic and reliable enough to amass loyal customers.
A web development project is either started right from the scratch or founded on stand-alone eCommerce software. FME Extensions leaves the choice to the business owner as coding for a website right from the very beginning is time-consuming and expensive, whereas setting it up on a CMS or eCommerce platform is rather a quickest and economic solution. 
Web Development is offered in Multiple Technologies
The company has a sound understanding of setting up a website on Magento, PrestaShop, WordPress, and WooCommerce. These are the open-source applications freely available to set up a website with basic amenities and customize it for advanced modifications. The company specializes in various technologies and platforms that are specifically developed for building a fully functional eCommerce website. It may include coding for an online store as small as targeting a town or city and expand to as big as a multi-lingual and multi-regional setup.
 
FME Extensions has developed a series of themes, plug-ins, and tools that offer quick personalization for the interface as well as the user experience. Any business that needs to add a distinct feature or option, for the ease of customers, can either custom develop the functionality or install an available plugin for a quick fix.
 
The available themes and extensions are available for further customization to business needs. They do have free and premium tools for the eCommerce community. Merchants are allowed to have the free tools and make changes to their demands. They can easily be reached for a quote at the following contact information.
Conclusion 
FME Extensions offers a blend of digital solutions that are not confined to building an online store. The company brings a series of valuable solutions to the table that is a must-have for the budding businessmen and entrepreneurs. It is like finding a companion whenever you are stuck in a business process and need expert advice or a quick solution.
 
It is rare to find a company that assures supreme quality services in multiple domains that include web design and development, addition or customization of a feature, personalizing the web design, pursuing better user experience, online marketing and digital advertising, social media outreach, branding, and promotion. But, FME is surely the one that suffices most of the business needs.