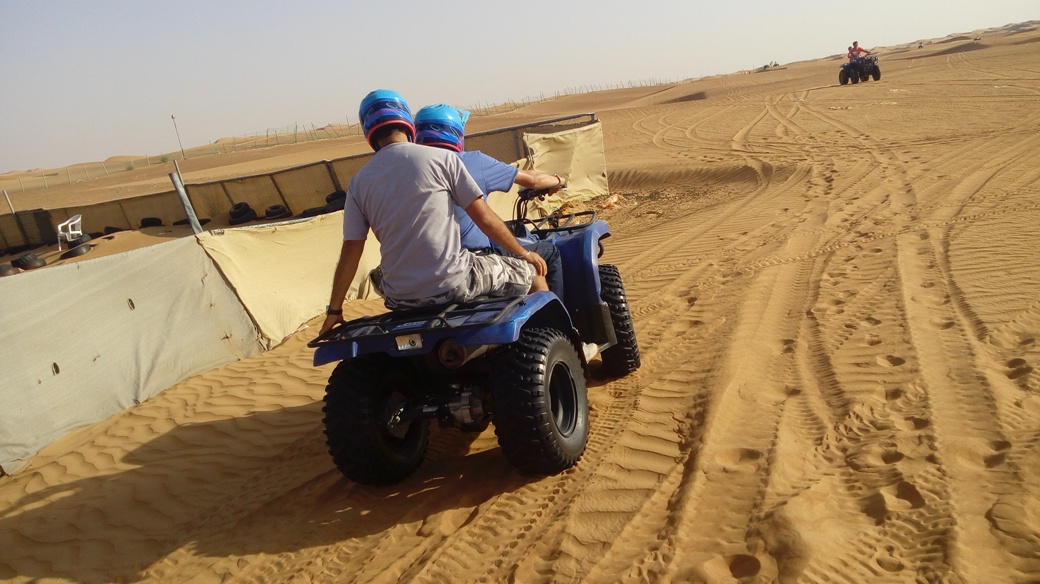 Dubai is one of the fastest-growing cities in the world, not only due to the rising number of tourists but also due to its free trade policy. Located on the eastern coast of the Arabian Peninsula, the Government is continuously making great efforts to attract more and more tourists every year.  Here are a few suggestions to enjoy your stay in Dubai.
Exploring complete Dubai region is practically impossible unless you have ample time and budget. You need to decide precisely your areas of interest as it has everything to offer such as leisure, lots of travel and sightseeing, adventure sports, shopping and so on.  
A most important part of your trip planning is the type of group you are travelling with, i.e. alone, with friends, senior citizens or family trip with kids. This will decide the type of activities to be explored in Dubai, of course, some are must such Burj Khalifa, Gold Souk, Spice souk etc.  

Visit the Jumeirah Mosque at sunset,  for a stunning view. The day tour of the building usually starts at 10.00 am from Sundays to Thursdays.
There is an umpteen number of scenic parks in Dubai, some with beaches and others with grassy areas.  One of the most popular is the Mamzar Park that flaunts beach and lagoon,  picturesque train,  play area for children,  music,  swimming pool and barbecue areas.

At botanical gardens along the Creekside Park, you can see over hundreds of plant species, some of the rarest in the world.  Almost all parks collect entrance fee but it's worth paying.

You can entice your appetite with great food joints which can be found at every tourist destination in Dubai. Don't forget to eat Shawarma,  which is very popular in Dubai.  
Your trip to Dubai can't be complete without visiting a couple of shopping malls. You can shop whatever you want!  Retailers are there at every nook and corner of Dubai, at some places your bargaining skills may be useful.  Visit the Mall of Emirates where you can enjoy indoor snow skiing at Ski Dubai. Wafi City mall offers an indoor roller-blade rink.
Souks are the typical marketplaces in Dubai where you can find a variety of local food, spices, gold and silk and so on, one has to decide how much time to be spent at Souks depending upon individual liking.

If you are adventure seeker, then you must experience a desert safari trip in Dubai.  There are lots of travel agencies offering packages and tours for a desert safari trip. Enjoy the thrills of dune-bashing in the desert, it's really a thrilling experience. Camel riding can a part of your desert safari adventure at the time of sunset. If very keen then choose a whole day camel riding safari but please take necessary care to protect yourself from scorching heat of the desert. The guides there do provide all the kits required and little training about the behaviour of the animal as you shall be spending quite a few hours with the animal.

If you love horse-riding then try horse-riding in Jebel Ali.  You can also enjoy motorsports,  rock climbing and sailing at the Jebel Ali Sailing Club (JASC) or Dubai Offshore Sailing Club (DOSC).

Dubai Zoo, located in the lush green suburb of Jumeirah is the first Arabian zoo to breed the rare Chimpanzee and Arabian wild cat.  You will see species like Barbary sheep, waterbuck,  Siberian and Bengal tigers,  Arabian wolves,  hyena,  wild cats,  scimitar-horned oryx,  gorilla and chimpanzee.

If you want to have a bird's eye view of Dubai and see the magnificent mega structures then take helicopter tours, prices vary depending upon the time one wants to spend in the sky!  Also, the option of a hot air balloon tour is available.
Like a few mentioned above, many more daring, exciting, leisure activities can be enjoyed in Dubai. The list is endless; it is just the question of how much time and money you have and what precisely you want to enjoy!