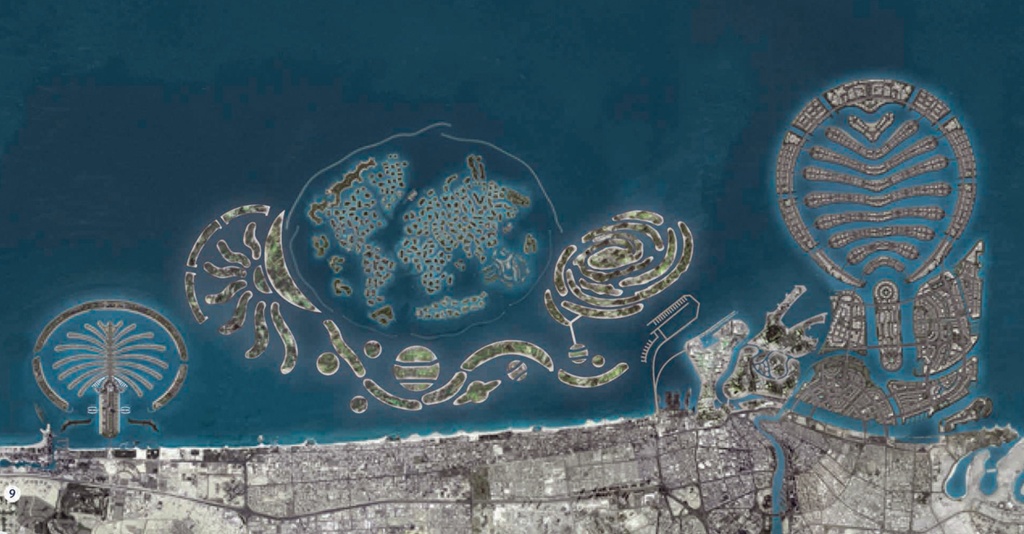 Palm Islands is one of the main attractions in Dubai. The Palm Islands is an ambitious project started by Nakheel Properties. Built on the coasts of the Dubai Emirates these man-made artificial islands have been constructed by Belgian and Dutch dredging and marine contractors Jan de Nul and Van Oord. The project consists of three islands; namely Palm Jumeirah, Palm Jebel Ali and Palm Deira. A self-announced Eight Wonder of the World, Palm Deira is the largest of the three.
The primary intention of this project was to attract more tourists to Dubai. These islands have world-class hotels, entertainment centres, spas and health centres, marinas, water parks, residential villas, shopping malls, cinema multiplexes, diving sites. With the innovative shape of a palm tree, this is expected to be a major attraction for beach lovers and leisure travellers.

All the three islands are shaped to have the appearance of a date palm tree that consists of a trunk, a crown with fronds, and crescent islands that act as a breakwater. The assembly of these islands has been done using the technique of dredging sand from the ocean floor. Using an advanced global positioning system known as D-GPS, the sand is sprayed into the ocean through a process known as rainbowing. It is called so because of the curve that is created while spraying sand. The breakwater of the Palm Islands Jumeirah consists of seven million tons of rock where each one has been specifically placed by a crane and assigned a GPS co-ordinate.
The construction of Palm Jumeirah began in June 2001 and was expected to be completed by October 2007. The island houses themed boutique hotels, restaurant & bars, attractions such as AquaVenture, The Lost Chambers and Dolphin Bay, shopping malls, shoreline apartments, beachfront hotels and three types of villas which include: Signature Villas, Garden Homes and Canal Cove Town Homes. The Island is connected to the mainland by the Palm Jumeirah Monorail which was inaugurated on May 9, 2009.
The Palm Jebel Ali construction work begun in October 2002 and will offer 70 kilometres of virgin beaches, six marinas, luxury hotels and entertainment attractions such as SeaWorld, Aquatica, Busch Gardens and Discovery Cove.

Palm Deira construction started in October 2004 and as the island is very large,  the master plan is divided into various parts such as Deira Island Front, Deira Island Mamzar, Deira Island Island North, South & Central, Palm Crown, Fronds & Crescent and the Deira Island Trunk.

Except for the Palm Island Jumeirah, real estate development on the remaining islands is still unfinished.