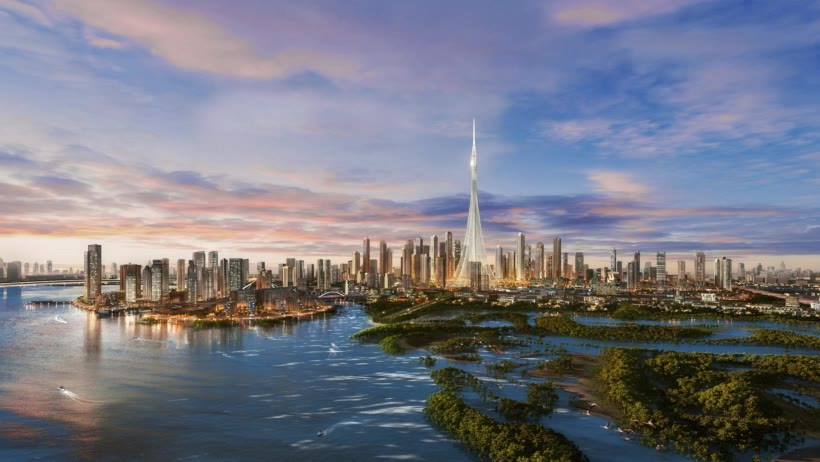 The beautiful land of the desert is a sight to behold, especially when you get to see the stunning architecture, technology and innovation that the people in Dubai have managed to create. This ever-growing popular tourist destination is once again going to be the subject of praise and shock as Dubai gears up to produce yet another architecture marvel; a building taller than the Burj Khalifa.
Dubai gets ready to build up yet another sky high skyscraper that is said to be a 'notch' taller than the world's tallest building, the Burj Khalifa. As a part of the redevelopment for the Dubai Creek region, the building that is currently known to be named as 'Dubai Creek Tower' will surpass the 828m high building.
 
The foundation for this building has already been laid by the ruler Sheikh Mohammed bin Rashid Al Maktoum, and the completion will be expected to be right near the arrival of the World Expo 2020. This upcoming creation has certainly picked up the interest of many over the world. Emaar Properties, the same company responsible for the Burj Khalifa will also be spearheading the construction for the Dubai Creek Tower, which is said to be the creation of the Spanish architect Santiago Calatrava Valls.
The slender structure will be streamlined, have several observation decks, indoor green areas along with 360-degree views of the city. The building is also said to use high quality international standard material that will help prevent the risk of fire.
Don't wait any longer! Grab a chance to visit the city of Dubai and explore all the popular outdoor activities that you can fit in your schedule for a complete Arabian adventure.