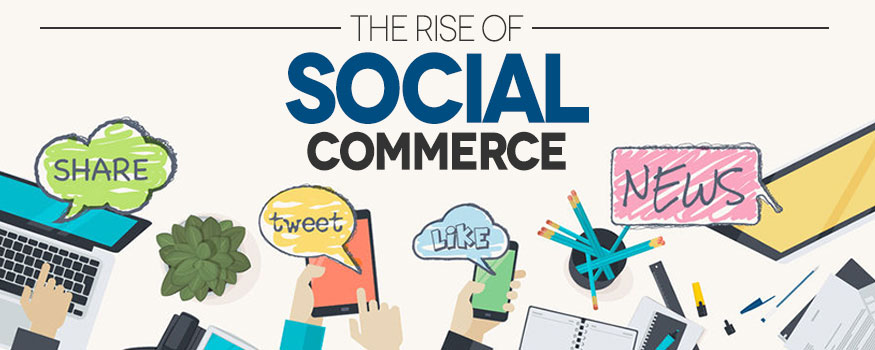 With the growth of mobile users in the middle eastern countries, Internet usage has been drastically expanded with an Internet penetration of 57.4%  which is 8.1% more as compared to rest of the world.
The recent figures have shown that, the past two years brought significant changes for online shopping business in the middle east as more than 75% of the population have an internet access with a booming 90% of the population using smartphones to make online purchases. Among the 90% users, more than 83% are satisfied with their online shopping experience. With this re-shape of e-commerce trends, the middle east has become the greatest evolving economy in the world relating to the adaption of e-commerce within a short period of time.
Social media and commerce
With an increase in internet users, social media platforms have also gained measurable changes since the past three years. There has been a fair increase in the social media users as large population own a smartphone in their pocket. The term social commerce can be defined as the combination of commerce (i.e. buying and selling of goods) and social element of the society, with all these different activities happening over the common platform INTERNET. In simple words, Social Commerce is the natural blend of e-commerce assisting the firms to boost their sales through the social constituent and discounts. 
Enriched shopping experience
In this ever-changing business environment where everything doesn't remain static, consumer shopping experience varies from time to time. So, it is very important to enhance a customer shopping experience in order to maintain brand loyalty. Social recommendation or Word of mouth proved effective and evidenced itself as rising sun for the e-commerce, which resulted in innovation, escaping the usual limits of regular buying and selling between the two parties and the firms giving customers same types of discounts and coupon deals just to lure them in buying their product. Some online portals offer best deals like namshi coupon code, souq, Letstango, Ounass and Wojooh discounts. Under the social sky of commerce, people have their own personal stylist through the growing option of buying curated products. Today a person can virtually shop with his family without being present at that location. All these factors help firms to increase audience reach and be able to create a futuristic live shopping experience.