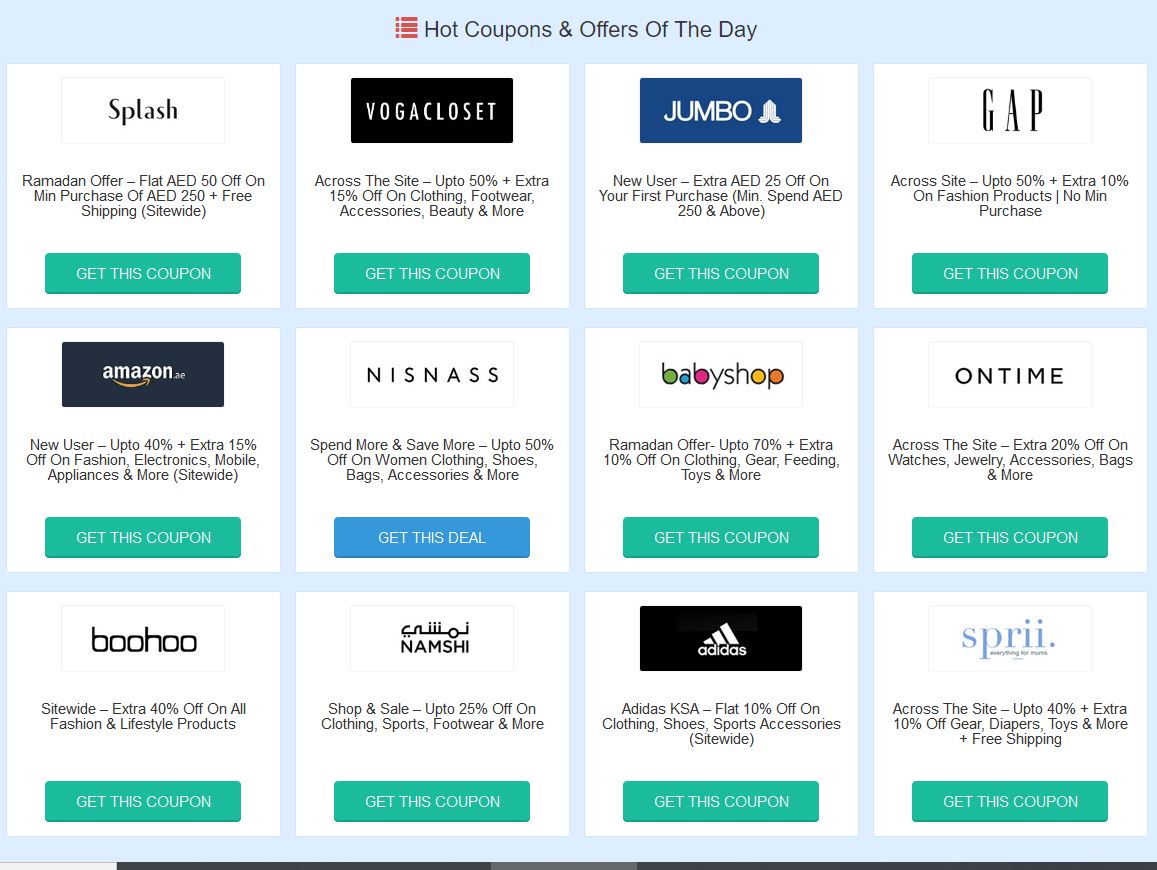 CouponzGuru, a coupon and daily deals aggregator website announce its launch in UAE. Any online shopper in UAE can now access the CouponzGuru UAE website and grab the benefits of the latest coupons and deals released by various online stores working in UAE space.
On the eve of the launch, CouponzGuru website's founder Vikash Khetan said, "It is a proud moment for us to announce our arrival in UAE and other Middle Eastern countries like Bahrain and Oman. We started the website with the motive of providing the utmost shopping experience to our customers and it feels great to see our customer base expanding". The founder also hinted on the fact that CouponzGuru has further plans of expanding its operations to other GCC, Middle Eastern, and Asian countries in the coming time.
At present, there are about 500 merchants listed on CouponzGuru UAE's website. Some of the prominent names being Amazon UAE, Noon, Voga Closet, Ontime, Aliexpress, 6th Street, Ounass, Gap, H&M, Bath & Body Works, Tavola Shop, Jumbo, SSsports, Namshi, Nisnass, Footlocker, Splash Fashion, Homecenter, Homebox, and Babyshop; the list is not an exhaustive one, however. The whole list of merchants is listed clearly on the website.
It is worth noting that CouponzGuru features stores that cater to a variety of business sectors; one can find listings in categories like mobiles & electronics, clothing & shoes, flight & travel, food & grocery, online education, web hosting, book, baby products, restaurants, etc.
It is quite easy and simple to access all the coupons and deals listed across various categories, on the website. A visitor needs to find the relevant coupons/ deals of a particular store and shop from that store only after getting re-directed via the CouponzGuru UAE's website; to ensure re-direction one has to click on the selected deal/ coupon link.
CouponzGuru is not only about getting discounts and deals in shopping; it is also about the fact that the website makes the process of finding a genuine and relevant coupon code or a discount deal very simple. A customer does not have to go to several merchant sites, find a genuine code and then go out to shop; a customer can simply get connected with CouponzGuru and find all the deals at one single place without having to incur any additional cost to access those deals.
CouponzGuru has timed its entry in the UAE market perfectly; UAE is considered as the fastest growing e-commerce market in the Middle Eastern region, and the future looks only bright for a player like CouponzGuru.
About CouponzGuru: CouponzGuru was founded in the year 2011 and is based in India. Founded in the year 2011, the coupons aggregator site has partnered with some of the major e-commerce merchants of India like Amazon, Flipkart, Myntra, Makemytrip, etc. There are more than 1500 Indian stores listed on the website and there are new additions on a daily basis. The website operates in two other countries Malaysia and Singapore, apart from India and UAE.