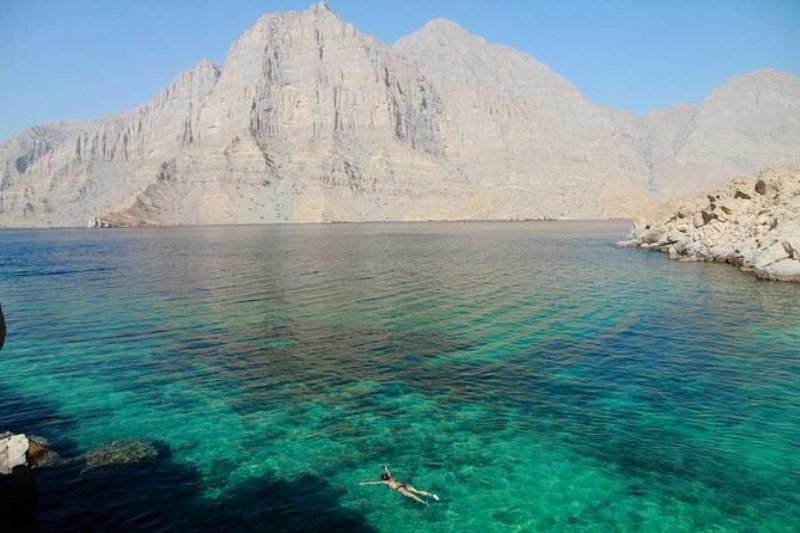 The United Arab Emirates is known today for its glittering cities, spectacular architectural feats and an opulent lifestyle. But before the discovery of oil in the 1960s, Middle Easterns lived modest lives, relying on the bounty of the seas; the region had thriving pearl diving and fishing industries. You can catch a glimpse of those simpler times by taking a trip down to neighbouring Oman's Musandam Peninsula from Dubai. Khasab city is frequently visited by residents of UAE as the Khasab Coastal Road provides access to the city from the UAE by connecting with the E11 Highway in the UAE side. 
The Peninsula
The Musandam Khasab region is known as the 'Norway of Arabia' because of its extensive fjord-like rocky inlets and surrounding mountainscapes. On your way here, you'll be able to spot the ancient Khasab Castle. Once at the harbour you can spot traditional Arabian wooden boats called dhows moored all around. If you want to enjoy an unforgettable day cruising through the "Fjords of Musandam" (called Khors), you can board a dhow here; swim and snorkel in the clear waters off Telegraph Island and Seebi Island. Discover ancient villages on the way perhaps or visit Khor Shem, Qanaha and Maqlab on the way back.
The Dhow Experience 
Dhows are different kinds of sailing vessels, usually constructed from wood. They have traditionally sailed the Persian Gulf, Indian Ocean region and the Red Sea for trading. Typically sporting long thin hulls and triangular sails,  dhows were sturdy, durable ships used for fishing and pearl diving.
 
Once aboard a traditionally decorated Omani dhow, enjoy a savoury Arabian meal, accompanied with unlimited non-alcoholic drinks as you bask in the sun. You may even spot some native wildlife in the water! Indo-Pacific humpback and bottlenose dolphins are both gentle, friendly creatures, known to swim around the peninsular and neighbouring Telegraph island. Apart from these mammals, you may spot schools of angelfish, wrasse and parrotfish flocking about.