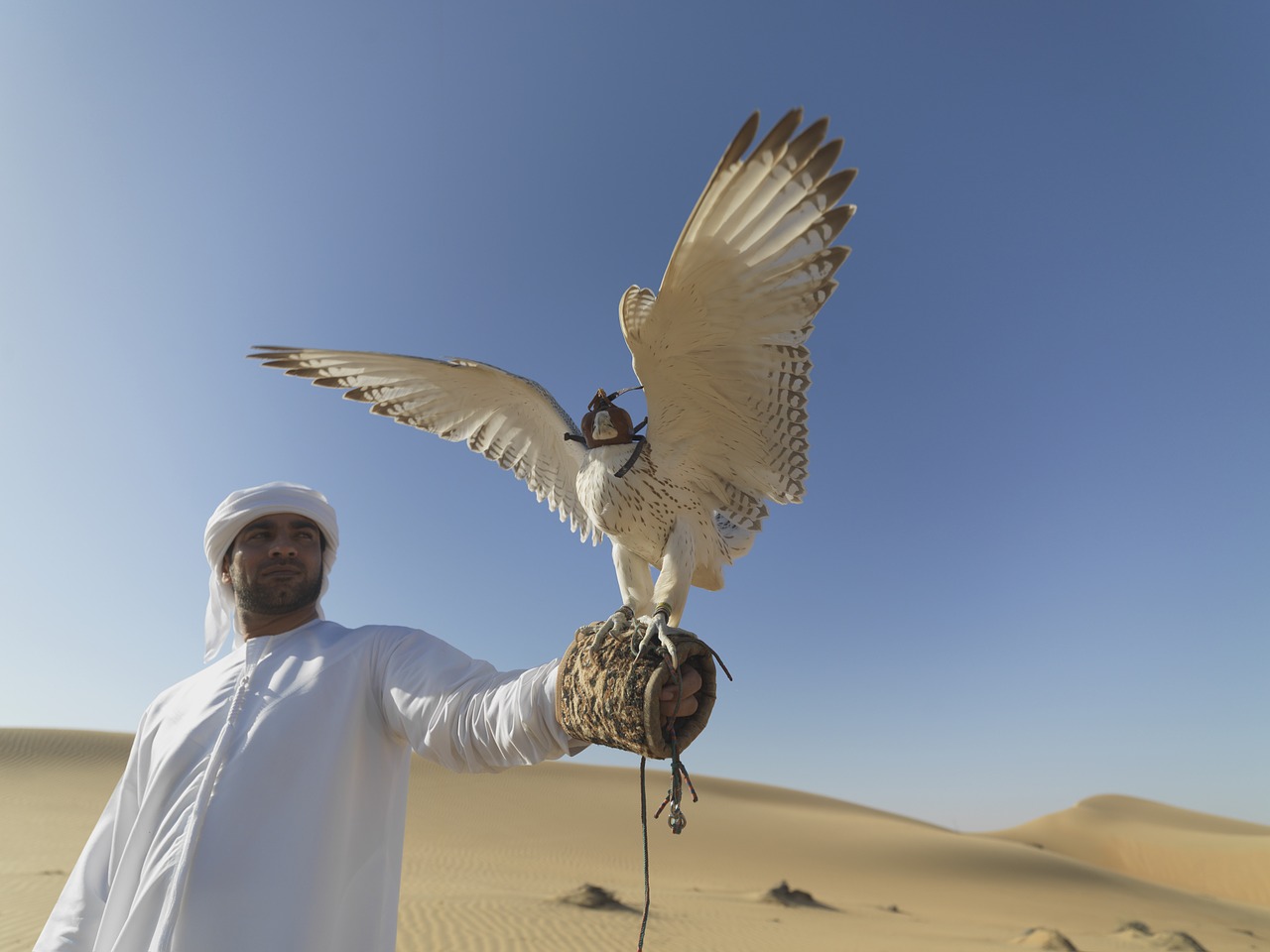 Sports in any country is an actively promoted activity not only for its health benefits but also for its supplementary roles as an entertainer and cultural bonds it holds up between people with a shared love of the game.
Being a dry, desert land, sports in UAE are prominently related to the desert sand where camels and horses rule the roost. People flock together to watch various traditional sports amongst which the famous ones are camel racing and various forms of equestrianism. In spite of the arrival of modern sports activities like golf and F1 which cater mostly to the tourists and rich people, the popularity of these traditional sports does not cease to exist in the hearts of common Arab. 
Sports Clubs with state-of-the-art facilities have been constructed by the UAE government so that the residents can enjoy and play their favourite sports at leisure. Traditional sports have also been given equal weightage and are been aggressively promoted to keep their heritage alive for future generations. Various sports events and championships are arranged on a regular basis that attracts players from international arena giving the country a global viewership. Various sporting activities collaborate together to play an active role in promoting tourism in the country.
Camel Racing
Camel Racing is a traditional Arab sport that is a part of native lives for hundreds of years. Mainly two types of camels are used Omani and Sudania for this sport where they differ only in colour. They are fed on a typical diet of dates & milk and made to run certain distances to build their stamina. It was initially a long-established part of weddings and special events. But now the sport now has been given formal status with customized 15 race tracks across the UAE equipped with high tech facilities. Some of the famous ones are Nad Al Sheba Racecourse, 10 km; outside of Dubai and Al Wathba outside of Abu Dhabi. Customarily underage boys were used as human jockeys but due to wide condemnation from Human Rights Organization, they have now been replaced by robots, which is a welcome move.
Horse Racing
The Arabian horse is recognizable all around the world for its rich bloodline and is one of the oldest horse breeds; archaeologically. So horse racing as a sport is an essential part of Arabian life with various tournaments arranged and lessons held for those eager to learn. Equipment for equestrian sports is easily available at all clubs where sports may assume a form of recreation. Dubai is known to host the richest horse racing tournament in the world; Dubai World Cup. In fact, Meydan racecourse city is touted to be the largest one till now and will host the 2010 Dubai World Cup. Endurance Riding: Arabian horses which are able to sustain the rough terrain of the Gulf region are perfectly suitable for long-distance, gruelling endurance rides. As this sport is bounded by strict rules and the course is rough, UAE is becoming a popular place to organize such rides of international stature. UAE has had a chance to play host to FEI World Endurance Championship which is the international governing body of equestrian sports.

Traditional boat racing 
Traditional sports are an intricate part of Arab life and one such sport is boat racing. In the past years, boats used to be much longer but even if today they are not so, it's an amazing sight to see a packed crew propelling their boats towards the finish line as the crowds cheer them. Boat racing is most held between October and April during the colder months when dhows with huge rigs are built and competition gets fierce about who wins the race. One such event in December is the Mubarraz Island marine sports festival held to promote marine sports heritage.
Falconry
Falconry is one of the oldest traditional sports in UAE dating back to almost 2000 years. It was a sport originally enjoyed only by the rich Sheikh's and also used as a means to source food such as hares and houbara for the tribe. They were also used in conjunction with Saluki hunting dogs to chase and hunt down gazelles. Falconry is not an easy sport and requires a great deal of patience to train the bird to show off its skills. The Emirates Bird Society is making efforts to save and raise public awareness about the endangered species. Stopping Illegal trade of falcons, pursuing falcons blueprint of migration are some of the methods used to preserve the species.
Dhow Sailing
Dhow Sailing is, in fact, a traditional activity amidst all the curious glances it gets from tourists to have a ride in a wooden constructed boat known popularly as 'Dhow'. In past times, Dhows were used for fishing but as time demanded these Dhows have been restructured to accommodate all the modern amenities for offshore sailing along Abu Dhabi or Dubai coasts. In Dubai, to attract tourists they even have a Dhow cruise along the Dubai Creek which comes with all the luxury comforts as it disperses a beautiful view of the historic Creek. Traditional Dhow sailing competitions are held during winter months along the Sir Bu Nuair Island to revive the old days when fishermen and pearl traders used to travel the deep waters in their Dhows.