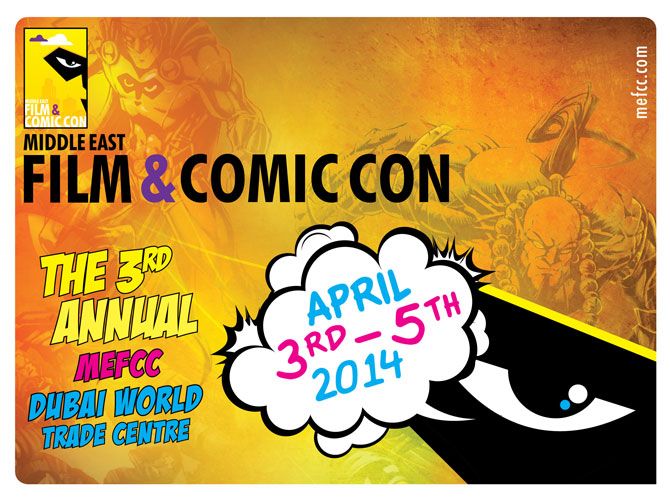 Middle East Film and Comic Con (MEFCC), the first and largest popular culture festival in the region is returning for its third edition on the 3rd – 5th April 2014 at one of the biggest exhibition venues in the region, Dubai World Trade Centre.
Over the last two years, the Middle East Film and Comic Con has grown to become the regions largest popular culture festival and is a showcase of entertainment and popular culture including Film, TV, Sci-Fi, Animation, Manga, Comics, Collectibles and more.

The event was launched with a number of objectives in mind including the want to build a platform for regional talent and the regional entertainment industry; to encourage entrepreneurship in the entertainment industry and connect fans with creators and companies; and create an environment which encourages understanding between not only the different cultures and nationalities within the region but also promote the Middle East to the wider world by sharing our common love of popular culture.

Education has become a key focus over the last two years as well with 2014 seeing the introduction of a third day to the event which will be dedicated to schools. The day will be set aside for students from school groups ensuring that dedicated educational value is gained from workshops and one-on-one meetings with artists and industry professionals.

Since 2012, the MEFCC has been host to numerous stars of the movie, comic and animation world. Fans have had the opportunity to meet actors such as John Rhys Davies from Lord of the Rings and Indiana Jones fame; Laurie Holden, star of the Walking Dead; Sean Astin from the Lord of the Rings trilogy; James O'Barr, creator of The Crow; and Mark Sheppard from Supernatural to name a few. Fans have also been able to meet and learn from creators from some of the industries top comic book companies including Marvel, Top Cow, IDW, Udon and Archia as well as regional talent including Ali Mostafa and Dr. Naif Al Mutawa.

MEFCC 2014 will again be inviting some of the biggest names in the industry giving families and fans the chance to meet the stars of the latest TV shows and movies from around the world including Seth Green, Sylvester McCoy, Tony Jaa and Michael Jai White to name a few. Returning, bigger and better than ever will be the Game Zone, Cine Club, Workshop Area and other elements that fans from around the region have come to expect.