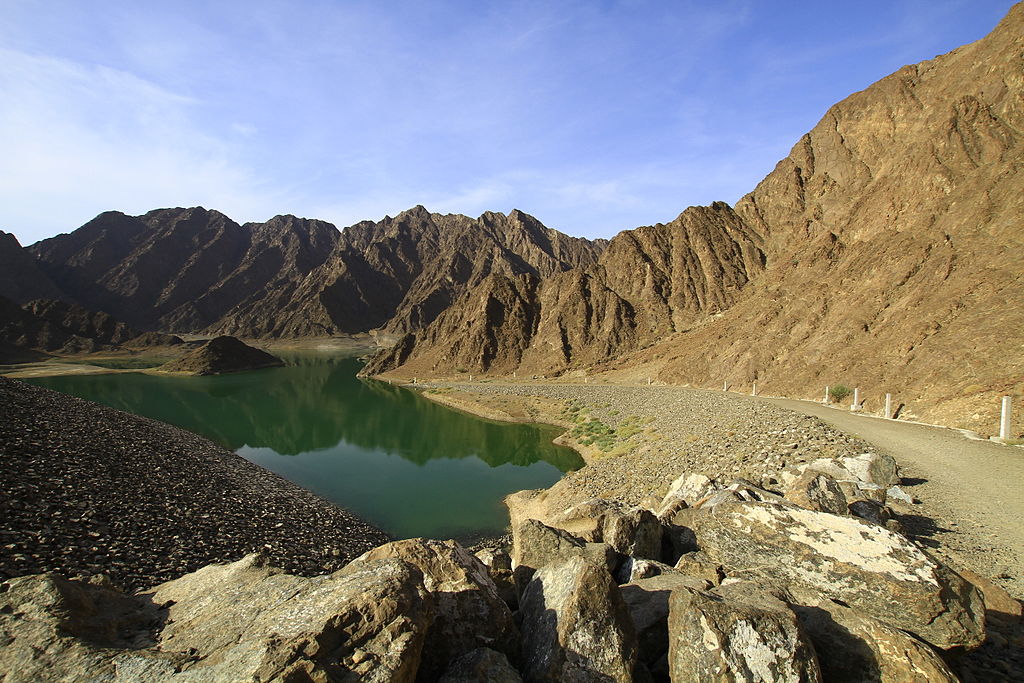 The Hatta town is in the Hajjar Mountains and located about 115 kilometres to the east of Dubai. Hatta enjoys a milder climate than the rest of Dubai because of its higher altitude. 
Hatta tours are popular among tourists. Depending on their enthusiasm, tourists either trek to Hatta by private vehicles or by camel rides. Once you pass the Dubai-Oman highway, Hatta stands out in perfect contrast to the all-round desert landscape of Dubai.
Crawl on the back of the Hajjar Mountains and traverse through ancient dried up riverbeds to reach the cool rock pools. The pleasure of a dip in these natural pools beats a swim in man-made pools any day. The Hatta town itself is worthy of exploration. The Hatta village more popularly known as the Dubai heritage village is an astonishing replica of an ancient mountain village in an oasis, on a desert landscape. This village was originally situated at the mouth of a creek and developed by potters and weavers. The mud houses have been restored to their past glory and the village is a stunning and vivid portrayal of an ancient Dubai. Travellers can even go on a tour aboard a pearl-diving ship, where the divers show off their skills.

So on your next Dubai holidays, be sure to include a Hatta trek in your travel itinerary.