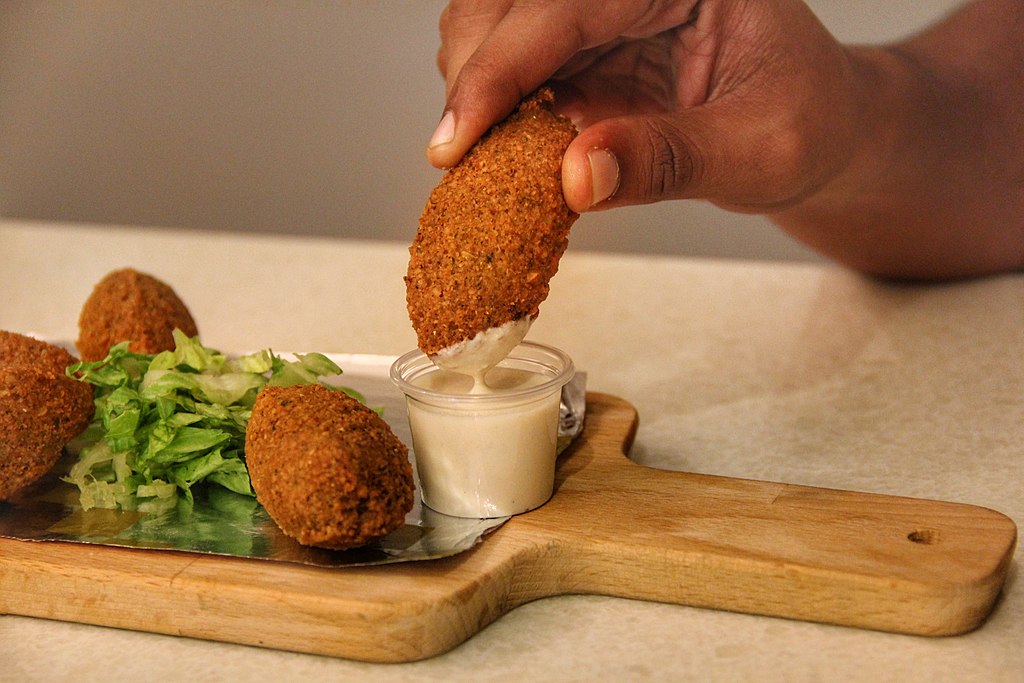 In Dubai, the traditional Arabic food from all over the Middle East is available at every nook and corner. Restaurants in Dubai also serve continental, Italian, Lebanese, Chinese, Indian food and food varieties form all the corners of the world. 
If you wish to taste a typical Asian food then visit a restaurant that serves Japanese, Thai, Pakistani or Indian dishes. Also, there are plenty of steakhouses if you are a meat lover. However, if you are keen on trying some of the sumptuous Arabian delicacies then hop inside any of the Moroccan, Iranian or Lebanese restaurants.
Hummus, Ghuzi, Wara enab, Tabbouleh, Koussa mahshi, Haries, Matchbous, Shawarma, Falafel and the Arabic bread are some of the not to be missed Arabic dishes which you must taste while in Dubai. 
Shawarma, the most famous food which is available at every nook and corner of Dubai.

Falafel is a deep-fried ball made from ground chickpeas, fava beans. Falafel balls are served in a pita. 
Hummus is a dip or savoury dish made from cooked chickpeas mixed with tahini, garlic and lemon juice. You can get it in grocery stores or malls too.
Do not forget to try out desserts like Umm Ali, Mehalabiya and Esh Asaraya. Umm Ali is bread pudding, Mehalabiya is a pudding with pistachios and rosewater while the Esh Asaraya is a cheesecake topped with cream.