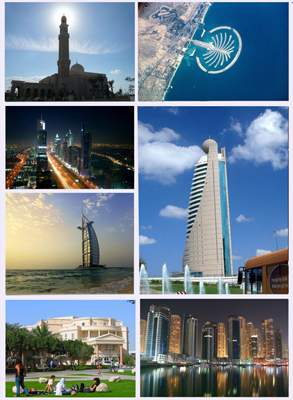 Go on a roller coaster water ride at the Wild Wadi Water Park or make sand castles at Jumeirah beach, Dubai offers much more than it proposes. Luxury hotels in Dubai take care of you and your kid's minutest needs which include transportation to all the family attractions as well as letting the couple spend the time alone while the young ones are engaged in some fun activities.
Neither are the kids glued to you all along the vacation nor do they get bored just because they do not have anything else to do. While you go berserk shopping at Mall of Emirates or Gold Souk, the kids are enjoying the slopes at the tallest man made ski mountain.
Dubai is known for discovering the unknown and that sure is a giddy experience for the whole family. Underwater hotel rooms at Middle Eastern Ski resort, The Atlantis Hotel at Palm islands, camel ride or desert safari in the sand dunes or indoor fishing at the Dubai Aquarium; these attractions are just the tip of the iceberg. Disappointment is the word banned from Dubai's tourism dictionary! If you plan your trip according to the guided rules, enjoying a Dubai vacation is not far away.
Some points to remember before jetting off to Dubai
:


Check out which part of the year you are planning to travel to Dubai. You might enjoy the blazing sun and return with a glowing tan, but your children will wither in the heat. Temperature can rise well above 40 degree Celsius, so the best season to visit is the winter months when you can enjoy all the indoor as well as outdoor activities. This means in January when temperatures are about 24 degree Celsius with occasional heavy rain. July month is hottest with mercury heating above 40 degree Celsius.
If money is not a problem for you, there are quite a few hotels that have a separate children's department with amusement activities dedicated specially for them. They offer other facilities like cribs, babysitting, etc for a surcharge or it may be complimentary depending on which room/suite you book. The hotels are listed below.
If it's Dubai, then a beach and a water park is a must. Wild Wadi Water Park and Jumeirah beach are favorites, especially if you have access to a private beach. But parents need not worry as there are enough lifeguards and safety precautions taken by hotels and Dubai government to ensure that you enjoy a safe and relaxing holiday.
White sands and a good sunshine for your sun tan, warm waters and fluffy sand for your kids and a beautiful backdrop of some amazing architectural structures make for some amazing photo albums.
Children can be quite rebellious when it comes to their food. They want what they want and might not adjust to the local flavor of the Arabic cuisine. But this isn't a worry matter, as you savor some fantastic the Middle Eastern fare, hotels & restaurants offer cuisines from all around the world for your child. Fast food outlets are also in plenty for those who are junk food fanatics. Luxury means getting what you wish for and Dubai is a luxury wonderland for kids.
Dubai Family Attractions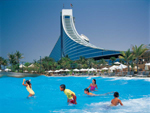 Wild Wadi Water Park
: The only themed amusement park in UAE, rides at the Wild Wadi Water Park revolve around the Arabian folk character of Juha. You can revel in a lot of eye popping, thrilling rides at the Park which can be enjoyed by the whole family. The tiny tots can ride the Juha's Journey, a lazy river whilst the bigger kids can submerge themselves in propelling rides like Master Blaster, Jumeirah Sceirah, Flowrider, Breakers Bay, Juha's Dhow, Wadi Wash, Flood River and Ring Rides. After you are tired and want to go for some food binging, the whole family has a choice of 6 restaurants or relaxing opportunities at the VIP cabanas. You could also buy the swimwear at the Water Park itself so that you don't have to tow a whole lot of baggage along with you everywhere.
Address
: P.O Box 26416, Dubai, UAE
Tel no
: +971-4-348 4444
Fax no
: +971-4-348 0275
Website
: jumeirah.com/Hotels-and-Resorts/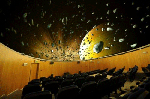 Children's City
:  Children's City in Dubai can be visited if you want your child to go through an educational learning experience. Created for children aged between 2-15 years they have been given full freedom to explore and discover the world around them. Interactive learning via families and school groups is the main aim of the City and it achieves it through various exhibits and regular programs based on themes like 'Computer & Communication, Play Space, The way we live, Resource Center, Discovery Space, Space & Flight Exploration, Planetarium, Nature Centre, International Culture, Work Shop and Toddlers Area' for children less than 5 years of age. All over the year, educational workshops are held for children and families with several galleries and a theatre that stage shows for students.
Address
: Children's City Dubai – located in Creek Park Gate 1, Dubai, UAE
Tel no
: +971-4- 334 0808
Fax no
: +971-4- 334 1122
Website
: childrencity.ae/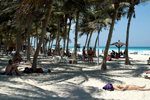 Jumeirah Beach Park
: Situated close to the Jumeirah beach, Jumeirah Beach Park proposes umpteen prospects of enjoyment for your family. Sunbathing, beach sports, games for children, food courts, game courts, barbecue area, walking tracks, picnic spots and play areas for small children can be appreciated along the promenade of Jumeirah beach. The Arabian Gulf is well guarded by lifeguards so that you safely play in the warm ruffles of water.
Address
: Opp Chilli's Restaurant on the Beach Road, Next to Hilton beach hotel, Jumeirah, Dubai, UAE
Tel No
: +971-4-349 2555
Opening Hours
: Daily: 8.00am to 10.30pm, till 11.00pm on Thursday and Friday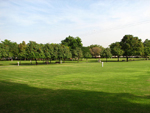 Dubai Creek Park
: The Dubai Creek side Park is a favorite among families for its one of the longest waterfront area that divides Dubai and Deira as well as bestowing some peaceful moments for family picnics. It offers an amazing panoramic view of the Dubai Creek with some good provisions made for families to enjoy their day trips. The lush green landscape is spread over an area of 96 hectares and offers an assortment of activities that includes mini golf course, botanical garden, picnic spots, amphitheatre that can hold up to 5000 people, restaurants, cable car ride and games for kids.
Address
: Dubai Creek, off Riyadh St, btwn Al-Garhoud & Al-Maktoum Bridges, Bur Dubai, UAE
Tel No
: +971-4-800900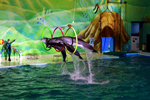 Dubai Dolphinarium
:  If swimming with the dolphins is your wish, then it shall be fulfilled at the Dubai Dolphinarium where you can interact with the dolphins. An amazing center with lots of dolphin shows and marine conservations programs we don't feel like living the place even after the trip has ended. It's a good entertainment package for families where they can educate their children about sea animals in a fun manner along with swimming with the dolphins who are accustomed to human touch. The laser & lights show has augmented the already popular dolphin show. There's even a gift shop where you can buy some souvenirs for families and friends while a restaurant will satiate your hunger.
Address
: P.O.Box 232292, Dubai, UAE
Tel no
: +971-4- 336 9773
Fax no
: +971-4- 336 9774
Website
: dubaidolphinarium.ae/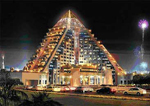 Encounter Zone
: An entire floor known as Encounter Zone at Wafi City is dedicated to families which is an indoor entertainment destination filled with lots of games, activities and excitement for children. Divided into two separate zones: Lunarland and Galactica, Lunarland is for those small kids who want to engage in physical games along with increasing their creativity and imagination. Galactica caters to grown ups and teenagers with extreme sports and inter active games.
Address
: P.O.Box 721, Wafi City, 3rd Floor, Dubai, UAE
Tel no
: +971-4- 324 7747
Fax no
: +971-4- 324 9977
Website
: wafi.com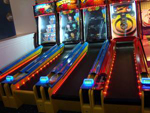 Magic Planet
: An indoor entertainment complex, Magic Planet encompasses of a whole lot of arcade games and entertainment activities that keep children engaged while their parents are busy shopping at the Deira City Centre Mall. This only one of its kind entertainment center is Dubai's largest amusement zone with 10-pin bowling alley, crawling bungie jungle, electronic games, mini golf course, playground, video games are just some of the attractions of Magic Planet.
Address
: P.O.Box 60772, Deira City Center, Dubai, UAE
Tel no
: +971-4- 2954 333
Opening Hours
: Daily: 10:00am to 12:00am
Website
: deiracitycentre.com/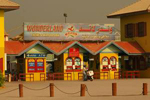 Splashland and Wonderland
: Splashland and Wonderland are one of the popular water based amusement parks in Dubai offering various thrilling rides for children and grown ups. This mammoth water park has more than 30 water rides and 6 restaurants serving international cuisines. Fast food restaurants, yummy ice cream parlors, snack shop, internationally categorized rides and concessional rates for groups & parties; Splashland and Wonderland doesn't fail to impress the Dubai tourist.
Address
: P.O.Box 28844, Next to Creek Park, Near Garhood Bridge, Dubai, UAE
Tel no
: +971-4- 324 1222
Fax no
: +971-4-324 3526
Website
: deiracitycentre.com/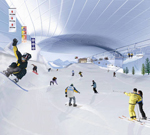 Ski Dubai
: Ski Dubai is one of the largest indoor Ski Resorts in the world featuring a 22,500-square metres of ski area. Located inside the Mall of Emirates it is touted to be the largest mall in the world. It's uniqueness lies in facts such as that its covered in snow all year round with temperature being constantly maintained between 1º to -2º. Skiers can decide upon the difficulty level in ski slopes with the most difficult having a fall of 60 meters and running 4000 meters long. Unexpected in Dubai, families do not need to buy ski clothing or equipments as it available at the resort. There are various themed restaurants, party rooms, qualified instructors for the newbies and a retail shop for the souvenirs. Go skiing, snowboarding, skating or escape the blistering heat of Dubai, Ski Dubai is at your rescue.
Address
: P.O. Box 72999, Dubai, U.A.E.
Tel no
: +971-4- 409 4000
Fax no
: +971-4-409 4101
Opening Hours
: Sunday to Wednesday: 10 am to 11 pm, Thursday: 10 am to midnight, Friday: 9 am to midnight, Saturday: 9 am to 11 pm,
Website
: skidxb.com
Family Friendly Hotels in Dubai
:
Al Qasr  Madinat JumeirahAtlantis - The PalmDar Al Masyaf - Madinat JumeirahGrand Hyatt DubaiHilton Dubai JumeirahJumeirah Beach HotelThe Fairmont DubaiDream Palace HotelFour Points by Sheraton Downtown DubaiGolden Sands Hotel ApartmentsHabtoor Grand Resort & SpaOasis Beach Tower ApartmentsPalm Tree Court & SpaThe Harbour Hotel & Residence