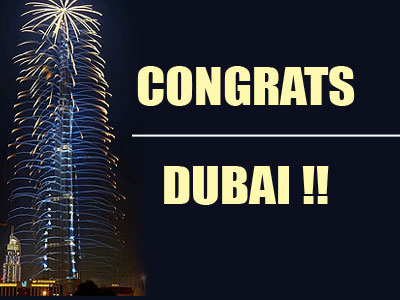 It is time to celebrate as Dubai beats rivals Russia, Brazil and Turkey to win the hosting rights for 2020 World Expo trade convention!
Following the result, celebrations are taking place across Dubai including fireworks explosion from the Burj Khalifa. Thousands joined the excitement as Sheikh Mohammed bin Rashid, the UAE Vice President and Ruler of Dubai announced November 28 a holiday in schools and all educational institutes across in UAE.

This World Expo holds a lot of importance since Dubai will be the first Middle Eastern city to host the event, which is held every five years.

It is expected that the expo will bring in around $23bn in revenue. Dubai is planning to build a huge exhibition centre, new hotels plus an extension to Dubai's metro line. Previous to this, the 2015 World Expo will take place in Milan, Italy.