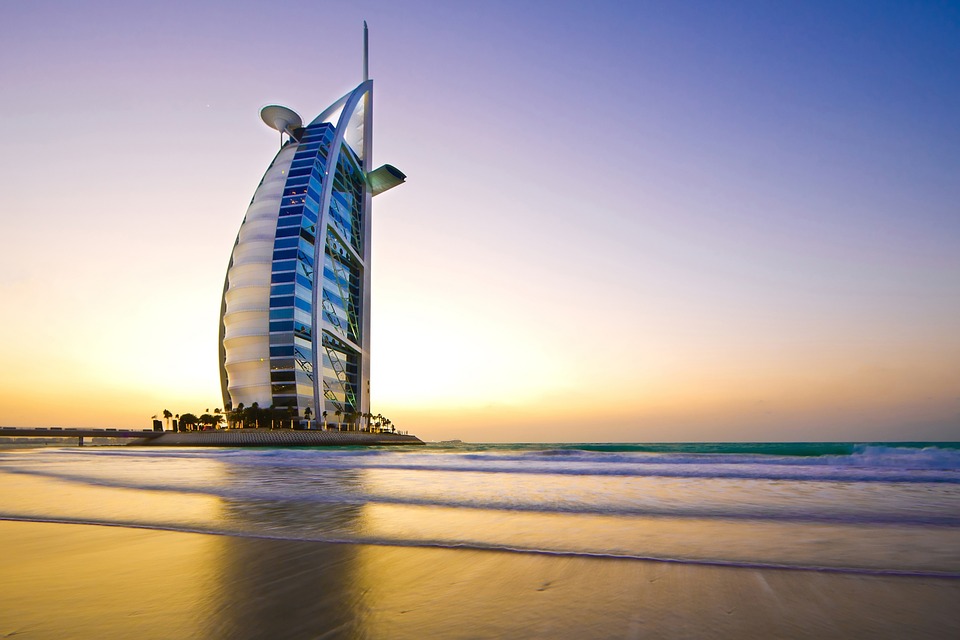 Dubai, the world's most visited tourist destination offers plenty of hotels from luxury to budget to stay at.
Burj Al Arab
Situated around 100 metres from the Souk Madinat Jumeirah and around 5 kilometres from the Palm Island, Burj Al Arab is linked from its mock island to the Dubai mainland through a private bridge.
Standing 1050 ft above the sea level, Burj al Arab is the world's second-tallest building solely operated as a hotel. Lavishly decorated in bold stones, the hotel offers an indoor and outdoor swimming pool; swim-up bar, private beach, health spa and massage treatment rooms, steam room, fitness equipment, library, hair salon and a pool table.
Burj Al Arab serves excellent pan-Asian cuisine. Al Muntaha is one of the famous restaurants inside the hotel.  Its seafood restaurant, Al Mahara can be reached through a submarine. The journey can be enjoyed with an admirable view of a large seawater aquarium made of acrylic glass.  Also, the restaurant's cocktail bar provides a panoramic view of the Jumeirah Beach Shoreline. 
Adorned with vibrant tones, Burj Al Arab provides separate living areas inside each and every room with beautiful sea views. Leisure services include Majles Al Bahar private beach, yacht charter, unlimited access to Wild Wadi Water Park, golf at world-class golf courses like Montgomerie and Emirates Hills, and access to The Assawan Spa & Health Club.

Atlantis The Palm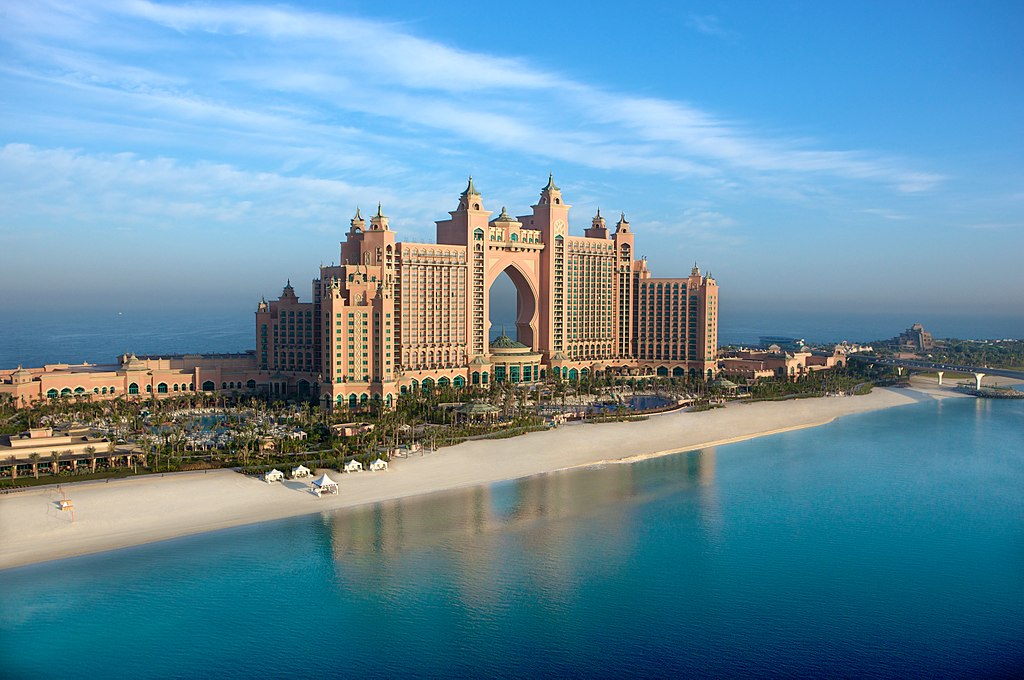 Credit: Atlantis The Palm / CC BY-SA 4.0
Just a walk away from the Emirates Mall and the Wild Wadi Water Park, Atlantis The Palm is an exclusive property spread across 46 hectares of land housing about 1373 air-conditioned guestrooms and 166 lavish suites. Located about 35km away from the Dubai International Airport, the resort offers a variety of entertainment options along with on-site shopping and tempting dining options. Water lovers can hop inside the private beach or swimming pools or else enjoy themselves at the marine and water parks nested inside the property. Guests can also meet the dolphins inside the Dolphin Bay nested by the resort. Furthermore, relax and rejuvenate inside the health spa with treatment rooms offering different kinds of therapies. There is a business centre with well-equipped meeting and conference rooms offering audio-visual and internet facilities.

Dubai Marine Beach Resort and Spa
Constructed in contemporary Arabic style, Dubai Marine Beach Resort with its pastel-toned 195 guestrooms is located 14 km away from the Dubai International Airport. Surrounded by a beautiful beach, the hotel places itself 6 km away from Deira Old Town. One of the best places to enjoy leisure stays, the hotel offers a full-service health spa, outdoor swimming pools, a children's pool, a private sandy beach, various boutiques, swimwear, jewellery and cigar shops, conference rooms with audiovisual equipment, and wireless internet connections in addition to the multilingual staff at the 24-hour front desk. Guests can easily go and enjoy golf at the Nad Al Sheba Golf course and Dubai Creek Golf course located nearby. Also, the traditional camel ride and horse races can be enjoyed.
Guests can savour the Cuban, Tex-Mex, Italian, French, Lebanese, Japanese and Thai cuisines. There is also a café serving delicious Arabic food.

Grosvenor House West Marina Beach By Le Meridien
Established on the foundations of Dubai Marina, the Grosvenor House West Marina Beach By Le Meridien surpasses all interpretations of luxuries and lavishness. Its rooms bestow you with a dreamy view of the Dubai Marina and the Arabian Gulf along with a practical approach of easy access to the Emirates Golf Club, the Montgomerie Golf Club, and the Mall of the Emirates.
Each spacious sea-facing room draws its attention towards you with contemporary decor done in brown hues and marble finishes. Luxury, a step further, includes the Grosvenor Club and Premier room with access to the Grosvenor Club Lounge, an ideal place to unwind and enjoy your drinks.
The social circle of Dubai frequently spends time at the Grosvenor's restaurant and bars that display a quality in the cuisines that is unmatched with any other with a healthy option for the health-conscious guests. Included are Bar44, Deli Cafe & the Deli shop, the Lobby Lounge,  Indego, Leaves, Ottomans, Sloane's, Retreat Terrace and Health Bar, The Gallery and Rhodes Mezzanine.
A touch of the spa is always an indulgence at a 5-star hotel which is the same as Grosvenor's which comprises of 1847 men grooming spa. Invigorate your mind and body with various natural spa treatments, exclusive men grooming at 1847, Jet Set hair salon and access to the adjacent Le Royal Méridien Beach Resort & Spa or dousing yourself at the outdoor pool.

Habtoor Grand Resort and Spa
This beachside hotel is perfect for those who have come to Dubai to enjoy their yearly vacations, as well as for those who have arrived at their business destination. You can find a marriage of ultra-modern amenities and luxurious Arabic style furnishings at its 446 rooms and suites. All the suites face the Dubai Marina offering an awe-inspiring view.
All the restaurants and bars compete with each other by offering their guests a variety of themes, tastes and services. Cuisines served at the restaurants such as Thai, International, Lebanese, Steak and English are extremely appetizing and satisfying. For revitalizing, a spa massage or holistic treatment at the Elixir Spa is just the right thing as it soothes your body as well as refreshes your mind.
The Horizon pool at the mezzanine level suggests marvellous views of the Arabian Gulf while beach lovers can enjoy a good tan at the Jumeirah beach.
Kids won't be disappointed with the Junior Jungle Club supplementing their brain with various recreational and educational activities such as swimming pool, sandpit, climbing wall, games, etc.

Jumeirah Beach Hotel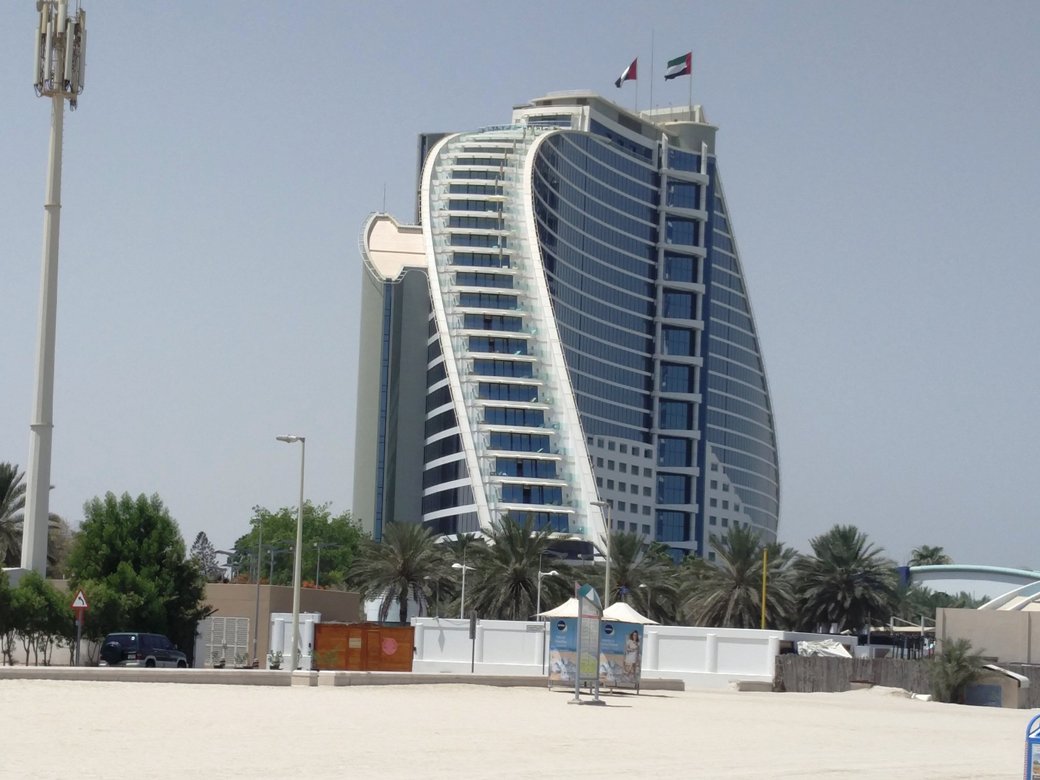 The Jumeirah Beach Hotel located next to the Wild Wadi Water park on a private beach, creating glorious five-star surroundings for its guest where the Arabian Gulf plays a vital role.
This five-star destination shaped in a unique semi-circle offers the best in leisure, recreational and business activities including rooms, suites and villas that re-define the term extravagant. All of them offer a breathtaking view of the Arabian Ocean with the names of the rooms aptly starting with 'Ocean'.
Food satiates hunger and what better than savouring various cuisines such as Lebanese at Al Khayal, Far Eastern at Beachcombers, German at Der Kellar, Tex-Mex at Go West, Argentinean at La Parrilla, seafood at Marina and Le Veranda and vegan at Waterfront. Dubai is the hub for desert outdoor activities and you can take pleasure from each and every one of them involving yourself at the Wild Wadi Water Park, Pavilion Diving Centre and Sinbad Kids Club.
Healthy living is today's mantra so along with various outdoor games you can head to the health club after which you can snack at The Waterfront. Freshness as the rising sun can be achieved at The Spa and Health Club.
Jumeirah Beach Hotel provides ample opportunities for business travellers to hold meetings and conferences at its Meyana Auditorium, Safinah Ballroom, lobbies and outdoor venues.

Al Qasr at Madinat Jumeirah
l Qasr which means 'The Palace' in Arabic is one of the luxurious boutique hotels comprising an intricate part of Madinat Jumeirah resort located along the Jumeirah beach.
Extravagant décor, luxurious amenities and genie services are the success mantra of Al Qasr. The definition of luxury can be restructured by the amenities offered in about 292 rooms which have private balconies with views of the resort, antique furnishings free internet access, lush gardens, huge pool areas and waterways that link the hotel to other resort areas.
Award-winning restaurants and happening nightlife can be found at Arboretum with Arabian touch, Pierchic serving seafood, Al Hambra for cocktail drinks, Magnolia for vegan dishes, MJs for steak preparations, Pai Thai for Thai dining and Koubba Bar for traditional Arabic experience.
There are plenty of fun activities and leisure options at Al Qasr like The Quay Healthclub, indoor lap pool, an assortment of water sports at the private Jumeirah beach, shopping at Madinat Souk, various holistic treatments at Talise Spa and kids activities at Sinbad's kid's club.
Other hotel services offered include complimentary access to Wild Wadi Water Park, traditional souk, complimentary gifts, 2 km of clean, private beach and The First Group Theatre.

Dar Al Masyaf at Madinat Jumeirah
The Madinat Jumeriah Resort encloses within its territory two grand boutique hotels and Courtyard summer houses of which Dar Al Masyaf Madinat Jumeirah is one of the Summer Courtyard houses. If you wish to experience the Arabian lifestyle in their own signature style then Dar Al Masyaf presents you with umpteen chances at their summer houses.
Sunshine will pleasantly stroke your skin as you step in the exquisite Arabian 29 summer courtyard 'houses' where nature plays the game of lights and spaciousness embrace your arrival. All the rooms make you travel to the land of Arabian nights as well as set the backdrop for privacy.
Slipped away within its private surroundings of lush gardens and pristine waterways is the Talise Spa where various holistic treatments will nurture your body, mind and soul. Alongside the Spa, rooms are the Magnolia restaurant whose belief in wellbeing is translated into its menu which includes organic, healthy recipes.
Even if you if are staying at the Dar Al Masyaf all facilities and lavish opportunities available at the Madinat Jumeriah can be enjoyed, by travelling in the water taxi through the linked waterways. This incorporates several world-class restaurants and bars, free internet access, complimentary access to Wild Wadi waterpark, traditional souk, adventure sports at the private beach, outdoor swimming pool, boutique shops, conference and banqueting centre, The Quay Healthclub and The First Group Theatre.

Mina A Salaam at Madinat Jumeirah
Streaming along the shores of Jumeirah beach is Mina A Salam boutique hotel which comprising an intricate part of Madinat Jumeirah resort. Arabian interiors with contemporary hospitability characterizes hotel's persona which features rooms with ocean, Burj Al Arab or Jumeirah Beach hotel views.
Extravagant decor, luxurious amenities and genie services are the success mantra of Mina A Salam. Luxury is recreated by the amenities offered at rooms and about 12 suites which have private balconies with views of the resort, lush gardens, huge pool areas and waterways that link the hotel to other resort areas.
Lip-smacking restaurants and happening nightlife can be found at Layali Tent lounge with traditional Arabic look, Zheng He's serving Chinese, The Wharf for live cooking stations and terrace seating, Al Muna for regional dishes and international fare, The Pool Bar and Shimmers for poolside refreshments, Al Samar Lounge for traditional Arabic teas and Bahri Bar for Arabian tapas and cocktails.
There are plenty of fun activities and leisure options at Mina A Salam like The Quay Healthclub, 25m temperature-controlled indoor lap pool, an assortment of water sports at the private Jumeirah beach, turtle rehabilitation, shopping at Madinat Souk, various holistic treatments at Talise Spa and kids activities at Sinbad's kid's club.
Other hotel services offered include complimentary access to Wild Wadi Water Park, traditional souk, complimentary gifts, 2 km of clean, private beach and The First Group Theatre.

Ritz Carlton Dubai
The Ritz-Carlton hotel is located in the heart of new Dubai Marina. Known exclusively for its world premiere dining, shopping and nightlife with a beach island in front. It is a Mediterranean style resort which provides illustrious Arabian hospitality in an elite setting. One can thoroughly enjoy the features and amenities available at this luxurious hotel where complimentary welcome services are offered on arrival.
Visitors can have leisure activities at the adjacent Emirates Golf Club and The Montgomerie Dubai golf course. Besides this, a spa and spa pool, private wine cellar, a fitness centre, tennis courts, squash courts, swimming pools, children's pool with a water slide, spacious meeting and banquet facilities including a ballroom, Dedicated Club concierge, Ritz-Kids Club offering daily children's activities in a secure playroom, shopping, sand-skiing, desert driving, paragliding, cruises, sailing, and falconry tours organized upon request.
The most discerning palates are served with delight, where the guests can take pleasure by of fine dining options available at The Ritz-Carlton. Meal served at the hotel is almost a visual feast along with exquisite flavours and tastes with an authentic culinary experience of Dubai dining options that include Splendido, La Baie Amaseena, Lobby Lounge, Gulf Pavilion and Library Bar.

One and Only Royal Mirage
If One And Only Royal Mirage Dubai have to be described then its Arabia recreated in its finest form. A masterpiece property; One And Only Royal Mirage has its own pristine kilometre of private beach. Sixty acres of green lush landscapes raise the toast as they guide you towards various accommodations, recreation centres, restaurants, business venues, fitness centres and outdoor activities. The hotel can be reached from the Dubai International Airport within 20 minutes and lays opposite the Emirates Golf club. Your resort overlooks The Palm islands and minutes later you will be at the doorstep of Aquaventure at the Palm.
Each accommodation is clustered into groups according to the kind of regality it offers, with unique names like 'The Palace', 'Arabian Court', 'Residence & Spa' and 'Garden Villa'. Whichever you choose to tick, the hotel will shower you with all the 5-star luxury facilities like private temperature-controlled pool, private beach access, and staff who are attentive to your needs 24-hours.
The hotel has it own speciality restaurants serving cuisines that have travelled the whole world like European at The Rotisserie & Olives, Indo-European at Nina, Asian at beachside Eauzone, Arabic at Residence, Morrocan at Tagine, International at Celebrities and BBQ and fresh grill at Beach Bar & Grill.
Spurt yourself up through various outdoor and indoor activities such as tennis, golf, swimming, beach bumming, water sports, deep-sea fishing, excursions into the desert, and shopping.
Let nature do its job through various mediums like massages One & Only Spa, hair treatments at Zouari Hair Salon, feet caressing at Pedicure Center, exercising at The Fitness Center, and rejuvenation at the Oriental Hammam.