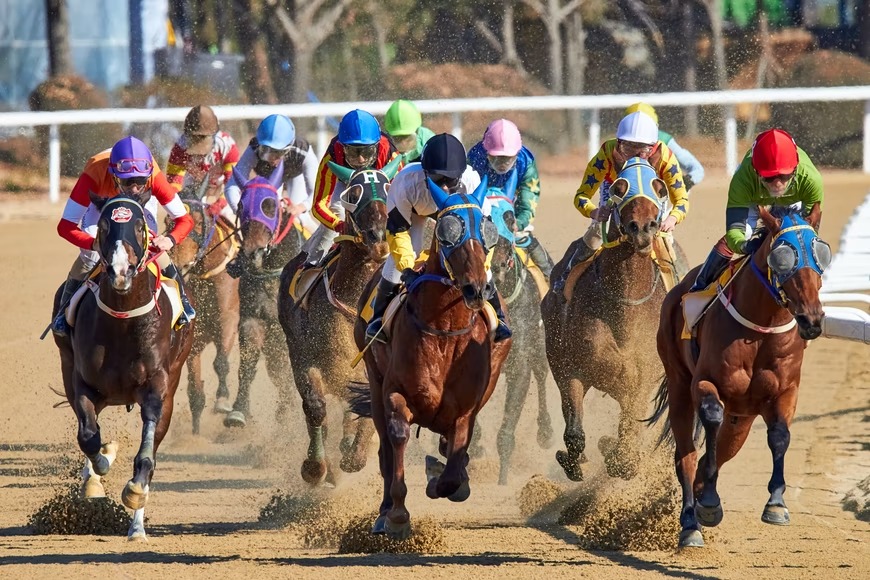 Horse racing is hugely popular in Dubai. It's also touted as a fun and family-friendly evening out. Here's your guide to enjoying an evening at the races at Dubai Racing Club.  
How to get there and admission
Dubai Racing Club is based at Meydan Racecourse, the centrepiece of the ambitious Meydan development. It's a 20 minute drive from downtown Dubai or the Marina. If you prefer to use public transport, the No. 30 bus will take you from Downtown Dubai and drop you at the main entrance to the racecourse on Nadd Al Sheba Road. 
General admission is free and if you register online, you can get yourself some grandstand seats, too. This only applies to regular race days, special events like the recent Dubai World Cup can be attended with advance purchase tickets only. They typically cost around AED 80 per person for general admission.  
Dress code 
There's no need to dress up if you are only visiting the public area. Premium guests should dress in smart casual clothing, no shorts or flip flops allowed. If you are granted VIP access to the Dubai Lounge or the Parade Ring, it's smart attire or national dress only.  
No gambling allowed 
One thing you'll notice at the racetrack is that bookmakers are conspicuous by their absence. Dubai is generally more tolerant of western habits that are usually prohibited in Islamic countries, but gambling is officially off limits.  
Having said that, you'll notice hundreds of race goers glued to their phones, and they are not checking their Facebook accounts. That's right, many place bets using offshore betting sites. The same principle applies with live casino platforms, which are not strictly permitted, but are not usually blocked, either. 
Major race meetings  
Racing at Meyden takes place most Thursday evenings, with gates opening at 5PM and the first race getting underway at 6:35PM. There are also several weekend events throughout the year. The highlight of the season is the Dubai World Cup. First run in 1996, it has become one of the most important and popular racing festivals on the global horse racing calendar. Its $12m purse also makes it the richest race in the world. This year, veteran jockey Frankie Dettori enjoyed his fourth World Cup win on Country Grammar. His previous three came in 2000,2003 and 2006.  
Other things to do 
Dettori has certainly seen some changes. When he last won in Dubai, Meyden was little more than a racetrack in the desert. Now it is at the heart of a rapidly growing retail and leisure complex. You definitely won't be short of things to do before and after the race as there are dozens of restaurants, bars and retail outlets.  
One of the most long-established is White Dubai. Thrice voted the best nightclub in Dubai by Time Out, this was around before the rest of the construction began. It's situated on the roof of the grandstand and commands incredible views of the Dubai skyline.