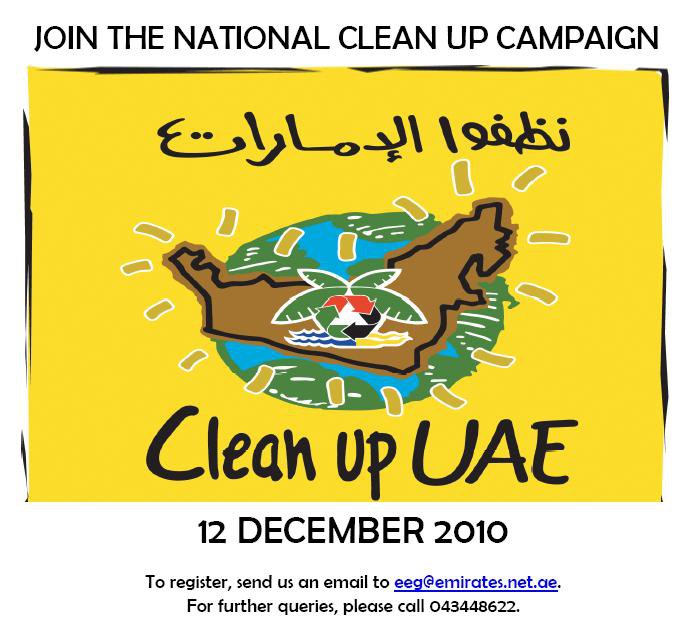 In the environmentally sensitive world of today, UAE citizens are striving to create a better, cleaner tomorrow than today. Initiated by the Emirates Environmental Group (EEG), 'Clean Up UAE' campaign started on 12
th
December, 2007 across 44 locations in Abu Dhabi, Dubai, Ajman, Umm Al Quwain, Ras Al Khaimah and Fujairah. Their aim is to sparkle up the cities and propagate waste reduction and recycling among its residents.
Thousands of citizens and organizations have participated vigorously in this environmental activity either by volunteering to clean up public places or sponsoring the drive. In the past, well-known corporations like Nakheel, HSBC, Al Safi Club for Friends of the Environment have kindly sponsored the event to show their support to the cause.
This year will be the 9
th
round of the movement with nearly 20,000 volunteers participating in the drive indicating an increasing awareness among the people. Residents will works across 85 locations in UAE on December 12, 2010 to raise alertness about the drive. Individuals, organizations, people of all ages are welcome to join the movement by just dialling +97143448622 , emailing eeg@emirates.net.ae or visiting the group's Facebook account. The event will start on 8 am and last till 1 pm.
For those planning to
visit Dubai
need to plan their holidays well in advance which includes choosing the best
hotels in Dubai
.