Dubai is land of sun and sand, so beaches form the most attractive part of its beauty. The city's main beaches consist of the long stretch of Jumeirah Beach Park and the Al Mazmar Beach Park which is an artificial park cum beachfront. You can enjoy lazing out at the beach, surfing the waters or reveling in some ardeline rush of watersports.
Dubai is an excellent place to visit during the winter months when the temperatures are pleasant enough to enjoy the beaches. During summers, the beaches look deserted during the day and all tourists flock in the evening. Just avoid getting out to the beachfront when temperatures reach their peak of 40 degree Celsius. But otherwise there are plenty of opportunities to enjoy water sports, relax and take pleasure in a laid back holiday.
Jumeirah Beach Park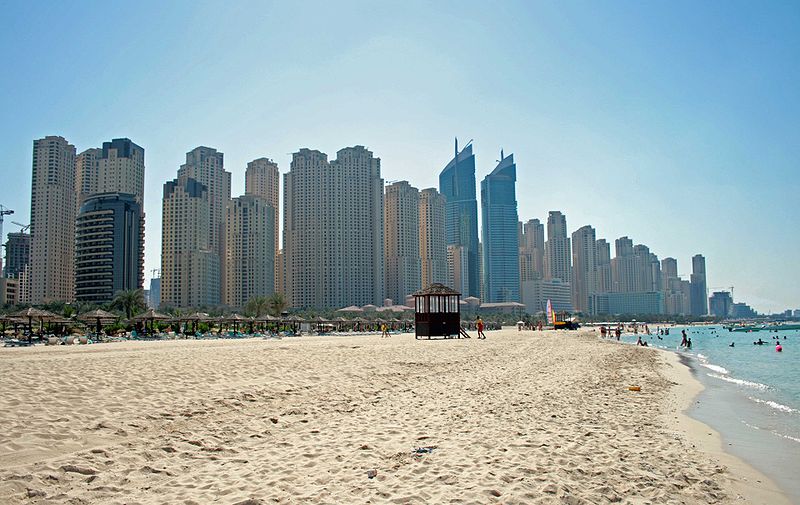 Jumeirah Beach Park is the first beach park in Dubai and is one of best known beaches in Dubai with crystal white sand and turquoise blue water. Actually it's a single soft unending carpet of sand dispersed with hotels, clubs and public access areas. The beach park is an ideal location for people of all ages as a picnic spot with kid's recreation area, games area and restaurants / food courts jewelling the area. For a family picnic you can get together at the picnic tables, have a small barbecue, children can play at the kid's area while you can relax or swim at the beachfront. Alert lifeguards, special swimming pools and showers are available whenever you are in the mood to swim. There's even a small amphitheatre to showcase live musical or stage performances. Palm promenades and small wooden seats complete the picturesque view. If you want to visit this God gifted marvelous place, then Dubai government charges
Dhs 2 per person or Dhs 20
per vehicle. The park is
open from 8.00am to 9.00pm
daily with
Saturday's and Sunday's
especially reserved for
women and children
.
Al Mazmar Beach Park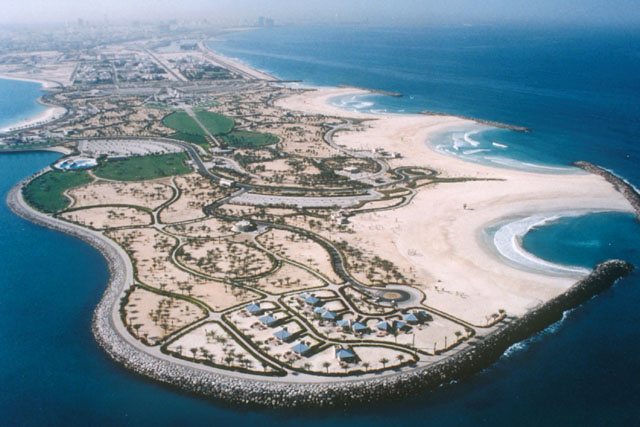 The conceptualization behind Palm Islands, World Islands have always surprised us and the same idea takes over behind the construction of the man made Al Mazmar Beach Park. An all-in-one beach projects its amusement, relaxation and pleasure all at one place. Covering 106 hectares its includes huge expanses of green coverage, an amphitheatre, numerous swimming pools, kid's play areas, picnic and barbecue spots, lagoons and several beaches served by alert lifeguards and all the necessary luxury options. Al Mazmar Beach Park is not just about lazing at the beaches or playing watersports but also includes enjoying the different green zones, relaxing under the trees, laying out the picnic basket, flying the kites or playing football. Colors merge together at the Al Mazmar Beach Park which is open from
8.00am to 11.00pm daily
except
Thursday's and Friday's
.
Wednesday's
are reserved for
women and children
.