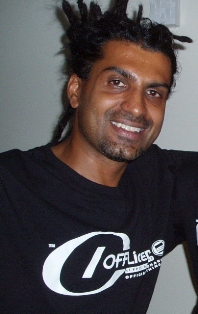 Apache Indian, a unique example of versatility, will light a fire on stage by his energetic reggae performance and astonishing stage show. Everybody will forget tensions and worries when he will tune notable songs of his life. Get ready to shake legs on mind-blowing lyrics of Apache, a versatile talent who will enthral everybody with his live in concert. Soothing music and reggae DJ will enlighten mood of celebrations. The stage will itself witness fusion of powerful music and exceptional songs.
Peer into a brief history of Apache's life which highlights his lifetime achievements. Born in a family of Indian origin, His actual name is Steven Kapur. Grew up in Handsworth, he became famous with his smash hit in 1993 "Boom Shak-A-Lak" which reached number 5 rank in the UK charts. He displays a success story of more than a decade. Such a versatile talent has remarkable career graphs with record seven UK top 40 hits, received four Brit award nominations, and a Mercury Music nomination. Not only this, Apache got an Ivor Norvello Award and International Dance award in 1995.
An opportunity of attending such a magnificent event does not come always in life. Pack your bag to attend such a wonderful concert  in Dubai. Mark your calendar on 6 May , 2011 so that you do not forget to attend such an enthralling event. Get an opportunity to enjoy DJ Shadow and DJ Blaze. Do not waste your time in taking decisions. Right now avail cheap
flights with Dubai.com
and book
Dubai city hotels
. Enjoy every moment of life and feel the necessities of music.