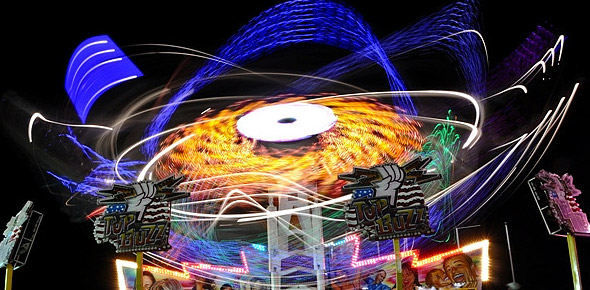 Dubai, UAE » City Info » Things to do in Dubai
Things to do in Dubai in a Day
You have just landed at the DXB airport and have a day to spend in the most gorgeous emirate of UAE. Before the next onward flight, you want to make the most of Dubai's shopping, cuisine, outdoor and architectural marvels. But with the clock running out on 24 and so much to see, how would you plan your one day in Dubai? Quick planning and a brush up on the city's everyday routine will help you experience the most sought after activities.
Truly, it is very difficult to fit in favorite attractions in 24 hours from such an extensive list. But to get the best of city in the shortest time possible, we have listed out some highly recommended activities and attractions along with the time needed to complete each of them. Depending on your flight timings and the actual stopover time in Dubai, there are quite a few options; here is a list of suggestions to make your trip memorable.

If you have arrived in Dubai in the night, you can select the Morning Desert Safari of three hours, then allot the remaining day for other activities like shopping, and cruise along the Dubai creek.

Wake up early for a Hot Air Balloon Flight or a Seaplane flight to get a bird's eye view of Dubai's architectural marvels. While the Balloon Flight consumes most of your day, the seaplane flight is just for about 40 minutes leaving you with time for shopping, visiting man made islands, Burj Khalifa and relaxing on the Jumeirah beach.

If you are the kind that is interested in delving into the history of a city and its culture, then spend at least half of your day in the Bastakia Quarter that proposes excellent opportunities to appreciate Dubai's bygone era. Wind through the old, narrow lanes, visit the textile souk, ride the traditional abra on the Dubai Creek and check the Dubai museum. The area throws in many surprises compared to the modern binge of Dubai.

If you want something different try the helicopter ride, parachute jump/skydiving, or visit Ski Dubai and Wild Wadi Water Park with an afternoon tea at the Burj Al Arab.

Book a Big Bus Tour – the easiest and the most relaxing way to explore Dubai

Book the half-day Big Bus hop-on, hop-off tour followed by an Evening Desert Safari if you want to mix it up.
To plan your own journey for the 24-hours experience, here's our list of Dubai tours and attractions. These are highly recommended activities by tourists that cover the best of Dubai in the very little time that you have.
Desert Safari:
A visit to Dubai is never complete without a Desert Safari and even though you have just a day on hand, it is recommended you get a taste of it. The adrenaline rush through the heady driving in a 4X4 vehicle or a quad bike is an exceptional moment, indescribable in words. Even though this activity will take up 6 hours on your clock, adventure junkies could opt for the Evening tours, which include BBQ and belly dance, before commencing on their onward flight. Another option for tourists, who have arrived on a late night flight, could rest and check out the Morning Desert Safari which starts at around 9:00 am in the morning and lasts for about 3 hours.
Big Bus Tour:
The Big Bus Tour is just the thing if you want to visit all the famous landmarks of Dubai in the relaxing atmosphere of an air-conditioned bus. Featuring two routes, the Day Tour and the Night Tour, the hop-on, hop-off sightseeing tour lets you choose between 24-hour and 48-hour ticket letting you plenty of time to visit the attraction and shop for souvenirs. There are freebies as well included in the tour such as a free dhow cruise, free entry to Sheikh Saeed Al Maktoum's house and free entrance to Dubai museum. Those opting for a 2-hour night tour will enjoy the illuminated skyscrapers beaming their flashy lights.
Tourists have the choice of getting on and off at any of the pre-decided bus stops, so that they can combine their itinerary for the day with the Big Bus Tour.
Shopping in Dubai:
The list of shopping malls in Dubai is countless right from the humongous malls selling branded goods to the small shops famous for trinkets and souvenirs. Whichever mall you decide to visit, you have to go on a tax free shopping spree in Dubai. If you are a true shopper at heart, then even the whole day wouldn't seem enough. But set aside at least half of your day for shopping.
Here are the top 5 shopping places to check out:
The Walk at JBR: The Walk- Jumeirah Beach Residence is a Dubai's only beach side outdoor shopping boulevard designed to cater to the residents living in the Jumeirah Beach Residence properties. But its 1.7 km stretch of high-end cafes, restaurants and boutiques swept in large number of residents and tourists from other neighborhoods as well. Go for a stroll on 'The Walk at JBR' to get all info you want to know about hottest trends in fashion, the latest bar and restaurant openings and the recent celebrity arrivals in Dubai.

Dubai Mall: Everything about Dubai is absurdly extravagant, right from its 1200 shops to its indoor aquarium and 160 food outlets. They may be beyond anyone's imagination, but instantly likeable if you are a shoe pinching shopaholic. Every brand has made its presence here but the Gold Souk at the centre of the mall deserves extra stars. If you are tired of shopping pay a visit to other attractions in the mall like the Dubai fountain, Burj Khalifa Observatory, Dubai Aquarium and Ice Rink.
Deira Gold Souk: Deira Gold Souk is a hypnotizing place for jewelry lovers with tones of gold constantly calling out for a try. One of largest gold markets in the world, you have every imaginable jewelry piece under one roof – from heavy wedding ornaments to light casual diamond wear.
Global Village: Global Village is a yearly phenomenon from early November to late February when traders from around the world get together to display their goods in Dubailand. Coupled with shopping, tourists are entertained by spectacular performers from a variety of cultures.
Ibn Battuta Mall: The shopping part of Ibn Battuta Mall is kind of off-track, but it is well worth a visit for its dramatic architecture inspired by Arab traveler Ibn Battuta. The traveler's adventures have been depicted in the construction with courts named after the regions visited by him during his voyage. The most beautiful of them is the Persia Court characterized by the hand-painted dome.
Old Dubai - Bastakiya:
Bastakiya Quarter in Bur Dubai is the place with which Dubai shares its traditional roots. It's been declared a conservation area and no vehicles are allowed. Walking tours are arranged regularly in the mornings where a walk down the narrow alleys will give you a peak into the restored buildings. Visit Basta Art Café and the nearby galleries if you are interested in knowing Dubai's growth graph. Be prepared to reserve half of your day at Bastakiya.
Dubai's Street Food:
Dubai's cheap eats are famous not just because they are light on the pocket but also for the fact that the restaurants in Dubai are not affordable to a common man. If you want to taste a hard hitting combination of delicious food and rock bottom prices head to Jumeirah and Satwa. Restaurants operating for more than 20 years will narrate tales of bygone Dubai as they serve delicious local Arabic, fast food and Asian cuisine.
Gold Souk:
The Gold Souk has proved to be an antithesis to the saying 'All that glitters is not gold'. The whole souk glitters with the yellow metal as you are literally magnetized into buying at least some piece of gold. In fact, some tourists arrive in Dubai just for tax-free shopping of gold and international brands. An hour and two should be reserved for souks.
Jumeirah Beach:
Jumeirah beach is a must visit attraction for any tourist in Dubai. More than the beach itself, the long strip of five star hotels instantly catches your attention. There are lot of water sports and family activities to do on the beach itself, especially the Kite beach which attracts a lot of Kite surfers. Reserve your evenings for the beach activities.
Dubai Creek Cruise:
Cruising down Dubai Creek is a once in a lifetime experience particularly when it's on a traditional Dhow in the shadows of the moonlight. If you are traveling as a couple, the cruise sets up a perfect romantic setting amidst the flickering background lights, music and belly dancing and BBQ buffet dinner. The cruise takes approximately 2 hours of sailing in the Dubai Creek.
Ski Dubai:
We would not recommend the experience if you have swished down the slopes of Switzerland in its full bloom. But for a first timer, it's an amazing place especially when it contrasts so much with Dubai's image as a hot, sunny place. The world's famous indoor ski slope in the Mall of Emirates has some amazing setting for beginners and intermediaries to enjoy snow activities like skiing, snowboarding and tobogganing. Better still, there is the Mall of Emirates to hunt for, after the wonderful snowy experience. Allot at least half a day for this activity.
Wild Wadi:
If you are visiting Dubai as a family and have 3-6 hours to spare, then Wild Wadi should be a top priority on your scheme of things. The kids will love the killing waves whilst the adults will time-travel back to their younger days. A perfect place if you are a water baby.
The Observatory at Burj Khalifa:
If you feel the creative geniuses behind the world's tallest building deserves applause then a visit to The Observatory at Burj Khalifa is certainly suggested. It takes you the 124th floor of the Burj Khalifa where high atop you'll enjoy the most extraordinary view of Dubai city. The entry is through the world's largest Dubai Mall from where you will ride in one of the world's fastest elevators to reach the Observatory. Reserve at least 45 minutes – hour to enjoy the scenic views.
Man Made Islands:
Unless you own a property on the islands or have booked a room in the Atlantis, the Palm Islands are just one of the amazing sightseeing points to be admired from a distance. Picturesque opportunities are in plenty with yacht charter companies who arrange for sailing trips around the Palm and the World islands.
Afternoon Tea at the Burj Al Arab:
A stay in the Burj Al Arab is dream accomplished only by a few. For the others who want to gather memories of a visit to the Burj Al Arab rather than just clicking photos of the hotel from a distance, the idea of afternoon tea at Sahn Eddar provides an insight to the splendor of the hotel's interiors. If you can afford, the Majlis Al Bahar on the beach is a more attractive option from where you can marvel at the Burj Al Arab's true outer beauty.
Hot Air Balloon Flight:
The hot air balloon flight in Dubai is a renowned activity for taking in the amazing views of Dubai; numerous tour operators have started offering this service because of its consistent popularity. If you have the extra cash, try to book a ticket to take a trip around Dubai in a hot air balloon, the views are fantastic and unforgettable, that said, only book if you prefer to enjoy the early morning landscape rather than walk and explore by foot as it will take up at least 6 hours of your day.
Helicopter Ride:
If you thought, the Hot Air Balloon ride was the only way to experience the pictorial horizon of Dubai, think again. Call your tour operator for an exclusive Helicopter or Seaplane 30-minute tour to enjoy Dubai scenic spectacles through a bird eyes view. With a handy cam or a digital camera in hand, capture images of characteristic landmarks like Palm Islands, Burj Al Arab, and Burj Khalifa from unthinkable angles. In less than half an hour, you will have seen Dubai's true beauty.
Parachute Jump/Skydiving:
First time jumpers are just going to love this! Learn to aviate and enjoy the experience of total weightlessness in the sky. As you venture into open air, memorize the bird eye's view of the Palm Island, Sheikh Zayed Road, Arabian Sea and the Jumeirah Beach. However, be prepared to allot at least 3 hours for parachute jumping and adventure skydiving.