Flights to Dubai
Welcome to Dubai Flights. There are a wide range of airlines that frequently visit Dubai and the U.A E. and there are always great deals to be found ranging from cheap economy tickets to 1st class seating . Dubai has a constant flow of inbound/outbound flights, so you are guaranteed to find a flight.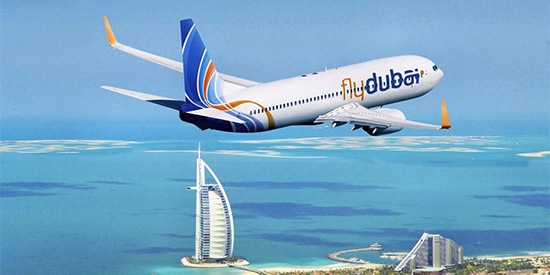 Dubai.com offers a flight service that meets your requirements and recommends the best deals online from a list of leading flight carriers. It's always best to click on a few Flight providers to guarantee you the lowest available price online. Alternatively you can contact one of our travel reservation staff to help you book your ideal flight.
Dubai is visited by millions of travellers every year but most are merely stopping over en route to other destinations. But there's so much to do in a destination that mixes modern beauty with old traditions, that you will come back to Dubai especially as it is growing every year with new innovations. It has plenty of shopping malls and beautiful white sandy beaches, offering a wide range of water sports, or if you are looking for a colder environment, Dubai has one of the World's largest indoor skiing arenas.
It has even been nicknamed the Las Vegas of the Middle East - although it is more the Babylon of the Modern Era.
For discounts up to 70% off on where to stay visit our dubai hotels page
The most popular time for flying to Dubai is during winter which is from December to March. It also coincides that in January is the Dubai Shopping Festival, which runs for One month.
Ramadan also takes place in Dubai whereby it is illegal to drink, eat or smoke in public between sunrise to sunset. Ramadan lasts from Mid October to the Middle of November
July 16, 2015, 2:01 p.m.
To aid with the gift-giving, here are Eid gift suggestions within budget. Focus on simple yet personal items that reflect your loved one's tastes and fashion choices.
June 11, 2015, 10:34 a.m.
First impressions are gold, and Dubai International Airport take this to heart. Expect a warm welcome and global-friendly facilities from the moment you step on the building, to the time you leave its premises. Dubai Airport covers all your gastronomical needs – from cafes and snack shops, to fine dining and casual restaurants. Ice cream …
Continue reading

Dubai International Airport 101
May 20, 2015, 10:45 a.m.
If you're travelling in the off season, you know planning ahead is the key. So make sure you are up to date with the latest travel advice for your trip.