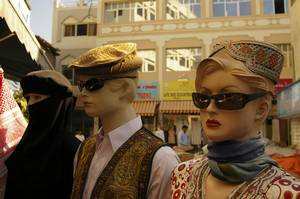 Dubai is not only about towering skyscrapers and glitzy malls where you are happy to put a deep dent in your pockets. Amidst all the glitz and glamour you will find shopping malls, where you can walk away with a great bargain after a good bout of haggling.
Gold Souq - At the gold souq in Deira, it is virtually impossible to resist the allure of this timeless metal. Exquisite pieces forged with detailed craftsmanship can be leveraged based on the detailing of the jewellery.

Satwa Souq - In Satwa stroll down to the main shopping square and you will be amidst exquisite fabrics, electronics and household products to be had at bargain prices. You will find fabrics of every kind, from raw silk, Japanese crepes, pure silk and pure lines along with casual and fancy materials.

Meena Bazaar - Cloths of every colour, hue and texture can be bought here by the yard at bargain prices. Stores are crammed with fabrics  of metallic yarn, sheer organzas and delicate silks. In the bazaar itself you can find tailors  that create a well cut dress from these fabrics within two days. There are also a few outlets selling ready made dresses and even here the price is negotiable.

Karama shopping complex - At this complex along with fabric you will find beautiful souvenirs and trinkets at great prices. Arabian coffee pots, Moroccan lamps, camel figurines and Arabian khanjars can be bought at economical rates. Handbags, wallets, pashmina shawls, cushion covers, bedspreads, embroidered or sequined table covers as well as sports shoes can be found here.