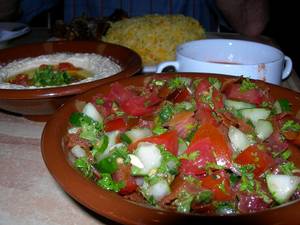 There is no specific Dubai's food in Dubai. The traditional Arabic food available here seems to come from the other regions of the Middle East. So, along with a try at the traditional Arabic food, you can also put your fork into the tempting dishes made by the cooks of different hotels and restaurant. It will not take a long time for you find a good-priced restaurant serving a dish from your country out here.
If you do want to splurge yourself on the food then going in for some of the Filipino, Pakistani or Indian restaurants can be a good idea, but if you do want to splurge around on the delightful dishes then just pop inside any of the  Japanese, Thai, French or Italian restaurants. Also, going inside a steakhouse will be an excellent idea if you love meat. However, if you are still insisting on trying out some of the sumptuous Arabian delicacies then hop inside any of the Moroccan, Iranian or Lebanese restaurants.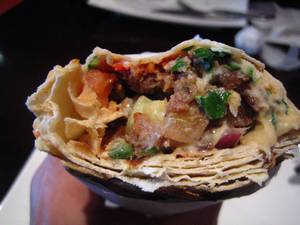 Hoummus, Ghuzi, Wara enab, Tabbouleh, Koussa mahshi, Haries, Matchbous, Shawarma, Falafel and the Arabic Bread are some of the items that should be missed out if you want to enjoy food in Dubai. Shawarma, is generally on the top of the list of the popular Dubai visitors. It is cooked with chicken or lamb thoroughly mixed with tomatoes, fries, garlic sauce and pickle and wrapped inside a small Arabic roti. Falafel is a mixture of chickpeas and different spices fried deeply in the form of a cutlet. It is generally enjoyed as a side dish. Hommus is a dip made by mixing chickpeas and sesame seeds. Ghuzi is a completely roasted lamb kept on the bed of cooked rice and nuts, Wara enab is Vine leaves filled with rice and Matchbous is spiced lamb served with rice. Koussa mahshi us nothing but stuffed courgettes, while Tabbouleh is crushed wheat mixed with well chopped parsley and mint. Haries is an affluent dish cooked very slowly with tender lamb and wheat. Arabic bread or Arabic roti is a worth try. It is baked in clay ovens and served with different curries. Try it with any of the Indian delicacies for a better experience.
After trying out all this do not forget to try out the regular Dubai desserts that include Umm Ali, Mehalabiya and Esh Asaraya. Umm Ali is a sort of bread pudding, Mehalabiya is a pudding speckled with pistachios and rosewater and the Esh Asaraya is a cheesecake topped with cream.