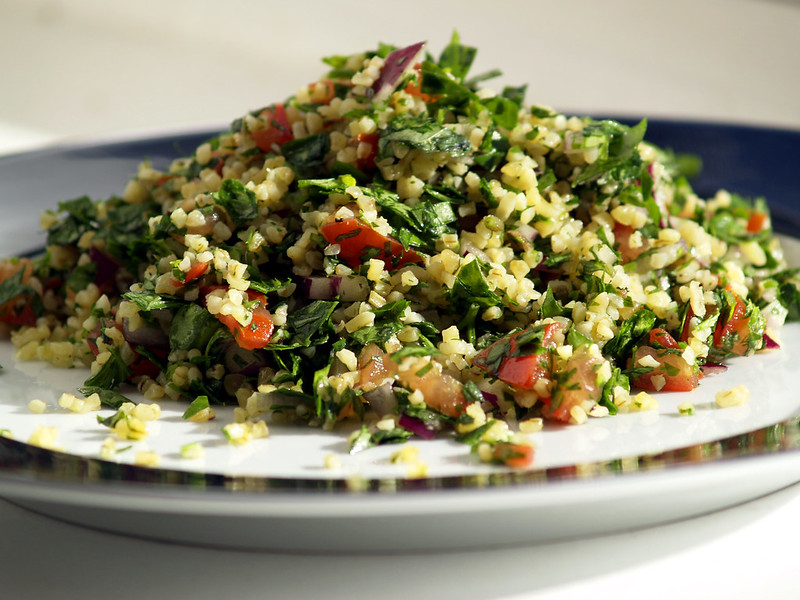 Credit: Flickr / cyclonebill / CC BY-SA 2.0
The popular Arabian city of Dubai isn't just known for being the best tourist destination in the Middle East, but also in the world. The city is home to some awe-inspiring man-made attractions, and the luxury and opulence along with international food cuisine is something you cannot miss. Check out these amazing exotic dishes, and let us know which one is your favourite!
Manousheh
For a scrumptious and filling breakfast, Manousheh is your ideal choice. It is Dubai's local pizza made with dough and filled with exotic toppings like Akkawi cheese, olive oil and herbs. It is one of Dubai's most in-demand street food dish so you can't miss out during your travels!
Al Harees
Al Harees is a traditional food dish that is usually had during weddings, Ramadan and Eid in Dubai. It is made by baking wheat, meat and a little bit of salt. Find out a good local place nearby your hotel and head over to taste some Arabian goodness.
Fatteh
Fatteh is essentially made up of three layers and is usually had as an early evening meal because it can be quite filling. The first layer is the soaked bread, the second layer is made up of chickpeas stuffed with aubergines and the topping is yoghurt with tahini sauce. An exotic dish to not miss out on!
Tabbouleh
Ignore the pronunciation, and focus on the delicious taste of this dish. Unlike some other dishes in the list, Tabbouleh is a salad made from tomatoes, cucumbers and green onions, seasoned with lemon juice and mint. It is a healthy and light option that you can try on your visit.
Kellaj
One of the most top rated dishes in Dubai, Kellaj is consistently the top of the pick. It is essentially a charcoal-grilled bread filled with Haloumi cheese. It is ideal for a snacking on and fills up the stomach. Definitely try this for a quick bite!
The dishes sure do sound tempting right? Pick any flight you want and visit the best restaurants in Dubai and get set to fill your stomach with some amazing, yummy goodness.