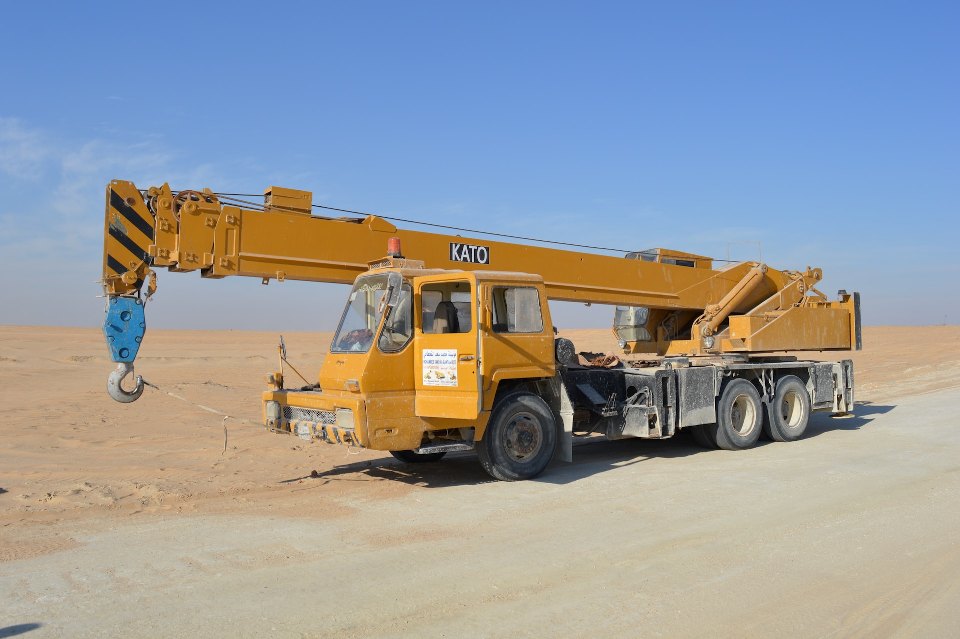 Dubai, known for its stunning skyline and architectural marvels, has an ever-evolving construction industry. The city is synonymous with ambitious construction projects and innovative designs.
This bustling activity in the construction market significantly contributes to the demand for crane rental and purchase services. These services are essential for the successful completion of various construction projects.
In today's post, we will be taking a look at the best crane rental and purchase services in Dubai. So, if you're ready to complete your next project, let's get started!
List of the best crane rental & purchase
companies in Dubai
1- The Crane Club
At the forefront of these services is thecraneclub.com. This company stands out as a top-tier provider in the industry, setting high standards for quality and reliability.
The Crane Club is a premier provider of crane rental and purchase services in Dubai. Their unique advantage lies in their wide variety of crane sizes and their reliable rental services.
They have been lauded for their dedication to helping their customers to the best of their ability and because they're able to satisfy diverse project requirements. Plus, with their extensive fleet of cranes and highly skilled operators, The Crane Club consistently delivers exceptional service, which sets them apart from their competitors.
However, as it's always the case, their services might not be the perfect fit for every client. For that reason, let's now take a look at other noteworthy businesses in the industry.
2- Liebherr Tower Cranes | MMW tower cranes
Liebherr and MMW offer both used and new cranes of all kinds and sizes. They can help you whether you're looking to buy or to rent a crane, as they cater to different needs of the construction industry.
They might be a good option for you if you're looking for high-quality, reliable cranes from well-known and reputable manufacturers. Liebherr and MMW offer a wide variety of cranes ranging from small to large sizes and also provide numerous repair services if needed.
3- Al Faris Equipment Rentals LLC
Al Faris is one of the best known crane hire companies in the UAE. Their vast inventory and prompt delivery services make them a go-to option for many construction companies, especially due to their rapid turnaround time.
The company provides a wide selection of cranes, including mobile and tower cranes as well as crawler cranes. They also offer all necessary attachments to ensure that their customers have access to suitable equipment for any job scope.
4- Bahatti Technical Services LLC
Bahatti Technical Services provides a range of cranes for hire across Dubai. They are pretty famous due to their premier and leading rental services.
If you want to hire a crane for any purpose then Bahatti has the right option for you. Their fleet of modern and well-maintained cranes will meet your needs, offering high quality and reliable services at competitive prices.
5- Al Balqa
Al Balqa is another alternative that offers top-quality heavy equipment rental services in the UAE. Their offerings include cranes, hoists, and more, which turns them into a good option for all kinds of projects.
For example, if you're looking for a crane with high lifting capacity, Al Balqa can provide you with the right machine. They are also known for the way they go the extra mile for their customers.
What to look for in a crane rental & purchase
company in Dubai?
When choosing a crane rental and purchase company, it's important to consider key factors such as the quality of their equipment, their safety standards, their customer service, and pricing.
It's also essential that you check the license and experience of the company you choose so that you can be sure they offer reliable services. After all, whether you're successful or not will vary on how good your equipment and team are.
Finally, research is key before you make your choice. Ask for references from other customers, read online reviews, compare prices, and take your time when making a choice. Doing this will allow you to get as much as possible out of your crane rental and purchase experience in Dubai.
Now that you have an idea of the best crane rental and purchase services in Dubai, you can start your search for the right company. Although The Crane Club leads the way in terms of quality and reliability, there are other businesses that might also offer valuable services depending on the specific needs of your construction project.
It's important to consider factors such as pricing, crane types and capacity, availability, and overall customer satisfaction when choosing a crane rental or purchase service.